Courtney Herzog constantly has more than one project going on, she said, always having been someone with an iron in many fires. And as recently as December, in addition to owning her own interior design business and running 611 Leroux — a co-working space of 11 offices — Herzog opened a pop-up clothing boutique.
She somehow managed to set it all up while planning her February wedding, she said.
Herzog named the store Hunt & Leroux for the two streets that join to form a corner north of historic downtown Flagstaff.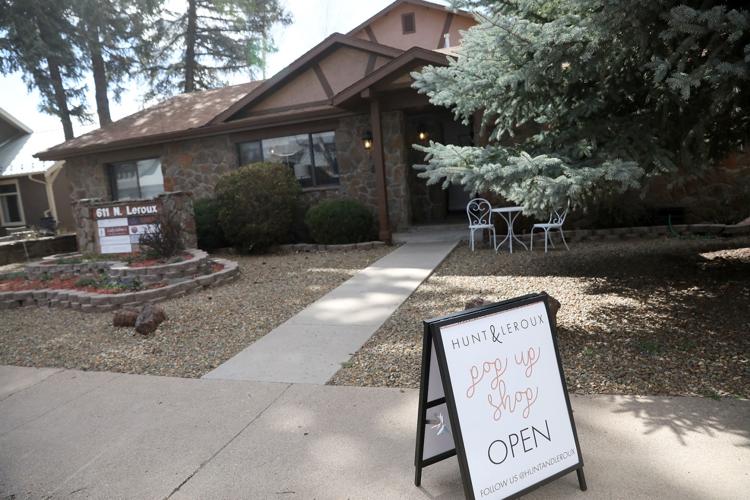 The quiet neighborhood of old, quaint homes, gives way to the store's equally quaint interior. It's the kind of place that takes stress and frenzy out of finding the perfect outfit: Wooden floors, soft lighting and racks of striped, flowered and flowing fabrics meet the eye immediately upon entering.
Herzog refers to the clothing selection as modern with a dash of classic. Currently she's working on clearing her winter collection to make way for spring items like rompers, dresses and shorts -- more vacation-style wear, she said.
"I like to mix stuff, so I'd say it's young contemporary, and stuff that's a little bit different from what you find in Flagstaff. I kind of pick stuff based on if I like it or not. But I try to keep in mind too that other people might not like what I like," she said.
Not long ago the space that now houses Hunt & Leroux was a private residence. When the tenant moved out, Herzog saw an opportunity and moved her home office back to the 611 Leroux building, rented out the corner room to a beauty salon and began searching for clothing to fill the front of the space.
Herzog said she'd wanted to work in fashion since college, but it was trip to Italy last year that ultimately prompted her to take the next step in that direction.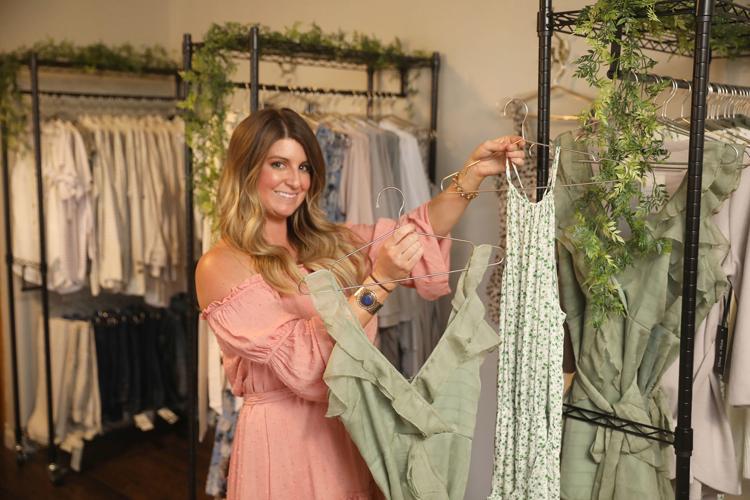 "My sister and I were on a big group tour and everyone was commenting every morning like 'oh you look so cute,'" Herzog said. "And at the time I was kind of in a funk cause I also had the interior design studio that I didn't want to grow anymore, I was a little overwhelmed and stressed. I still love doing it but I didn't want to take on new clients, so I said I'm just gonna do this pop-up [clothing store] and that's when I started doing research."
Herzog sources most of the clothing from brand showrooms in Los Angeles. Small retailers like herself buy the big, brand-name clothes and then sell them as part of their own shop. Hunt & Leroux also has a website — up and running since March — and gets orders from across the United States; the most recent order came from New York, Herzog said.
"I was kind of surprised," she said.
Herzog is calling Hunt & Leroux a pop-up store simply because it's not your typical brick and mortar. Herzog determines business hours on a day-to-day basis and posts opening times on the Hunt & Leroux Instagram, a passerby might not immediately recognize the house as being a store. 
"But I hope it grows big enough, my ideal thing would be to have a space downtown to have a store front," she said.
Herzog also hopes to make Hunt & Leroux a social space, with events like a ladies wine night she's planning for the end of the month: Hors d'oeuvres, prize giveaways and time to admire the clothes while chatting into the night.
"I've never worked in retail, so it's a learning experience," Herzog said. "I feel like that's how all my businesses have been, I just dive in and then figure it out. I'm kind of just the type of person that's like 'I wanna do it, I'm going to do it today,'" Herzog said.