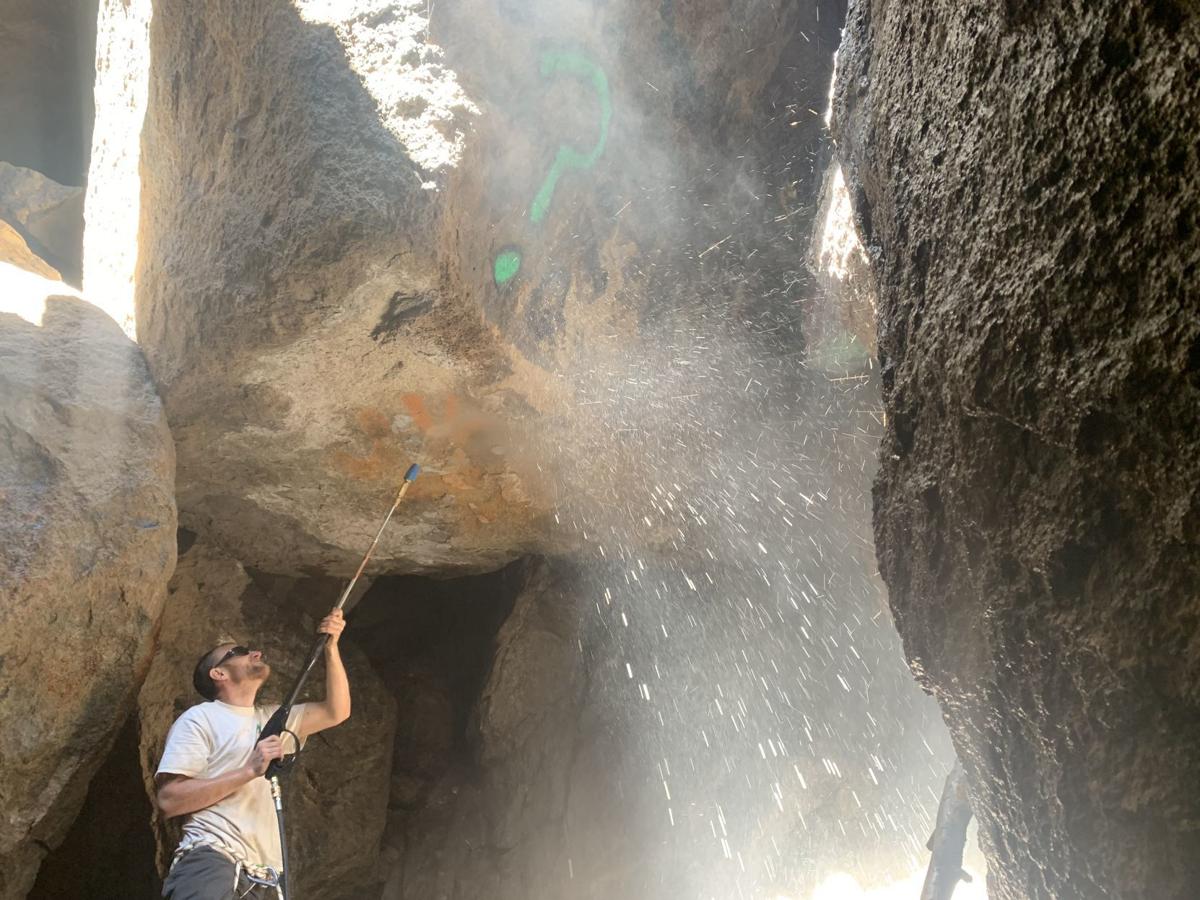 Nature is not a canvas, not the proper place to inscribe your personal manifesto, not the appropriate forum to vividly proclaim your undying love to your sweetheart, or to spray paint your "brand" with impunity on a tree, boulder or log.
Nature, as long professed by forest-service personnel and environmental activists, should be tread upon carefully, if at all. Make a light footprint, follow leave-no-trace ethos, and the trails, woods and rock formations that define our landscape will remain as close to pristine as possible, given that our very presence alone cannot help but alter it.
Yet, even in environmentally conscious Flagstaff, there are those out to mar the marvels of the Great Outdoors, one tag at a time. Stroll down the Pipeline Trail, in the swale just east of Buffalo Park, to the series of awe-inspiring boulder fields and caves along Mount Elden's west flank.
So lovely, so serene, so defaced by graffiti. Boulder after boulder: tagged and defiled, their light-brown facades swathed with garish colors not normally found in nature. Sad how a $5 can of spray paint can cause such damage.
But it is damage that can be repelled and reversed, through commitment, sweat-equity and the right mix or biodegradable chemicals. Last week, the Gilbert-based nonprofit, Natural Restorations, removed about 1,800 square feet of graffiti from those boulder and caves, giving a makeover to the stately jumble of rocks that erased, Etch A Sketch-like, the unsightly blemishes.
Co-founders Nicole and Justin Corey, and their crew that includes military veterans, parked a van with a 500-gallon portable water tank along Pipeline, snaked a hose (a really, really long hose) up into the boulders and commenced an arduous cleaning operation. They coated the defaced boulders with a citrus-based chemical solution that loosens the paint's grip on the rock face. Then, after the solution dries, workers direct a high-pressure washer to blast away the foreign debris.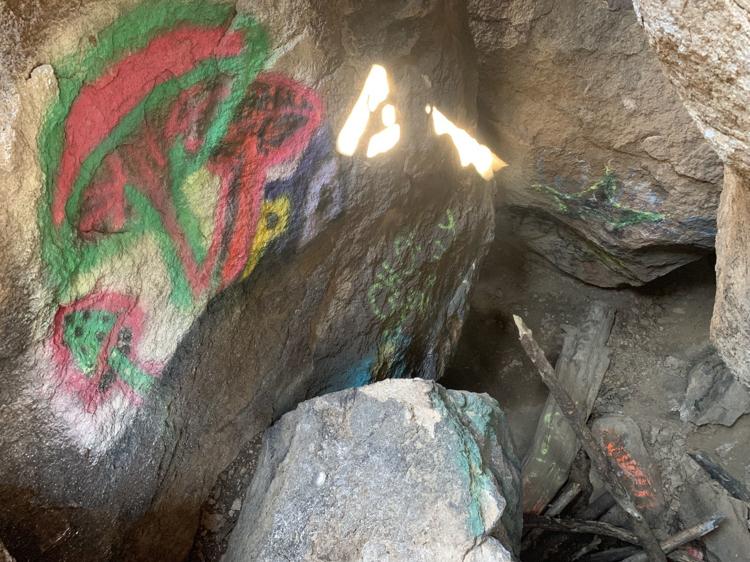 Occasionally, Nicole Corey said, vandals will use a virulent type of paint that is nearly impossible to remove using the organization's non-invasive process. Then, they will employ a wire brush attached to a drill and, essentially, sandblast the graffiti off. That does some corrosive damage to the boulders, but nothing like what the taggers wrought.
"There's a lot out here," Nicole said, standing between two boulders near the end of the group's four-day work party. "We're actually thinking of coming out again next summer and bringing a climbing group to help. Some people have done some death-defying stuff to tag way up high. This time, it just wasn't safe for us to do it."
It is not so much how the Coreys eliminate graffiti — not to mention organize trash-picking excursions to public lands throughout the state — but why they do it.
In this couple's case, it was twofold. Both are outdoors enthusiasts and, over the years, have frequented state parks and forests. In 2015, after viewing a graffiti- and trash-marred stretch of desert in Pinal County, they decided to take action.
"We got tired of seeing trash and graffiti and people talking about (park) closures as the answer to it," Nicole said. "We don't want anybody, especially kids, to lose access to our natural areas. About the same time we thought about starting the business, my husband's best friend from high school came back from serving several tours in the Middle East. He came back with traumatic brain injury and PTSD and was struggling to reintegrate in civilian society."
On a weekend camping trip with the Coreys, Justin's friend found solace and peace of mind from the simple act of picking up trash.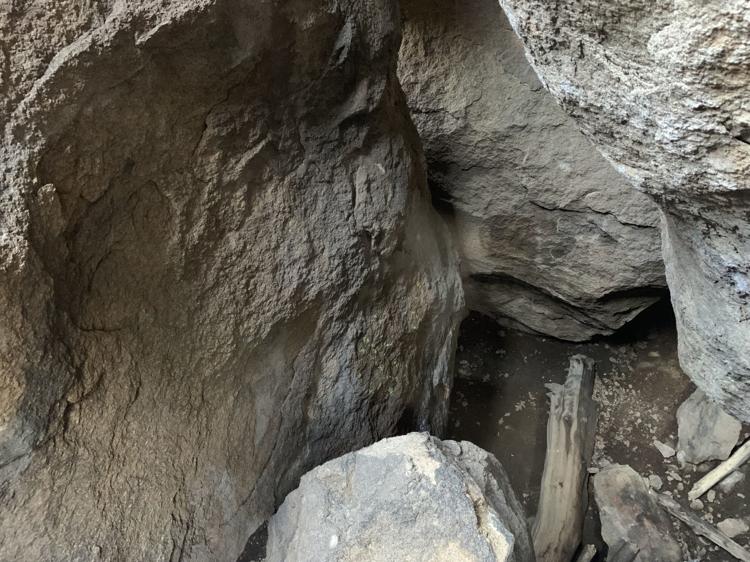 "He stopped thinking about all the things that were tormenting him and just focused on the trash," she said. "That was a light-bulb moment for us. We want to give back to veterans and get them into nature. A lot of research is being done to show the benefit of nature to everyone, but especially veterans."
Thus, in late 2015, Natural Restorations was born. It started small, with volunteer trash-pickups on public lands. Soon, through federal and state grants and private donations, the couple was able to employ veterans full time on the crew and tackle large graffiti projects throughout the state, with the blessing of State Parks and forest service officials. The Mount Elden boulder cleanup, for instance, was funded by outdoor-gear maker REI and UniSource Energy Services in Flagstaff. Perhaps its largest project, dealing with restoring off-highway vehicle areas, was funded by the state.
In less than four years, Nicole said, her crew has cleaned up 402 tons of trash from state lands and wiped an estimated 28,000 square feet of graffiti off of rocks in the state.
There is no single source for the scofflaws, though Natural Restorations has worked on many OHV projects.
"These places are getting trashed by recreators," Nicole said. "You see household and construction dumping, all kinds of stuff. Sadly, it's everywhere. Every recreation group has problem people. It could be people looking for a place to dump and they know the forests are big. We removed 73 tires from one area in Apache Sitgreaves (forest) near Show Low. We'll find giant piles of shingles from someone who redoes their roof. And mattresses. Mattresses all the time. Two weeks ago, we removed a full-sized Jacuzzi from an area outside of Show Low."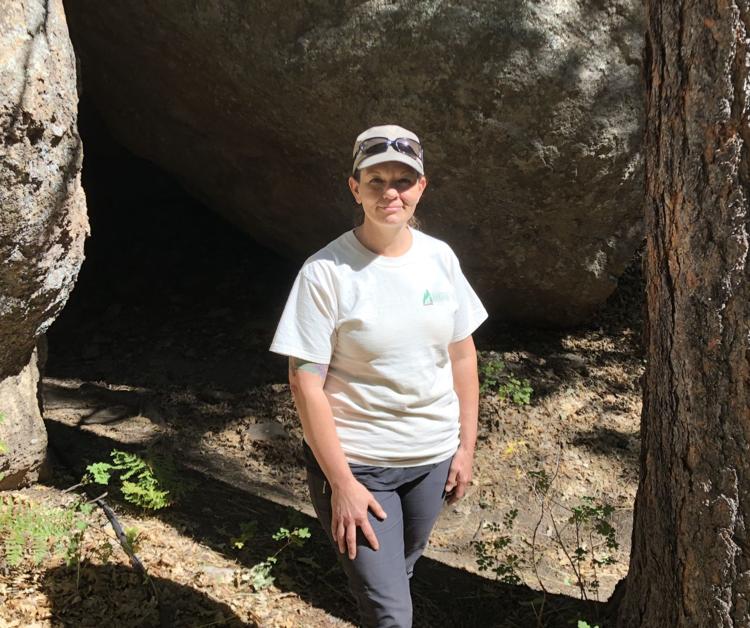 What the work crew found on the boulder fields on Mount Elden's west flank was typical tagging. Nothing gang-related, Nicole said, just callow youth with a spray can and a misguided mission.
"We've found graffiti attracts graffiti," Nicole said, "so when somebody sees something tagged, it might set something off in their mind, like, 'Ooh, I want to leave my mark, too.' Our idea is to get rid of it and hopefully, for somebody hiking here later and climbing those rocks, it would never occur to them to paint because there's nothing to see."
Yet, in nature as in an urban milieu, fighting graffiti can be an uphill battle, like Sisyphus eternally rolling that boulder (presumably untagged) in Hades.
Get local news delivered to your inbox!
Subscribe to our Daily Headlines newsletter.