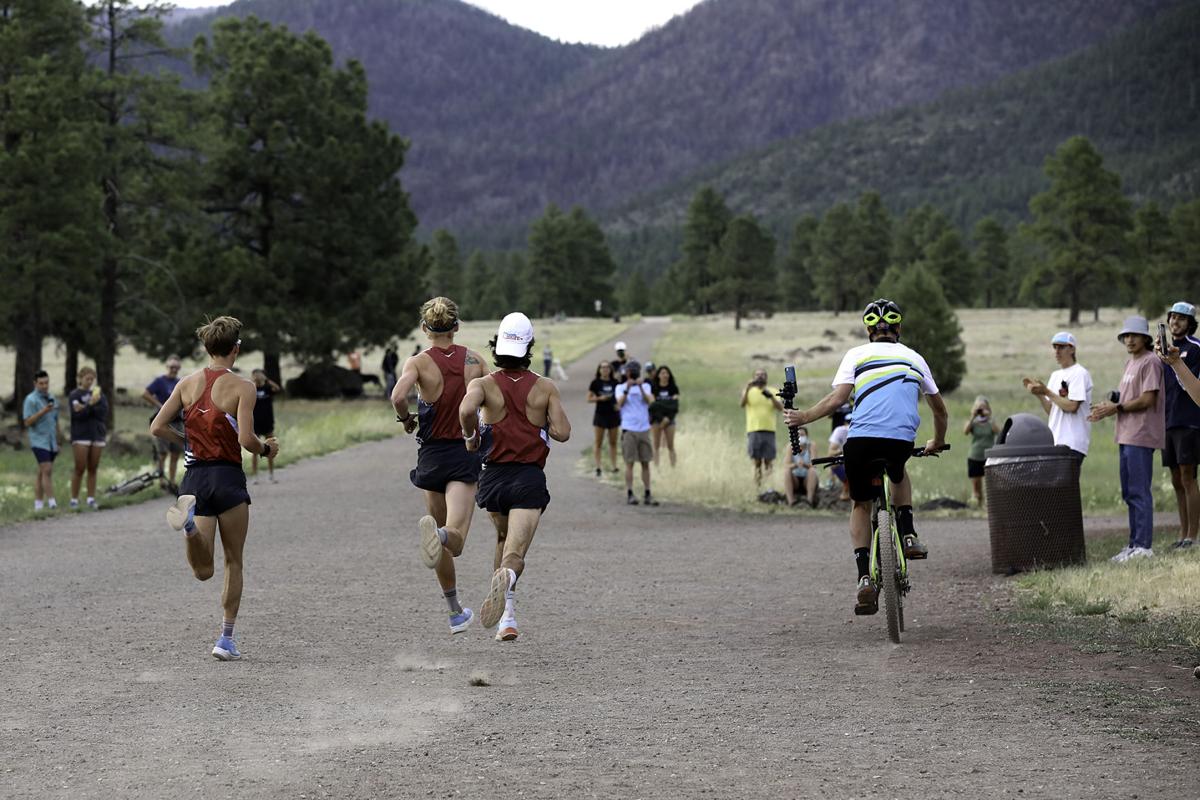 Part of NAZ Elite's new deal with parent shoe company HOKA ONE ONE allows the team to bring on a full-time assistant head coach, and the search to fill the position started Tuesday.
For NAZ Elite head coach Ben Rosario, there was a lot to be excited about in the new deal that lasts for the next Olympic cycle, with the assistant coach role landing at the top of that list.
"This is one of the best parts of the new deal, the fact that it allows for the assistant coach role to be full time," Rosario said Wednesday during a phone interview. "I think it's absolutely huge. It's going to allow us to bring somebody in who has the time to work full time and make us better."
The team will embrace every little edge it can get to take its talents to another level.
"It's percentage points that you are talking about at this level," Rosario added. "So if we can find someone who can make us a couple percentage points better here or a couple points there, then overall we are going to improve across the board and maybe put somebody on an Olympic team who maybe wouldn't have otherwise been, because it's a game of seconds at this level."
According to Rosario, the cutoff date for accepting applications is Friday, Oct. 9. After that, NAZ Elite hopes to bring some candidates to Flagstaff for in-person visits in November and then make the hire not long afterward in order to have the assistant on board by Jan. 1.
Rosario wants the potential candidates to spend some time with the team in November, with the intent of seeing how the team gels with the possible hires. It's almost like the process the team uses when adding members to its roster.
The head coach has some help in finding and making the selections.
"I would almost consider it a hiring committee; that's the term I am using," he said, adding that he has board members helping along the way, too.
Rosario added: "We have to have somebody who makes us better not just nuts-and-bolts-wise, but also from a motivation standpoint, a chemistry standpoint and just an attitude/work ethic standpoint."
One of the original NAZ Elite members, Ben Bruce, has been acting late in his running career as the team's assistant coach part time. Bruce had helped with some ancillary aspects, and he and Rosario often discuss racing, training and strategy.
Rosario doesn't see Bruce's role changing much in the future, but notes that the details of his position are still being worked out.
"Ben Bruce is not going anywhere," Rosario said.
The hire should free up time for Rosario to work on the business and marketing side of the team without many interruptions, as he also works as executive director of the squad based out of Flagstaff that's been breaking records and making statements at big races over the last few years, from winning national titles to placing high at world marathon majors.
"I love doing that," Rosario said of juggling his current roles, "and that's extra time to be with the athletes, but that's something the assistant coach can be doing. That way I don't need to be taken away from the business side to go do every single practice."
And although Rosario knows what he is looking for in a full-time assistant coach -- the first ever for NAZ Elite -- he knows he has to be flexible in order to find a good fit.
"There are things I am going to need to see, but I am trying to stay open-minded about what a candidate could bring to the table. If I knew exactly what I needed, then I wouldn't do a search, I would just hand-pick a few people and see if they are interested," he said. "But I want to stay open-minded to the idea that maybe there is a person out there who has a couple of things on their resume that I didn't even realize we might need and could convince me of it."
While working the new deal with HOKA, Rosario was able to work with the shoe company in stressing that a full-time assistant coach would help the team reach new heights. Rosario said he and the team itemized what they needed in order to keep improving, and more coaching was a priority.
The first 24 hours have seen an influx of people interested in the position.
"It's only going to grow from there," Rosario said.
And growth is exactly what the team wants overall in bringing on an assistant.
Get local news delivered to your inbox!
Subscribe to our Daily Headlines newsletter.