NAZ Elite head coach Ben Rosario knows a few good places to go when he's looking for runners to add to his roster. 
The professional running team announced Tuesday that two male runners, both All-Americans from elite college programs, are coming aboard, bringing their talents to Flagstaff to begin their rookie years.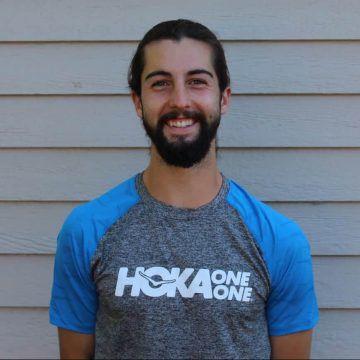 Nick Hauger, a University of Portland product, and Rory Linkletter, a BYU standout, signed with NAZ Elite, taking up two spots left vacant from a January class of four that didn't pan out. 
The two new faces bring their talents to a team that already has a star from another powerhouse running program. They will join former Northern Arizona long-distance stud Matt Baxter, who signed with NAZ Elite at the start of 2019 along with three others.
"It's pretty cool that we have guys from those programs," Rosario said on Tuesday of his new additions, who have faced each other at times during their college careers.
Just like Baxter, Hauger and Linkletter hail from high-level running programs that take high expectations into races. That's why Rosario thinks they are great additions to his team, which saw Kiya Dandena and Nick Hilton leave the squad after joining in January.
Rosario said going 2 for 4 with the last bunch of male signees wasn't tragic; however, he sees reasons why Hauger and Linkletter could stick around for some time. 
"We want to go 2 for 2 this time, and we feel strongly that these guys will thrive in our system," Rosario said. 
NAZ Elite takes a team approach to the sport, so signing successful runners from colleges that preach the same message made sense to Rosario. 
BYU placed second as a team at the 2018 NCAA Cross Country Championships behind only Northern Arizona, which still had Baxter as a member at the time. Meanwhile, Portland was the third-place finisher. Linkletter took 22nd place overall in the cross country title race, clocking a 29:42.5 while becoming the second BYU runner to cross the finish line. Hauger came in 40th overall and was also second for his team, recording a time of 29:58.5. 
In 2017, Northern Arizona was the title-winning team at the NCAA Cross Country Championships, with Portland and BYU following in order. That season saw Linkletter place 39th and Hauger go 26th as both continued to act as pillars for their college programs.
"Coming from BYU I understand the power of a great team and atmosphere," Linkletter, who owns a 10,000-meter PR of 28:12.42, said in a press released from NAZ Elite. "I believe HOKA NAZ Elite is that team on the professional level."
Hauger brings to NAZ Elite a 5000m PR of 14:03.18 and a 10,000m best at 29:16.34 that was posted at the 2018 Stanford Invitational as he took 12th place. 
Linkletter had a solid senior year during the outdoor track season, setting his 10,000m PR while taking 10th at Payton Jordan in May and registering his 5000m PR of 13:36.41 in April at Bryan Clay for a seventh-place finish.
"They are ahead of the game in the sense that, Portland and BYU, because they are both such high-level programs, they tend to have an almost professional environment in that the athletes take it very serious," Rosario said. "It's a big, big, big priority in their life, and obviously school and family and different things are a part of that as well."
According to NAZ Elite, Linkletter will make his racing debut as a member of the team when he represents Canada in August's Pan American Games in the 10,000m. Hauger will move to Flagstaff in August and likely make his debut in October.