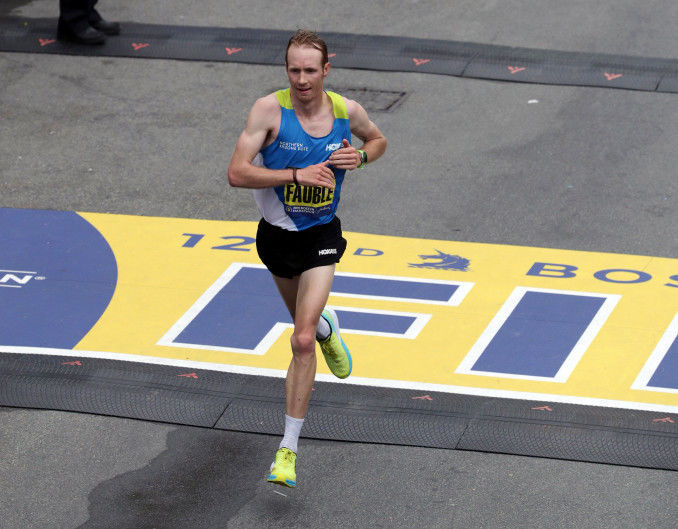 After a standout 2019, NAZ Elite can catch its breath with confidence heading into 2020, a new year and a new decade that starts with the Olympics.
NAZ Elite head coach Ben Rosario said 2019's success was important, as it increased the fiery momentum pace that 2018 sparked. The team ended the decade with a ton of PRs, new promising athletes on the team showing off their talents and eye-popping performances at the marathon distance.
NAZ Elite also made news off the course and the track, and on the streets of Flagstaff, its home base of training.
Here's a look at some standout races and stories from NAZ Elite's 2019 selected by the Daily Sun:
NO. 1: FABLED FAUBLE
Scott Fauble's 2019 Boston Marathon performance cemented him as a world-class runner ready to contend for a trip to the Tokyo Games.
He ran a PR of 2:09:09 in the April World Marathon Major for seventh place overall. Running the third marathon of his pro career, Fauble was the first American male runner to cross the Boston finish line, with American Jared Ward coming in eighth overall at 2:09:25.
Fauble's time is the third-fastest American male time as of December heading into the Marathon Trials set to take place at the end of February in Atlanta.
NO. 2: A SPECIAL HALF DOZEN
Fauble, who owns the team's fastest marathon time, leads a group of six total NAZ Elite marathoners working toward having the race of their lives at the Marathon Team Trials. He is joined by Scott Smith, Sid Vaughn, Kellyn Taylor, Stephanie Bruce and Aliphine Tuliamuk.
Taylor owns the team's best marathon time on the women's side at 2:24:28 set in 2018. She set the team's second-fastest time at 26.2 miles in 2019 at 2:26:27 when she had a fourth-place finish at the Prague Marathon in May.
NO. 3: A ROOKIE CLASS TO REMEMBER
The team added some young talent to the male side of the roster in 2019, most notably Matt Baxter, who joined NAZ Elite after a stellar collegiate career with the Northern Arizona Lumberjacks.
Baxter came aboard in January of 2019 and by the summer a former rival of his was picked up by NAZ Elite: Rory Linkletter, who came from BYU.
Both have already left their footprints on the team's success.
NO. 4: ROOKIES GET FEET WET
NAZ Elite's young runners laced up for plenty of first-time situations in 2019.
Baxter ran and won his first-ever half marathon, clocking a 1:02:57 at the Rock 'n' Roll San Jose event in October. Linkletter ran the first marathon of his career, taking 16th place in 2:16:42 at the Scotiabank Toronto Waterfront Marathon.
Alice Wright was set to run her first marathon in 2019, but an injury setback during training took her off-course for now. But Wright won her first race as a professional, coming in first at the Wine 10K in 34 minutes in March.
Danielle Shanahan also got her first victory as a pro with NAZ Elite in 2019 when she won the Baldy Castillo Invitational 1,500-meters race in 4:24.71.
NO. 5: SHANAHAN STEPS UP
Shanahan made strides in 2019 as a second-year pro with NAZ Elite.
In addition to winning her first race with the team, she finished 2019 with her first top-five finish at a USATF championship race as she took fifth at the club cross country champ race in mid-December. Shanahan set personal bests in 2019 in the 5,000m at 15:26.91 and the 10,000m at 32:22.59.
NO. 6: BRUCE CONTINUES TO BREAK OUT
Bruce won her second-ever national title in 2019 and set PRs in the marathon, half marathon and 5000m distances as she continues to hit new milestones in her veteran career.
In the fall, she ran a personal best of 2:27:47 while finishing sixth at the Chicago Marathon. She started 2019 with a 5000m PR of 15:44 and smashed it not long after with a 15:17.76 at the USATF Distance Classic.
She set her half marathon PR of 1:10:44 when she won her second-ever crown at the USATF Half Marathon Championships. She was the runner-up at the USATF 10K Champs.
NO. 7: GETTING MORE OUT OF HER LEGS
Tuliamuk and NAZ Elite saw a better marathoner waiting to emerge in the seasoned runner she joined the team. And they got it in 2019.
She ran a PR of 2:26:50 and took third place at the Rotterdam Marathon in April. That time made her the third-fastest woman marathoner on the team.
Tuliamuk, despite not having ample training time for the race, had a solid performance at the New York City Marathon, running a 2:28:12 for 12th.
NO. 8: BRAUN SAYS GOODBYE
In March, after providing solid years of running to the team, Aaron Braun departed NAZ Elite to take on a new role.
Braun made the decision to leave professional running in order to focus more on his coaching job at Sacramento State.
Braun finished in 14th place in the 2017 Chicago Marathon, running a 2:13:16, and his PR in the distance came a few years before joining NAZ Elite in 2015 at the Houston Marathon on a seventh-place finish in 2:12:54. In September of 2017, he took ninth place at the USATF 20k Championships in 1:02:26 for NAZ Elite. Braun, alongside Scott Smith in 2018, was one of the first for NAZ Elite to participate in Flagstaff's annual Downtown Mile, taking second place in 4:15.
NO. 9: DOWNTOWN TAKEOVER
NAZ Elite upped the ante for the Flagstaff Downtown Mile on the Fourth of July, sending three runners to the 2019 installment of the annual holiday race.
Bruce took third in 4:51, Erin Clark was fifth for the team in 4:53 and Shanahan came in sixth at 4:53. Vaughn was slated to run the race but had to drop out.
NO. 10: CHECK THIS OUT
In August, NAZ Elite did some of its best outside the lines.
Head coach Rosario, board members and members of the professional running team's roster presented the Hopi Bruins cross country boys and girls cross country programs with a check for $4,000.
It was the third straight year NAZ Elite has helped raise the money, and the team has hit a PR at $4,000, topping last year's $3,000.