Navajo Nation Gaming Enterprise is expanding toward Flagstaff with its recent purchase of 14 acres off U.S. Highway 89 two miles beyond city limits, including Horsemen Lodge Steakhouse.
According to property records from the Coconino County Assessor's Office, the three adjacent parcels west of the highway were purchased for a total $5.2 million in cash on October 25 and November 13.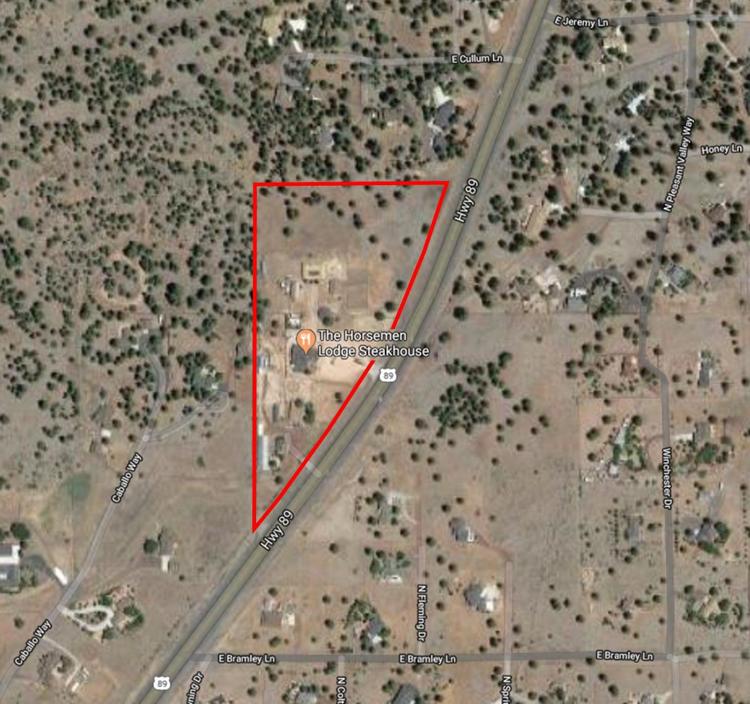 "We are always looking for opportunities to diversify and grow, just like any business," Brian Parrish, CEO of Navajo Nation Gaming Enterprises, told the Arizona Daily Sun. "This property acquisition came up pretty recently and we thought it represented a great opportunity for us. Strategically, it is a really good location."
Parrish said the organization has had troubles drawing people to its Twin Arrows Casino Resort 15 miles east of Flagstaff and hopes a partnership with Horsemen Lodge -- what he called "an iconic business" -- will help direct more restaurant patrons and passersby to the Navajo Nation, especially Twin Arrows and the neighboring Navajo Blue Travel Plaza, which is set to open by the end of January.
The organization is still completing assessments on the new properties needed for planning; however, Parrish said impacts of developments to the area within the next year will be negligible, if there are any. He said Navajo Gaming has just begun conversations with local leaders and plans to reach out to nearby residents.
Casino possible
As for a potential small casino or gaming facility being constructed on the property, Parrish told the Daily Sun, "We're not ruling any of that out, but we have no plans immediately of putting gaming in there."
To do so would require Navajo Gaming to have the land converted into federal trust land, as outlined in the Indian Gaming Regulatory Act, which would only allow it to operate gaming on the property if the U.S. Secretary of the Interior and state governor both agree "that a gaming establishment on newly acquired lands would be in the best interest of the Indian tribe and its members, and would not be detrimental to the surrounding community."
This process could take between one and three years to complete, Parrish estimated, if Navajo Gaming chooses to request the change.
Horsemen Lodge
Although all three sellers agreed to sell their properties to Navajo Nation Gaming, whose name remained anonymous on all documentation until the sales closed, only Horsemen Lodge was on the market at the time.
Steve Alvin, former co-owner of Horsemen Lodge, said the property had been for sale for just under a year.
"It was just a good time for us to sell. We didn't want to get caught in a downturn and have the responsibility of such a large building," Alvin said.
The property was sold for $1.9 million, $800,000 more than when Horsemens Lodge LLC purchased the property in 2014. Though Navajo Gaming now owns both the property and building holding Horsemen Lodge, it has leased use of the building to its former owners. Parrish would not provide details of the duration of this leaseback agreement, but noted it includes renewal and extension terms.
"They're going to continue to operate the restaurant and retain the jobs. … We are serving like a landlord," Parrish said.
Though the restaurant will continue, it will see some changes. Navajo Gaming is considering bringing touch screen kiosks to Horsemen Lodge to introduce people to elements of Navajo culture and experiences, as well as products like Navajo beef or the new product line to be introduced in the travel plaza, including craft soda, beef jerky and tamales.
Quincy Natay, Chairman of the Navajo Gaming Board of Directors, said in a press release that such opportunities will help the Navajo Nation following the closures of the Navajo Generating Station and Kayenta Mine.
"It is incumbent upon Navajo-owned Enterprises to find opportunities to overcome the ill effects resulting from these closures," Natay said. "The loss of jobs for area residents and approximately $40 million in annual revenues being returned to the Navajo Nation is a tremendous hardship."
Other properties
For David Bellar, former owner of the 8-acre parcel north of the restaurant, the $1.6 million offered by Navajo Gaming was more than double its 2014 sale price. He said he was approached a few months ago about selling the property and, because of a nondisclosure clause, did not know the buyer until the property was sold. With an offer that high, though, Bellar, a real estate broker, said it was worth it to move his personal horse ranch from the property.
The same was true for Flying Heart Stables, LLC, which sold the property south of Horsemen Lodge: owner Nick Odegaard chose to sell after receiving a large, anonymous offer for the land, but declined to comment further.
Parrish said Navajo Gaming is considering using the space provided by these two parcels as acceleration and deceleration lanes between Highway 89 and the property.
"Safety is always a paramount concern for us," Parrish said. "We thought that with the additional parcels there, it might be a good idea for us planning for the future to have more frontage roads so we can have longer acceleration/deceleration lanes."
Though plans for a casino have not been confirmed, nearby residents have expressed concern. Residents of the homes that border Navajo Gaming's new land, along East Cullum Lane and in the North Peak neighborhood, met this week to discuss the purchase. In addition to reaching out to local and state representatives, the group plans to hire a legal consultant to help them determine their rights in the event that a casino is proposed.
"This is a gaming entity that bought [the land], so why would you think it would be something other than a gaming item?" said a representative of the Cullum Owners Group, who wished to remain unnamed. "That's where our concerns are. If the Navajo Nation wanted to buy it as an investment, they wouldn't be under the gaming enterprises."
Get local news delivered to your inbox!
Subscribe to our Daily Headlines newsletter.