Just as the Lumberjacks started to find their identity, they soon realized they have a lot searching left to do after struggling on both ends of the floor against the Bengals on Saturday in an 80-69 loss.
Five members of the Northern Arizona women's basketball team ended the home game in the Walkup Skydome with double figures in scoring, but the team shot 36 percent from the field while allowing Idaho State to strike at 55 percent.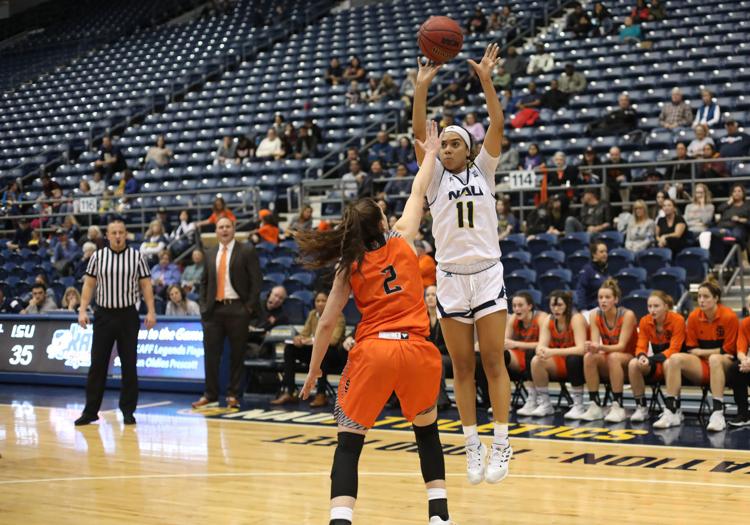 The Bengals (8-5, 3-1 Big Sky) took an early 6-2 lead, using open lanes and unguarded cuts to keep the Lumberjacks (5-8, 1-3) off-balance. Northern Arizona tied the game at 10-all on a pair of Morgan Gary free throws, but again fell asleep on defense as Idaho State pushed ahead on a 9-0 outburst and never looked back on the way to its third straight victory.
"I think we lost this game in the first quarter defensively, where we were just a step slow on them running their plays," Lumberjacks head coach Loree Payne said. "And then we switched to zone and they were able to get a few good looks against that, so we just need to step it up defensively and I think that will help. You can't always control making shots, but on defensive you can always control your energy and effort."
It was the seventh loss in the past eight games for the Lumberjacks, and it came in the middle of a three-game homestand and at the end of a week that consisted of four games starting last Saturday in Montana.
"I think it hit us a little bit tonight," Payne said of the tough schedule. "I felt like we were not quite as dialed-in as we need to be defensively, especially in that first quarter."
Saylair Grandon paced the Bengals with a 27-point, 11-rebound double-double, hitting jump shots, finding lanes and cutting hard all afternoon while going 9 of 19 from the field. Both of the senior guard's points and boards were season highs.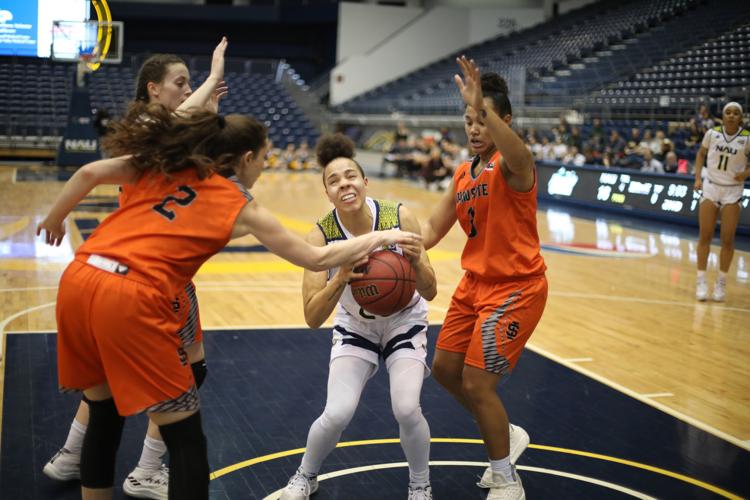 Lauren Orndoff recorded a team-high 16 points for the Lumberjacks, who shot 25 percent from the field in the first half and were 0 for 3 from 3-point range at the half. The Lumberjacks hung around at halftime down nine, but the Bengals had their largest lead at 18 points with 1:57 to play in the third quarter at 57-39.
It was the second straight game the Lumberjacks went with a bigger starting lineup that included Peyton Carroll, who ended her night with 11 points on 3-of-10 shooting and a 5-for-6 performance at the foul line. The lineup worked well against Weber State on Thursday for a victory, but didn't mesh Saturday.
"We just have to figure that out. We are still trying to figure out rotations and lineups, and consistency," Payne said. "I think until we get people consistently bringing it every night, it's hard to have a consistent lineup and rotation, so we are really challenging our players with that."
Most of Northern Arizona's early points came on in-bound plays under the hoop, and the team finished the opening half 11 of 12 at the foul stripe while trying to stay within striking distance. Again, open looks were not falling for the home team until a couple came too late in the fourth quarter.
The Lumberjacks were shooting at 20 percent in the game's first four minutes but only trailed 10-4.
Facing shooting struggles of her own for some time now, Regan Schenck helped sparked an Northern Arizona push in the final quarter. Entering Saturday averaging 6.4 points per game, the freshman hit a 3 to cut the deficit to 64-55 with 6:52 remaining.
Schenck finished with 12 points on 4-of-10 shooting. Her lone assist was a dazzler, as she stole the ball, kept it alive while falling out of bounds and found Orndoff for the bucket and the three-point play opportunity. But Orndoff missed the free throw, and after being solid at the line in the first half the Lumberjacks were 9 of 16 in the second.
Khiarica Rasheed, Carroll and Jacey Bailey each finished with 11 points for the Lumberjacks, who have a week to get their legs back as they host Southern Utah next Saturday at 2 p.m.
NOTES
Idaho State forward Grace Kenyon tallied a season-high five blocks after coming into Saturday owning seven on the year... NAU attempted its second-fewest amount of 3s (13) against the Big Sky's worst team in defending the arc... Schenck hit her first 3 in the last five games and had her most field goals during that stretch... NAU had 17 points off 16 turnovers and won on the glass 44-32.