Northern Arizona University's 11th annual Undergraduate Symposium saw a fitting 11% increase in registered student participants from last year as students shared not just conducted research, but also experiences and practical creations from the year.
On Friday, students of all ages and majors got cozy with their projects as they packed more than 500 posters and multimember teams into the Fieldhouse, instead of the Walkup Skydome like in previous years.
The symposium also featured about 250 oral presentations, as well as roundtable discussions and art demonstrations. Total attendance was estimated at 3,500, including nearly 400 students from nine high schools and middle schools throughout the state who were in town for campus tours.
This year, topics had not only personal value, but also regional and national potential, ranging from the creation of robots and prosthetics converters to research on uranium in the Navajo reservation.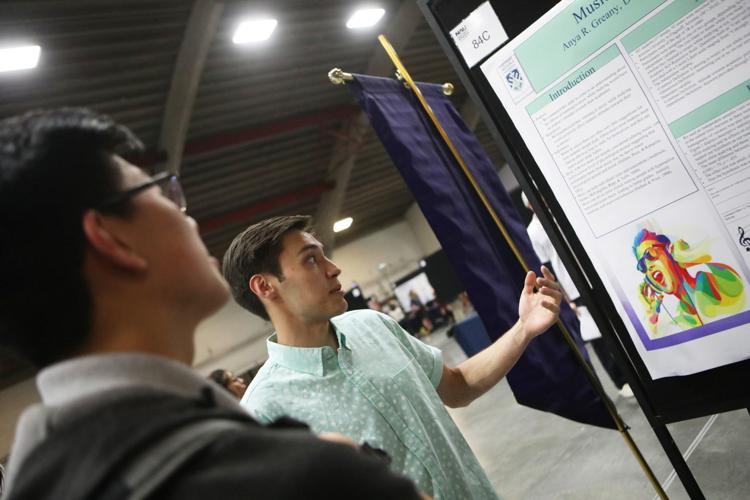 Through the Interns to Scholars program, students like Cassondra Mundell, a sophomore women and gender studies major, shared their internship experiences with visitors to the symposium.
Mundell partnered with a small printing company to update its website and increase its social media presence. She had never built a website before and said the experience helped her learn how to create a product according to a client's specifications.
Joseph Espinoza, a junior exercise science major, took a more traditional approach to research, even though his topic was outside his normal area of study. Espinoza worked with Biological Sciences faculty to chronicle cases of thyroid disease in Yuma County residents, using electronic medical records and hair samples from residents. The disease could be linked to perchlorate – a chemical compound used in cleaning supplies and rocket fuel – found in the Colorado River.
Though the research is only in its beginning stages, Espinoza, who is from Yuma, said another danger lies in potentially contaminated local crops.
"The problem is not just in Yuma, it could be a nationwide issue," he said.
Also presenting on a state issue, Jordan Ojeda, a junior biomedical science major, stayed closer to Flagstaff for his research on cancer screening among Hopi men.
Ojeda explained that Hopi men are screened for cancer less frequently than other men in the country, though they have cancer more often. His goal was to create materials like posters and brochures that would resonate with these men and encourage them to be screened.
You have free articles remaining.
"The CDC [Centers for Disease Control and Prevention], as great as they are, their materials are very black-and-white text, with long, lengthy words. It's important to make these materials culturally relevant and to get feedback from the target people," Ojeda said.
Ojeda was surprised to find that the men he worked with did not want the materials written in the Hopi language, though. They said the Hopi people attempt to keep the negativity of a topic like cancer separate from their language and traditions.
Following this input, Ojeda created culturally appropriate materials that will be distributed in May.
Similarly, Ariana Salazar's research could eventually have the potential to help human beings fight cancer more effectively.
Salazar is a senior biology and psychology major who worked in Dr. Catherine Propper's Environmental Endocrinology Lab to determine the effects of estrogen and arsenic – one of Propper's specializations – on breast cancer cells in a 48-hour period.
The results were varied. For example, Salazar said a mix of estrogen and other hormones increased breast cancer cells, while the cells exposed only to estrogen decreased.
"Studies now show conflicting evidence about how estrogen and arsenic interact, so we want to just narrow it down and eventually create treatments tailored to the individual with breast cancer," she said.
The next step is to test different types of estrogen and arsenic to see how the results compare.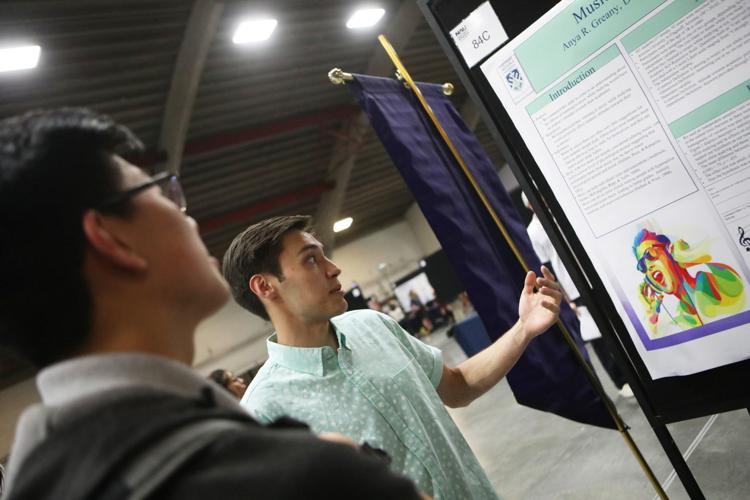 Tina Zecher, senior program coordinator for the Office of Undergraduate Research and Creative Activity, planned this year's symposium and encourages next year's symposium participants to get started now.
"Get involved in research as soon as possible by starting the conversation with a faculty mentor. It's never too soon to do that," she said.