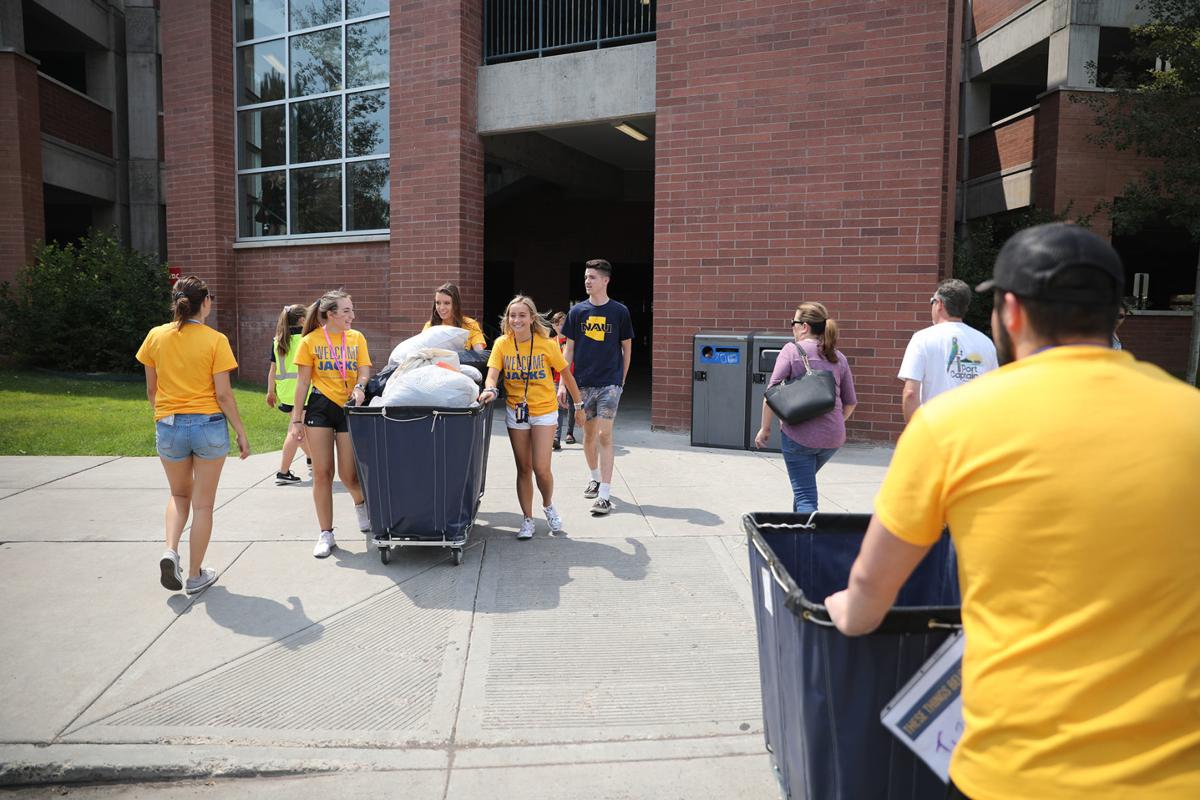 Northern Arizona University's overall enrollment has dropped a little more than 300 students this year, according to its 21-day count.
There are now 30,736 total students (down from 31,073 last year), including 20,857 undergraduates on the Flagstaff campus according to the numbers released last week.
NAU officials have attributed more than a third of the overall loss to a decline in total international enrollment.
Kim Ott, NAU spokesperson, said NAU and Arizona State University have both been placed on saturation lists by Kuwait, a small country bordering Iraq and Saudi Arabia, for the last two years.
The Kuwaiti cultural office will not be sending additional students, "due to their perception that NAU and ASU had a high percentage of Kuwaiti students on campus," Ott said in an email.
The annual university budget -- totaling $630 million -- has already been adjusted approximately 0.5% for the lower enrollment number.
The last time undergraduate enrollment at the Flagstaff campus decreased was in 2005, when there were about 100 fewer students than the previous year.
Ott said NAU will "continue to assess and offer graduate, statewide and online programs as part of our overall academic portfolio to attract a broader student mix than only traditional undergraduate students in order to help the state achieve its educational attainment goals."
Despite the overall drop, this year NAU had the largest number of new international students in its history, with a 4% increase.
"NAU has seen incredible student growth in new international student enrollments over the past decade, even while nationally the number of international students coming to the U.S. has decreased," Ott said.
The 21-day count showed growth in other areas, too, including graduate, diverse and retained students, bringing the university closer to meeting its long-term enrollment goals set by the Arizona Board of Regents.
You have free articles remaining.
According to its strategic plan, by 2025 NAU plans to have 34,909 total students, including more than 30,000 undergraduate and 4,500 graduate students.
Although the university still has about 4,000 undergraduate students to go, it is only about 300 graduate students short of its 2025 goal, with a 5.7% increase this year in Flagstaff, online and statewide, the largest growth in graduate students in a decade.
The College of Engineering, Informatics and Applied Sciences saw the most growth in graduate students at 45%.
Total diverse students (including "American Indian/Alaska Native, Asian, Black/African American, Hispanic/Latino, Native Hawaiian/Other Pacific Islander, Two or More Races") increased 1.6% over last year, with increases of 6.4% in Asian students, 3.4% in American Indian or Alaska Native students and 2.2% in Hispanic or Latino students.
Retention rate for the university also increased by 4% this year, now totaling 77.6%.
120 years of students
This year marks the 120th class at NAU, which began as Arizona Normal College in 1899.
As of move-in day, the freshman class totaled 5,346 students on the Flagstaff campus, a significant change since its first class of only 23 students, according to the NAU website.
Although the university began as a teaching college, its most common majors are now nursing, biomedical science, business, criminology and criminal justice and biology, NAU President Rita Cheng said to the Board of Regents during a meeting last week.
The largest number of first-year students internationally come from China, Kuwait, Saudi Arabia, the United Kingdom, India and Germany. Within the United States, these students are mostly from Arizona, Colorado, California, New Mexico, Nevada and Hawaii.
The average age of students in the 120th class is 19 and the two most common names are Emily and Jacob (which were the top two baby names in the country from 1999 to 2003).
"This year NAU celebrates the 120 years of success and growth in our purpose and commitment to expanding access to education and positively impacting Arizona's workforce and economy," Cheng said.