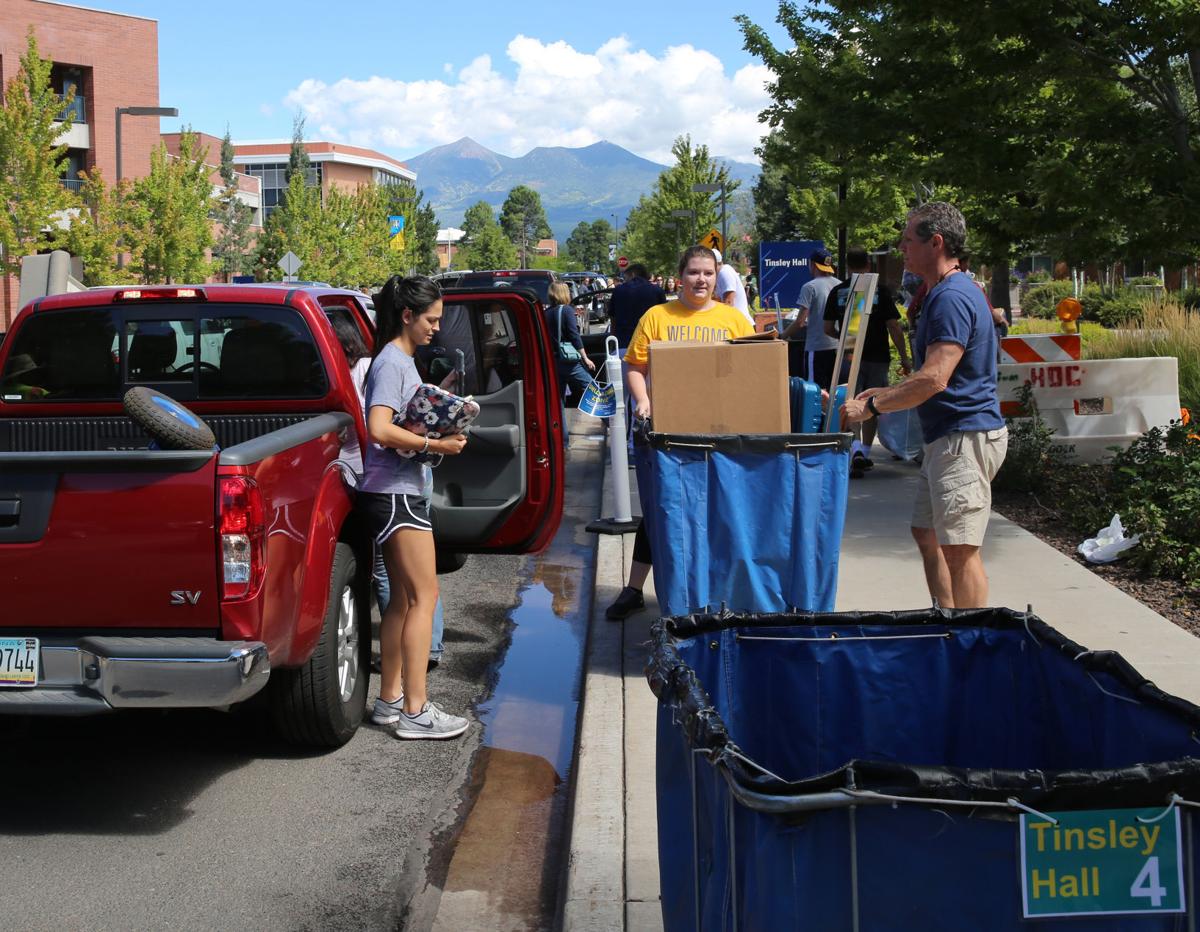 Northern Arizona University has delayed move-in for the thousands of students who will be living on campus this fall in an attempt to limit possible COVID-19 transmission.
In a letter to the campus community Friday, NAU President Rita Cheng announced the move-in process would be extended and that students would be contacted this week with more details. Later communication from the university on social media noted that most students' move-in date would be scheduled from Aug. 19 to 30, but for those students with classes requiring in-person attendance during the first week, move-in would occur Aug. 14-16.
Classes will begin remotely on Aug. 12 using NAUFlex, and classes requiring in-person attendance will begin Aug. 17. Additional classes will meet in-person beginning Aug. 31.
"The timing of our decision was based on the status of COVID-19 cases in our local community and the state of Arizona, and in consultation with local medical experts and input from stakeholders," said NAU spokesperson Kimberly Ott of the change in move-in schedules. "The week of this announcement, the Flagstaff area and most of Arizona was beginning to see a plateau in the number of COVID cases. Providing an extended and phased-in approach to moving students back to campus affords additional time for numbers to continue to go down, and dramatically reduce the number of students who are moving in at any one time in the coming weeks."
But with the announcement coming less than two weeks before the previously scheduled Move-In Week, students and families were concerned about being unable to change their plans.
"I was more worried and scared than anything, because I'd really been looking forward to moving in to NAU for the year," said Mckayla Mckay, a freshman psychology major from Casa Grande.
After the disappointment of being unable to attend her senior prom and high school graduation as a result of COVID-19 restrictions, Mckay did not want to miss out similarly on this early college experience with her mom and stepdad, who work at a prison and had to request their time off months in advance.
Mckay is hoping to register for an exemption to allow her to move into her dorm room in the Honors College during her originally planned time slot.
Ott said approximately 700 students will likely move in during their original times due to extenuating circumstances. She said the majority of these circumstances relate to students or families who have travel or work plans that would be "difficult or impossible to change."
The university is still accepting requests for these exemptions. As of Wednesday, more than 90% of these requests had been processed. Students have been informed they will receive followup information within 48 hours of submitting this request.
Madelynn Klein Courville, a senior criminology and criminal justice major from Sacramento, received her new move-in date Tuesday and is in the process of changing her hotel reservations and her plans for the 12-hour drive.
"I don't have it as bad as people who are across the country flying here," Klein Courville said. "I drive, but it's frustrating anyhow because you have all this planning. Some of it can be changed but sometimes you get locked into those noncancellation fees and you're also trying to prep ahead of time with all your stuff. It wasn't so much that COVID wrecked my plans, it's more that the school waited this long to make that decision to change their game plan."
She was first scheduled for Aug. 10, but will instead be moving in the weekend of Aug. 14.
"I feel very relieved I got [this move-in date]. It's the weekend, two days after school starts, but still, I'm concerned in the sense that there's things I need to do while I'm taking that time to go to Flagstaff or get settled, and even for the people who are coming later on, you're moving in after school started," she said.
Ott said the majority of move-in dates will occur on weekends, with a few weekday options, to allow students to choose a time around their class schedule. Students can work with their professors to make up class material if needed.
According to a video update from NAU administrators Wednesday evening, rent for on-campus housing is not being prorated despite the later move-in dates for most students.
"We are moving you in in the month of August, and so we don't look at a day-by-day proration there," Vice President for Enrollment Management Anika Olsen said. "… Many of our students are moving in prior to the start of classes, some that first weekend after the start of classes and then throughout the month of August."
A previous social media post from NAU noted that campus dining plans will be activated when students check in for housing and that any missed meals from previous weeks will be credited to their account for use during the year.
Students in on-campus housing are required to be tested for COVID-19 at least 10 days before arrival or, for those who cannot be tested elsewhere, at Campus Health Services as soon as possible.
Concerned about COVID-19?
Sign up now to get the most recent coronavirus headlines and other important local and national news sent to your email inbox daily.