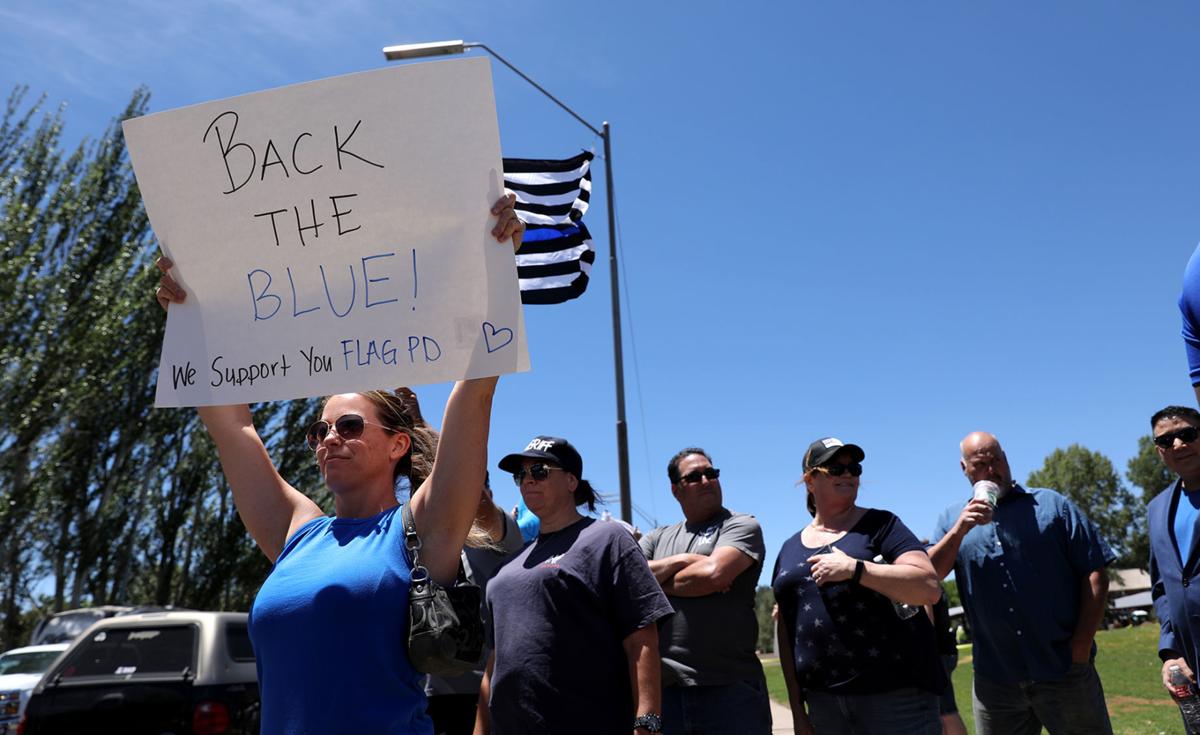 Over the past few weeks, calls to change the police system have become a loud presence in Flagstaff and around the country.
The Flagstaff City Council passed its most recent police budget unanimously last Wednesday, after 386 public comments were read over a nearly seven-hour period. The city then called for multiple public meetings to discuss the issues of police abolition, reform or defunding, with various organizers advocating for one of the three.
Several different advocacy groups are now forming a list of budget changes they hope to see after they send it to Council.
Some are working with the city council, and others are demanding it.
Protestors have a lot of work to do to convince the public that defunding the police is a solution to the issues engulfing the nation, because many members of the public might be experiencing these terms for the first time ever.
Luis Fernandez, chair of Northern Arizona University's criminology and criminal justice department, has studied extensively the topics of abolishing, defunding and reforming the police from an academic perspective. From his point of view, he explains this recent conversation will probably not be going away anytime soon.
The current push for defunding has been brewing in different communities around the United States for a few years, despite how new the idea may seem to some people. Fernandez said, historically, ideas that are the basis of large public demonstrations change the framework of conversations by "leaps and bounds."
"[Months ago,] abolishing the police sounded almost insane," Fernandez said. "But all of a sudden, people have to come to terms with it. You can't dismiss it."
Reform, defund, abolish
Depending on what term is being used -- reform, defund or abolish -- the result could be very different, Fernandez explained.
Reform is based on the idea that providing more training, diversifying leadership and implementing increased de-escalation training will lead to a drop in crime and brutality.
Fernandez explained that, coincidentally, Minneapolis was one of the major reformers of police after the Ferguson protests in 2015, and yet five years later many in their community have not seen the type of change they were seeking.
Defunding is based on the belief that many communities are currently unequal in terms of social and economic status, and are separated in cities around U.S. based on those dividing lines.
Fernandez said the push to defund is based strongly on the idea that police are asked to enforce and maintain this current social order, whether it is just or unjust. As an example, he pointed to segregation. Black people were forced into separate communities, ate at separate restaurants, went to different schools than white people -- all a result of the social order. Police were asked to enforce that social order, Fernandez explained.
Today, police are asked to handle "skirmishes" between parts of the community that are socially and economically separate, often still separated by invisible but present lines -- from removing homeless people from richer areas to using force to manage people with mental illnesses who impact other people.
By defunding the police, and having fewer police officers, defunders hope to ease up on enforcing this social order to allow for more space for social change.
Lastly, Fernandez explained that advocates of abolition argue it is necessary because police are engaged in a variety of practices that people feel they should not be asked to manage in the first place.
Those include handling domestic violence calls and responding to the mentally ill and homeless. Abolitionists also argue that police budgets have ballooned over many years, while education, counseling and other social services have lost funding. Advocates believe diverting this money from police budgets to social services can help issues in mental health, housing, and other circumstances that lead to crime in the first place.
"[It] might be the first time many people are running into that type of argument and issue," Fernandez said. "If you are Black, Latino, Indigenous and young and grew up in the United States, fear of police and trepidation about police is not something new to you."
Left or right?
Fernandez said a striking part of this dialogue is that it has not evolved along a left-versus-right divide. He said in his mind, the idea of reforming, defunding or abolishing is a movement led by youth, people of color and seems to be mainly resisted by those who are older.
In Fernandez's mind, he said this distinction also shows why many people are "disaffected" from both political parties, and frustrated with the system.
"I don't necessarily see it as a left or right issue, right now," he said. "I think that Republicans and Democrats have, at this point, a slightly different take on it, but maybe they're closer to each other than people in the streets."
Roots of abolition
The idea of abolition is not necessarily a new one, Fernandez said.
The use of the word can be traced to the early 1800s when some Christians and historic figures such as Harriet Tubman maintained that slavery was immoral, a topic Fernandez wrote about in a 2018 article on the topic of police abolition movements.
"It wasn't about giving slaves more rights, or any rights, because they were property. It wasn't about making life for them a little bit better to give more food, or changing the slave laws in a sense," Fernandez said. "No, the situation of slavery had to disappear, because owning a human was fundamentally wrong."
This moral abolition appeal spread through the states and territories and led to the bloodshed of the American Civil War from 1861 to 1865. The word is also used in relation to prisons, where prison abolitionists have argued that the 13th Amendment created a new class of slavery based around criminals.
Fernandez said that as best as he could tell, "abolishing the police" saw a wider use during the first wave of the Black Lives Matter movement during the Ferguson unrest after the shooting of 18-year-old Michael Brown in 2015.
The Ferguson protests sparked a wide variety of reforms across the country, Fernandez explained, including the push for police to wear body cameras like the ones worn by the Flagstaff Police Department and Coconino County Sheriff's Office. The Arizona Department of Public Safety does not currently have body cameras for its officers, although Gov. Doug Ducey's current fiscal budget proposes spending $5 million to equip the entire agency.
But many protesters feel that these reforms do not work as Black and Indigenous people of color are still being killed by police at disproportionate rates around the country, Fernandez said. Many people continue to be concerned that similar instances of brutality that led to the death of Brown, George Floyd and others are more likely to occur to them than other ethnicities.
Since 2015, police in the U.S. have shot and killed more than 5,000 people, according to The Washington Post database on police killings. Black people account for 24% of those fatally shot and killed by police despite being just 13% of the population, and are 2.5 times as likely as white Americans to be shot and killed by police.
Given the lack of meaningful change from the 2015 reforms, many protesters have turned to abolition as the solution.
"It came from people in the streets that have had enough of the experience of the police that they just put it forward," Fernandez said.
Uncertain future
Despite how well Fernandez outlined the current moment years before, he said the future is currently uncertain.
"We just went through one of the most traumatic street protests in a couple of generations. One of the most dramatic ones I've seen, most widespread," he said.
For those looking for advice about how to respond to the moment, Fernandez said he has little because of how much is constantly changing. But in his mind, the worst thing any person can do when confronted with anything new is to dismiss it without actively listening to it first.
"The process of understanding is the process of critical thought," he said. "That's the process I try to engage with my students. We're not here to fully agree or disagree. We're here to understand what is happening, and sometimes that goes against what we think is true."
Get local news delivered to your inbox!
Subscribe to our Daily Headlines newsletter.