Throughout the last year, researchers at Northern Arizona University's COVID-19 Testing Service Center have been growing the coronavirus — for scientific purposes, of course.
The testing center, or CTSC for short, was launched in spring 2020 to test the latest health technology and developments against the novel coronavirus, SARS-CoV-2, which causes COVID-19. The center is housed within NAU's Pathogen and Microbiome Institute (PMI) and its team of about a dozen researchers, from undergraduate students to professionals, is led by NAU assistant professor of biology C. Todd French.
"When the outbreak happened, we were kind of thinking about what we could do to contribute," French said, explaining that PMI Executive Director Paul Keim reached out to him with the idea of putting together a team that could test potential COVID-19 therapeutics and treatments at academic-rate pricing. "It would be a way to get some of these promising candidates rushed into the market or into trials."
French said the team has since tested at least a dozen different compounds including possible treatments as well as disinfecting solutions or devices submitted by pharmaceutical companies and academic research institutions. They've had particular success with a compound called stenoparib, a PARP inhibitor. In a study published in late January, the team reported that stenoparib inhibited coronavirus both as a single agent and in combination with the antiviral drug remdesivir, the antiviral drug approved by the U.S. Food and Drug Administration for treatment of COVID-19 patients.
Based on these results, last week, Allarity Therapeutics of Hørsholm, Denmark announced it would partner with CTSC to further test stenoparib, which is currently in a Phase 2 clinical trial for ovarian cancer treatment.
The specific goal of the CTSC stenoparib study, though, is to test this inhibitor on the highly infectious coronavirus variant B-117, which was first discovered in Britain, to see if, as in previous studies, stenoparib is able to block the infection and replication of SARS-CoV-2.
French is anticipating favorable results due to key biological similarities between this strain and other coronaviruses.
"Cancer drugs can often inhibit pathways inside the cell that are not only involved in cancer cell growth, but if these pathways are inhibited, then viruses can't grow inside the cells either. … The new British variant still seems to have the same biology and rely on the same pathways that the other variants of SARS-CoV-2 have. It's not significantly different enough where stenoparib or other treatments like remdesivir wouldn't be expected to be effective against it," French said.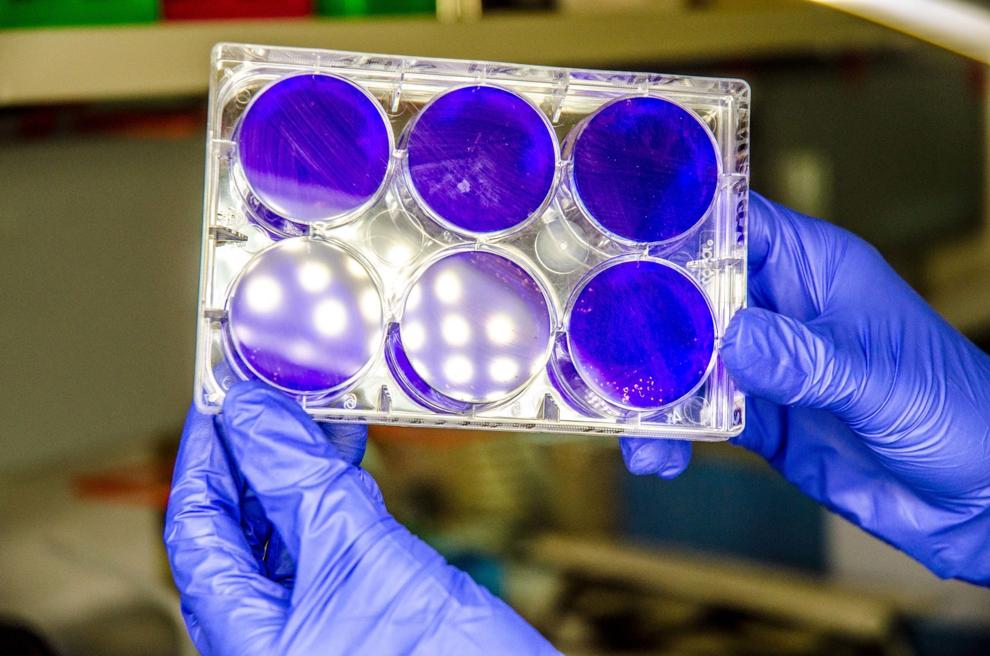 The team has previously worked with several variants, including one of the early strains from Washington state and different versions that have circulated throughout Arizona.
"The emergence of SARS-CoV-2 variants is a challenge to our current approaches to COVID-19," Keim said in a press release. "They necessitate the validation of our diagnostics, vaccines and therapeutics against a panel of these new and dangerous strains. B.1.1.7, in particular, has to be included in order for us to choose the right approaches and drugs for this disease."
CTSC uses two types of live coronaviruses for most of its experiments: SARS-CoV-2 and another coronavirus that causes a seasonal respiratory illness much like a common cold. While some prep work and studies can take place in PMI's lower-level labs, all use of SARS-CoV-2 happens within its biosafety level 3 lab (BSL-3), the most secure lab at NAU designed for the safe handling of microbes that can cause potentially lethal diseases.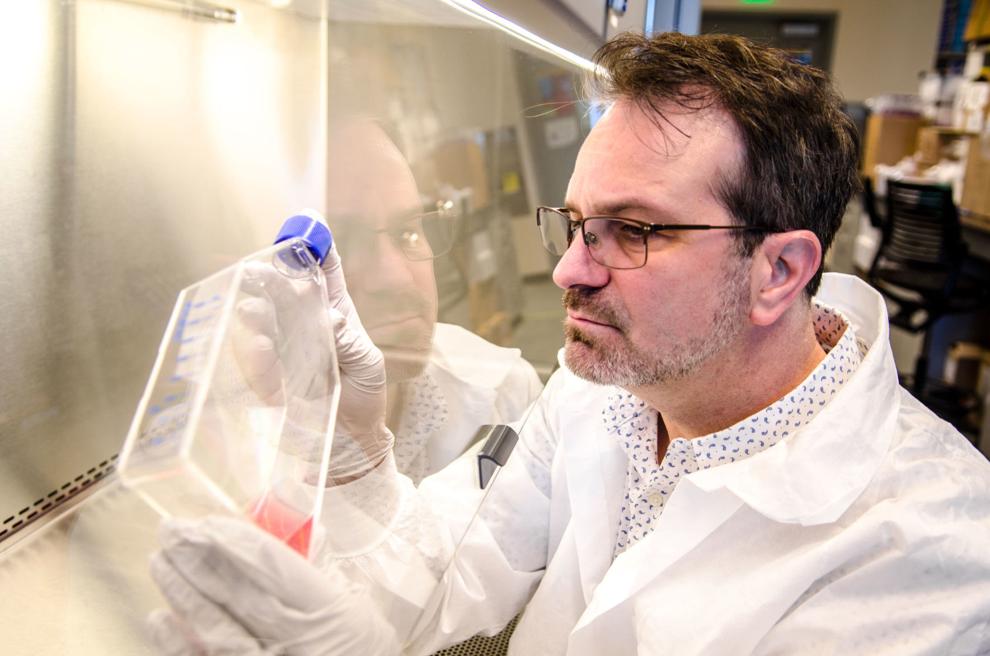 The testing process takes at least three weeks to complete and includes allowing the virus to grow and multiply within a flask. Samples are tested in batches of nearly 100, allowing the team to try out different doses, concentrations and compounds at the same time. After a few days of incubation, researchers analyze how the virus spread in the flask and the host cells it may have killed.
With one technique, called a viral plaque assay, researchers are able physically hold a sample up to a light to see virus concentration, while another method, PCR testing, isolates the virus' genetic material to see if it was amplified or not.
French said his work with CTSC has revealed the complexity of treating SARS-CoV-2 because some compounds work better "in vitro" (in the lab) than they do "in vivo" (in a living organism), and vice versa. For safety reasons, though, all possible treatments must be tested in the lab first -- which French said is why CTSC was first created and why the team plans to continue operating as long as there is a need for additional testing.
"There's a heightened sense of urgency to do the studies right the first time and to work a lot harder to see if we can get something out of the studies; however, like most people, we're scared of this pandemic. I'm still scared of it," French said. "It's worse now than it ever has been in the United States. It may be tapering off a little bit but the sense of vigilance is still there and most of our laboratory staff and faculty still go to work and we show up. We're not frontline workers like nurses and paramedics and physicians, we don't see patients, but we still show up and we have to do critical work."