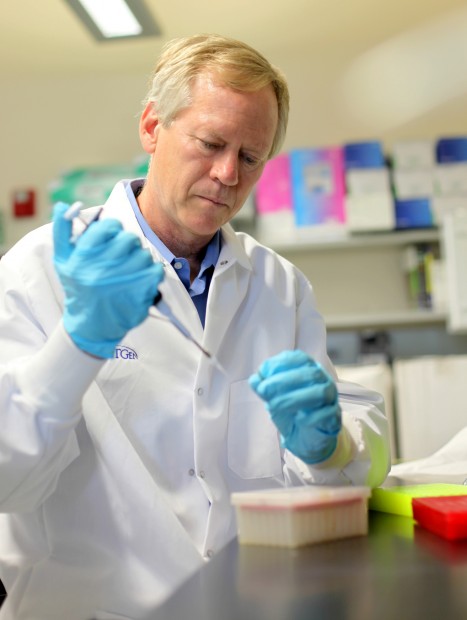 On the morning of September 11, 2001, Paul Keim was out for a run with his dog on Observatory Mesa, oblivious to the events unfolding along the eastern seaboard.
He was training for a marathon that he would never run.
Within weeks, he would be sitting on the hood of his Toyota on the tarmac at Flagstaff Pulliam Airport when a blonde woman walked off a Gulfstream jet and handed him a package.
"Dr. Keim, this is the anthrax," she told him.
Even from more than 2,000 miles away, most people in Flagstaff were touched by 9/11, but it didn't dramatically alter the course of their lives. Keim was directly affected by that day perhaps more than any other person in the Flagstaff community.
Keim is the director of the Center for Microbial Genetics and Genomics at NAU, where he is also a regents' professor of biology.
He was a critical component of what was one of the largest and most complicated and most expensive investigations in the history of law enforcement.
It was Keim who identified the strain of anthrax used to kill five people and sicken 17 more in the wake of September 11, 2001.
"Personally, it has dramatically changed my life," Keim said of September 11, 2001. "It was a very leisurely life in some ways before. I could think about having hobbies at that time."
LARGEST REPOSITORY OF ANTHRAX
All of his work in the investigation was done in Flagstaff on the NAU campus, where he oversees the largest repository of anthrax strains in the world. The stores are considered safe because they are kept in such small, individual quantities.
"Most of the community had no idea that we had a big anthrax lab on campus," Keim said.
One week after the 9/11 attacks, planes were still grounded across the nation when five letters filled with an especially dangerous form of anthrax were sent out from Trenton, N.J.
It would take weeks for authorities to realize what was happening. Near-panic would soon ensue as people like 94-year-old widow Ottilie Lundgren of Oxford, Conn., died after her mail was contaminated by an anthrax letter.
The federal Centers for Disease Control suspected that tens of thousands of pieces of mail had likely also been contaminated.
Keim had been chosen by the FBI because of his work in the mid-1990s developing a DNA test to tell strains of anthrax apart. His lab was simply the one that could do the work.
"We were getting samples and turning them around as quickly as we could," he said. "We didn't know when the next letter would show up. It just kept happening."
And each time there was a new letter, the FBI would put a sample of the anthrax on a plane to Flagstaff for Keim to decipher.
In the spring that followed the attacks, Keim would work 16-hour days, seven days a week. Suddenly, FBI agents were a common presence in his lab.
The news media also became a common sight on campus after a U.S. Attorney let it slip during a press conference that the investigation was being carried out at NAU.
News helicopters and TV crews descended on Flagstaff within hours -- reporters were soon shouting questions at Keim every time he emerged.
Producers from the Oprah Winfrey show wanted to put a camera in the lab so they could film the moment they figured it out, and a story about Keim appeared on the front page of the Wall Street Journal.
The questions would continue through 2008, when the FBI declared that they thought they had found their man. Keim still does regular media interviews.
At the start of the investigation, his lab had a staff of 20 people and a budget of $750,000. Today, there are more than 100 on staff and his yearly budget is greater than $8 million.
CHAIR OF BIOSECURITY BOARD
Nowadays, Keim splits his time between managing that team of scientists, giving lectures and writing scientific papers, and doing data analysis. He is also now chair of the U.S. National Science Advisory Board for Biosecurity.
He says he rarely gets into the lab anymore because he doesn't have time to keep up on the training certification required to work with such deadly bacteria.
"I kind of miss it," Keim said. "It was one of the most relaxing places. You know you're handling something very dangerous, so you have to focus."
The money spent during the investigation helped develop a whole new field called microbial forensics, and the science pioneered at NAU is now enabling scientists worldwide to track diseases back to their source.
Keim and his colleagues recently announced that they had traced the Haitian cholera outbreak that killed thousands to a group of hurricane first responders from Nepal.
Whereas in 2001 it cost Keim's lab $500,000 and took six months to figure out one strain of anthrax, this year the lab was able to analyze 24 strains of cholera from Haiti in two weeks at a cost of $5,000.
Keim's hope is that the technology will save lives.
They are also still heavily involved with the government anytime anthrax pops up.