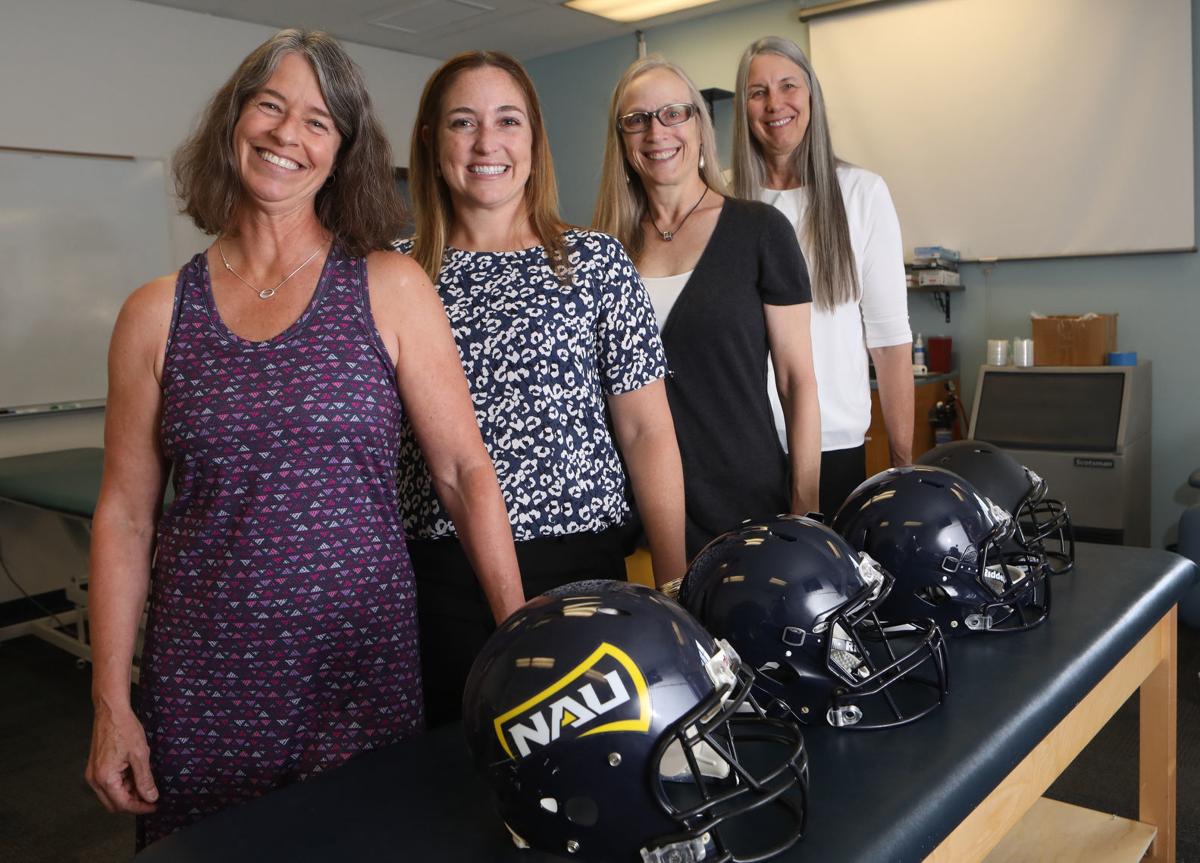 Shake it off. Get back out there. Be a man.
These messages and more have berated student athletes for decades, especially on the football field, as fans cheer at the crash of bodies that could lead to the dreaded "c-word" – concussion.
Studies suggest that the majority of all concussions go unreported or undetected, leaving researchers like those at Northern Arizona University to wonder why.
After conducting a pilot study at NAU, sports training professors Debbie Craig and Monica Lininger and psychology professors Ann Huffman and Heidi Wayment were awarded a $400,000 grant from the National Collegiate Athletic Association (NCAA) and the U.S. Department of Defense to study the concussion reporting behavior in these student athletes.
This all-female research team was one of eight awarded such grants, as part of the national Mind Matters Challenge to change concussion safety behaviors. The majority of the funding was used to travel to each of the participating schools five times, as well as to pay graduate research assistants.
The project ended this summer after the NAU team spent more than two years gathering data at three different universities with NCAA Division I football programs: Iowa State University, the University of Northern Colorado and a third that requested to remain anonymous.
Though the NAU team contributed to the pilot study, the researchers did not conduct final research locally to prevent any possible biases.
After observing and interviewing athletes, coaches, trainers and administrators throughout the 2016 and 2017 football seasons, the group determined how organizational culture affects if, and how, student athletes report possible concussions. They also helped implement strategies to increase reporting within each of the universities.
More than anything, students hesitated to report concussions for fear that it would take them out of a game and onto the bench, despite research that suggests the quicker to report, the quicker they can get back into the game.
One of the participating programs tested the slogan "report sooner, play sooner" to encourage its athletes not to hide or struggle through any possible head injuries.
Top players were the most hesitant to report such injuries, sometimes due to external pressures from coaches and fans.
Though coaches are becoming more aware of the long-term threats of concussions, their experiences could suggest otherwise.
"We're in a generation of coaches who just dealt with those hits when they played. This is a whole different world for them. You have to train them," Huffman said.
Surrounding towns and even boosters could also inadvertently pressure athletes not to report by praising big hits in games.
More often, though, athletes did not report because of something internal. Students who had a greater athletic identity than academic one were less likely to report.
"These student athletes are more concerned about the here and now ('Can I play right here and now?') and not their future brain health," Lininger said.
The four women joked that the players are "typical 18-year-olds" in this nearsightedness.
Overall misconceptions about concussions and lack of education also played a role in reporting rates.
The researchers explained that both visual encouragement (posters and signs) as well as coach and administrative support can resolve this, especially if the time devoted to sharing concussion-related information with athletes is increased.
Craig suggested that coaches should work to present these materials to their players not on the first day of practice, when everyone is eager to get to work on the field, but during the off-season beforehand, when they are more likely to focus on the information being presented.
ANALYZING CONCUSSION CULTURE
Although reporting rates and concussion-related pressures varied by schools, the environmental factors and social interactions that influenced reporting rates were consistent, as was the lack of any formal system to file concussion reports.
"Behavior is not just about the function of the player, it's about if there is a system in place at the university level that encourages and rewards it," Wayment said.
The NAU research team visited each school five times to interview athletes, coaches, trainers and school administrators, and observe interactions between these individuals during practices and games.
The first visit began not with interviews, though, but with a three-day cultural analysis to understand the function and support of the football program in each university and the town where it is located.
They looked at everything in the environment, including decorations, posters, furniture and equipment in all areas associated with football, from workout areas to stadiums and administrative offices.
Huffman said simple observations allowed them to better determine the personality of the organizations, much like walking into a teenager's bedroom.
There was a school that had only one document about concussion risks posted, as required by the NCAA, but it was hidden behind a door.
Even the water coolers made a difference in the cultural analysis: some were sponsored and far nicer than others, suggesting the financial success of the program.
In interviews, players were asked open-ended questions about the importance of football to the school, if they feel comfortable talking to their coaches about injuries and about how they would deal with a possible concussion.
At first, many were hesitant to speak with the researchers, fearing their program was at risk.
Participating schools were selected based on mutual connections between them and NAU, not for any errors or suggested malpractice.
"Once we convinced them that we were friends of football – that our goal was not to shut down football, but to help them to find ways to play safely – they acted much differently," Huffman said.
"This is for you," they told players and coaches and have since published six separate research papers with their findings and suggestions.
Get local news delivered to your inbox!
Subscribe to our Daily Headlines newsletter.