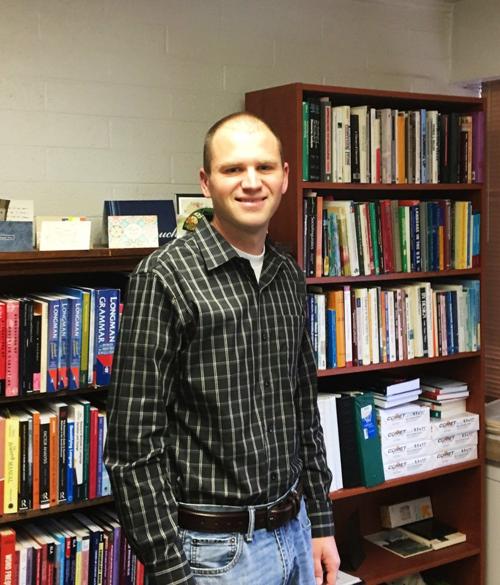 A Northern Arizona University professor is trying his hand at law in an unexpected way.
In the ongoing emoluments lawsuit regarding foreign payments made to President Donald Trump through his Washington, D.C. hotel, NAU's Jesse Egbert and Georgia State University's Clark Cunningham submitted data not in support of either side, but in the interest of language.
The two professors are linguists who use corpora (collections of authentic, recorded language) to determine patterns of word use and grammar.
Last month, they submitted an amicus brief to the Supreme Court detailing their findings on the word "emolument," the archaic term that has even Constitutional experts stumped in District of Columbia v. Trump.
Enter the linguist experts with a surprising solution -- time travel.
Although directly asking the nation's founders to define the word is impossible, there are other ways to gain answers from the long-gone individuals, like through corpus linguistics.
"If we really want to understand what this word means, we have to go back in time to the founding era to figure out what they meant by it. Otherwise, we're just left guessing," Egbert said.
Using a collection of 119,000 documents originating from 1760 to 1799 (known in the linguistics world as COFEA: the Corpus of Founding Era American English), Egbert and Cunningham were able to observe patterns in the use of emoluments during the time of the Constitution's creation, when the word was actually used in everyday conversations.
In fact, the pair found more than 2,500 instances of "emolument" and "emoluments" in legal documents as well as personal letters and writings, including some created by the Founding Fathers themselves.
By analyzing each use, Egbert and Cunningham discovered the term had a very broad meaning that often required additional specification. They identified a total of 23 different types of emoluments found in the founding-era documents, including clothing, lands, fees and privileges.
The brief also specified the frequent use of "official emoluments" in the documents suggests the term itself is not limited to "profit arising from office."
The use of "official emoluments" is similar to metal fork or flying bird, Egbert said. English language users do not usually say those phrases as the typical fork is metal, just as the typical bird can fly. A speaker would specify only more atypical meanings, like plastic forks or flightless birds.
AN UNCOMMON CASE
The attorneys general of Maryland and the District of Columbia brought the lawsuit late last year, accusing Trump of violating the Constitution's Title of Nobility Clause (Article I, Section 9, Clause 8) by receiving payments from foreign representatives through their visits to the Trump International Hotel in Washington, D.C.
The clause states that United States leaders should not accept "any present, emolument, office, or title of any kind whatever, from any king, prince or foreign state" without permission from Congress.
Eric Yordy, who researches constitutional law at NAU, explained the reason for the clause: If a national leader -- not just the president -- receives a gift from a foreign country, they are more likely to act in that country's favor out of obligation.
"The purpose of the emoluments clause originally was to prevent corruption in the government. ...If there is a violation of that, it is pretty serious," Yordy said.
President Trump's case is unique because past presidents were rarely accused of violating this clause, Yordy said. Jimmy Carter, who owned his own peanut farm, removed his family from its operations during his presidency. Yordy said the problem now is that Trump's children are still managing the D.C. hotel.
The case's controversy lies in original meaning versus intent of a now-unused constitutional word. Yordy said the linguistics research can help provide additional context to the original meaning in ways that dictionaries cannot.
Egbert said historical dictionaries were often created by one person, a lexicographer, and could include definitions copied from other dictionaries.
"In contrast, a corpus gives us the ability to look at a large amount of language at the same time and get more accurate estimates of what a word is understood to mean by speakers of the language. If a word has multiple senses, we can use data from the corpus to determine which sense is most common," Egbert said.
LINGUISTICS AND LAW
Egbert's research usually focuses on differences in language use by medium, like a newspaper article versus a book or a blog. The emoluments study is part of a larger effort by the J. Reuben Clark Law School at Brigham Young University to incorporate corpus linguistics into the interpretation of laws and of the Constitution.
The research took months to complete, but left the linguists with a product they hope will give legal experts a sense of the practical applications of linguistics.
"Ultimately, the decision about how to interpret and apply the law is the judge's decision. Neither corpus linguistics, nor anything else, can replace that. It's their duty," Egbert said. "But what's exciting is that corpus linguistics can offer more objectivity and more evidence to support the ultimate decision about how to interpret and apply the law. I think many judges would welcome that, especially in difficult cases."
Both sides in District of Columbia v. Trump will have the opportunity to address the brief, if they choose to. The next session in the Fourth Circuit U.S. Court of Appeals is scheduled for March.
Get local news delivered to your inbox!
Subscribe to our Daily Headlines newsletter.