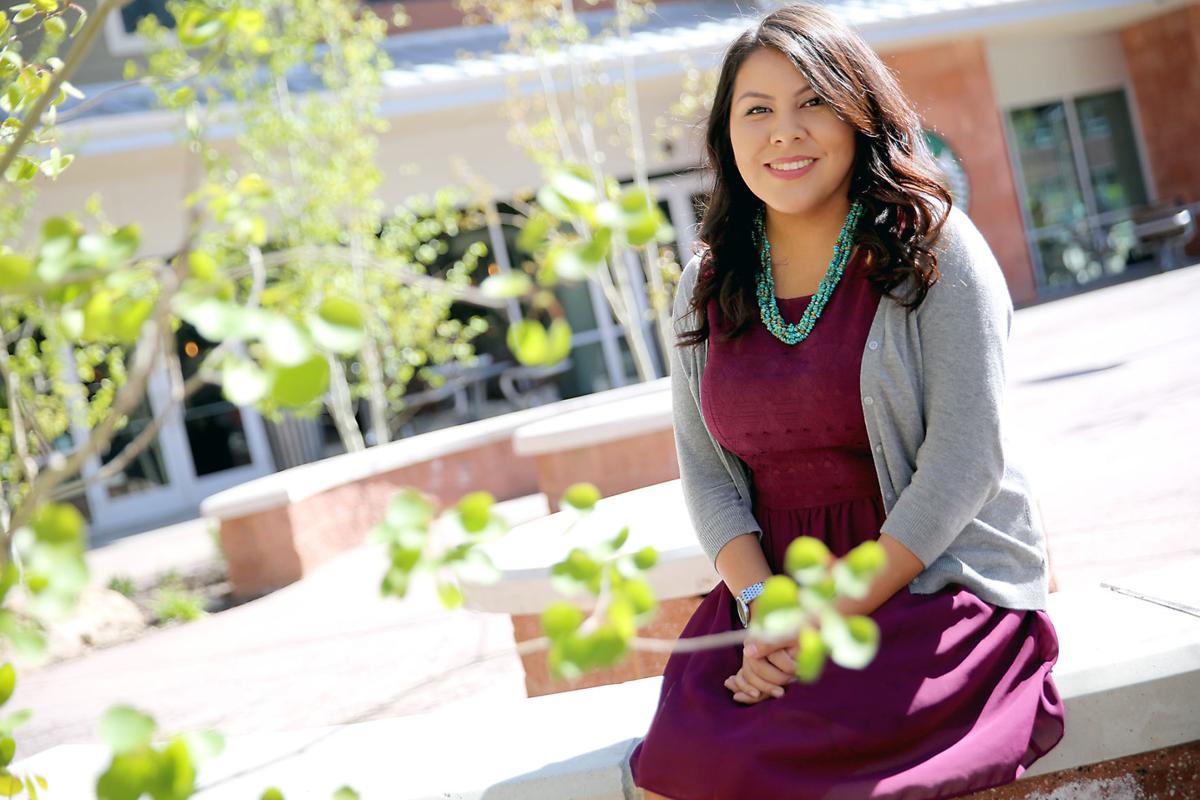 Shelby Dalgai said she has known from a young age that she wanted to work in the health care field with Native American populations.
In the weeks prior to graduation, outstanding seniors from individual colleges are awarded the Gold Axe, an award symbolizing their achievements and contributions to NAU. This year, 43 graduating students received the Gold Axe.
Gold Axe winners are also eligible for the President's Prize, the highest student recognition from the university. The prize winners are chosen by NAU President Rita Cheng to honor exceptional graduates. Dalgai was one of four students chosen to receive both honors. 
Dalgai, who is of White Mountain Apache and Navajo descent, said she dreams to help bridge health care disparities in indigenous communities.
"I've always wanted to serve as a physician in a Native American community," she said. "There is a shortage of physicians on Native American reservations. Being able to go back and be familiar with the community and the traditional practices can help bridge the gap. There are a lot of barriers in terms of language and religion."
In college, Dalgai worked in a research position with the Minority Health and Health Disparities International Research Training Program.
In the program, Dalgai traveled to New Zealand to study health disparities in indigenous populations there.
"I had always dreamed to go to New Zealand," she said. "I am fascinated with the indigenous populations there, and I learned that a lot of the disparities they are facing are similar to those faced by indigenous populations here."
Dalgai also had a chance to do a summer study abroad trip to Italy, where she studied art, culture and food.
"That was another highlight for me," she said.
Dalgai also served in various leadership roles for the American Indian Science and Engineering Society, including serving as the group's president her junior year.
Dalgai attended high school in Kansas, but both of her parents attended NAU and joined the military before graduation. She has family in Arizona and said she was drawn to the culture of Flagstaff.
"I like the Flagstaff community, and I like how close-knit it is," she said. "I liked the small class sizes at NAU. I wanted to be able to build relationships with my professors, I didn't want to get lost or just be a number."
Dalgai was accepted into the Pre-Medical Admissions Pathway program at the University of Arizona. The program includes a one year master's degree program and, upon completion, conditional acceptance into the university's College of Medicine.
In addition to the Gold Axe and President's Prize, Dalgai was also given an award by the NAU Commission for Native Americans for being an outstanding undergraduate student.
Dalgai said she would encourage other young Native American students looking to pursue medicine as a career to talk to people who have done it before and ask questions.
She said she is looking forward to her next steps to become a physician, but said she is especially thankful for mentors and programs at NAU that helped her find a path to her goals.
"It's been a really great roller coaster," she said. "I met people and did programs to help me find my way, and I found my passions. Four years ago I would have never dreamed of studying abroad in Italy or doing research in New Zealand."
"It's been a really great roller coaster. I met people and did programs to help me find my way, and I found my passions."

--Shelby Dalgai