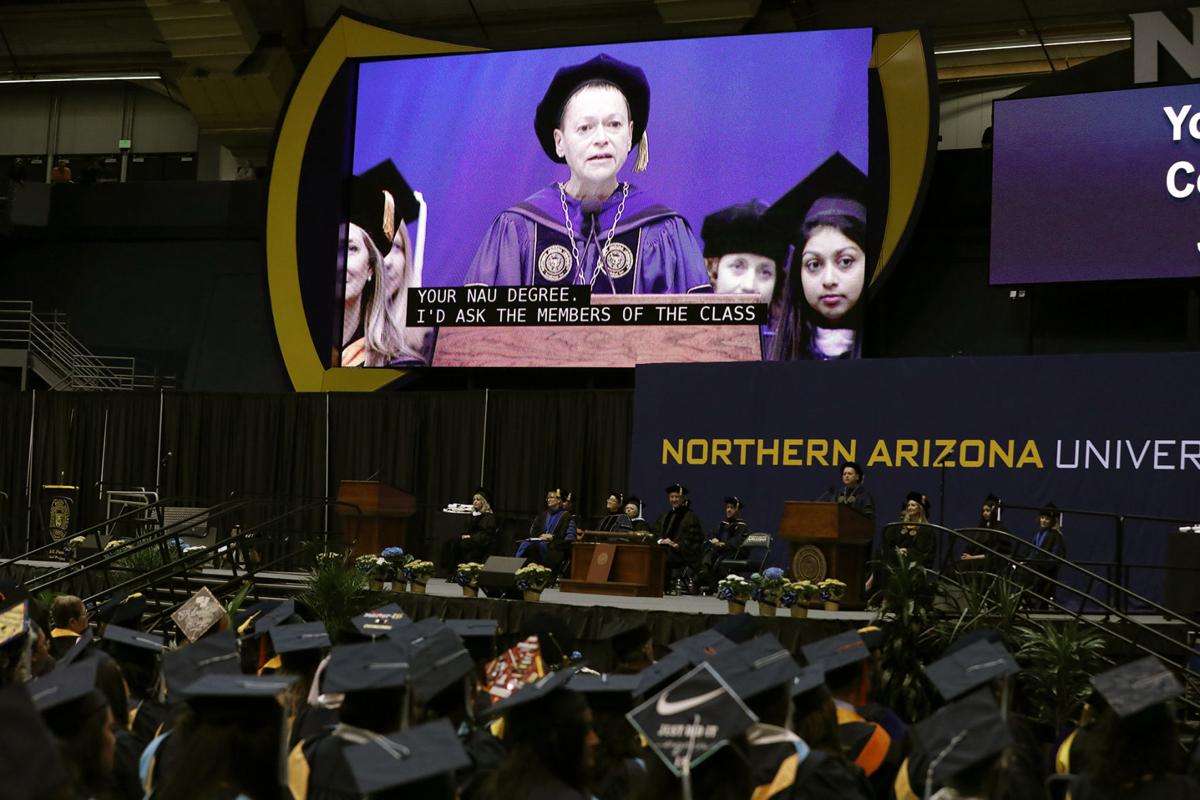 An audit of Northern Arizona University President Rita Cheng's use of university money for international travel has reverberated in Flagstaff and around the state.
University students have called for her resignation while state legislators are recommending legislative changes in response to the news. The Arizona Office of the Auditor General released a report earlier this month that flagged numerous instances of Cheng's travel totaling about $40,000 in university funds. The report identified international business-class flights made by Cheng and her husband without proper documentation, which "put public monies at potential risk of misuse."
Cheng told the Arizona Daily Sun she will reimburse the NAU Foundation, which paid for part of the expenses identified in the audit with money already authorized for presidential spending. She said she will donate back to the Foundation a portion of the entire $37,785 the Foundation gave for airfare to Russia and Israel, visas to Russia and early check-in fees. Cheng did not provide a specific dollar amount.
'#RitaResign'
Last week a bipartisan group of NAU students formed the "#RitaResign Coalition," which has since created a signed letter calling for her resignation.
The group — including the university's Young Democrats, College Republicans, Associated Students for Intersectional Feminism and Civic Engagement Club — released a letter Wednesday on social media detailing Cheng's "gross abuse of power."
As of the following morning, a survey attached to the letter requesting additional signatures had more than 60 responses. Calli Jones, president of the NAU Young Democrats, emphasized this project is not partisan, pointing to the two political clubs in protest together.
"Every student at NAU is suffering," Jones said. "I think this sets a precedent that all students can come together, regardless of their beliefs, to make sure that the school succeeds."
Robert Bean, president of the NAU College Republicans agreed, saying this first-time partnership between the two groups will strengthen the initiative.
"We know there are a lot of people on campus who feel this way and our job is to represent those students," Bean said.
The letter referenced rising tuition, budget issues and a lack of mental and social resources for students, among other grievances. If the demand for resignation is unmet, the authors asked that the Arizona Board of Regents (ABOR) vote against Cheng's contract renewal in June 2022.
You have free articles remaining.
Cheng's contract was last renewed during the ABOR meeting in November. Regent Lyndel Manson, a Flagstaff native, opposed the measure.
Jones said the group plans to deliver the letter to the Office of the President prior to the next ABOR meeting on Feb. 13.
In addition to the student groups, the initial letter was also signed by Eva Putzova, former Flagstaff City Councilmember and NAU employee.
"I believe that [students'] demands are legitimate and I think it is very important that we demand accountability from people that manage our public assets, like NAU," Putzova said. "I think NAU is a fantastic institution. It has very dedicated faculty and staff and a very diverse and committed student body and I think we all deserve the leadership that will take its responsibility to the people seriously."
Legislation
On Jan. 14, Republican Walt Blackman, representing Legislative District 6 in the Arizona House of Representatives, introduced a bill he created alongside Flagstaff talk show host Jeff Oravits that would prohibit state officials — including university presidents — from being reimbursed for airfare upgrades, such as business or first-class seating.
Oravits had proposed "The Coach Class Travel Bill" on a prior episode of his show in response to the audit and reached out to Blackman for support.
"I thought it's important to remind folks that we are public servants and that we work for not only our constituents, but also for everyday people," Blackman said. "If we want to be good stewards of the public dollar, we need to make sure we are doing that in all aspects of the job."
The bill, HB 2251, does not prevent officials from upgrading their airfare, Blackman said, though it would require them to pay the difference between it and coach class.
The bill states, "Reimbursement for airfare may not exceed the cost of coach airfare and may not include any upgrades such as business class or first class seating. Only public officials and public employees are eligible for reimbursement by a public entity."
It lists universities under state offices to which this would apply.
Blackman said he hopes the measure encourages department heads "to take a good look at how they're doing business."