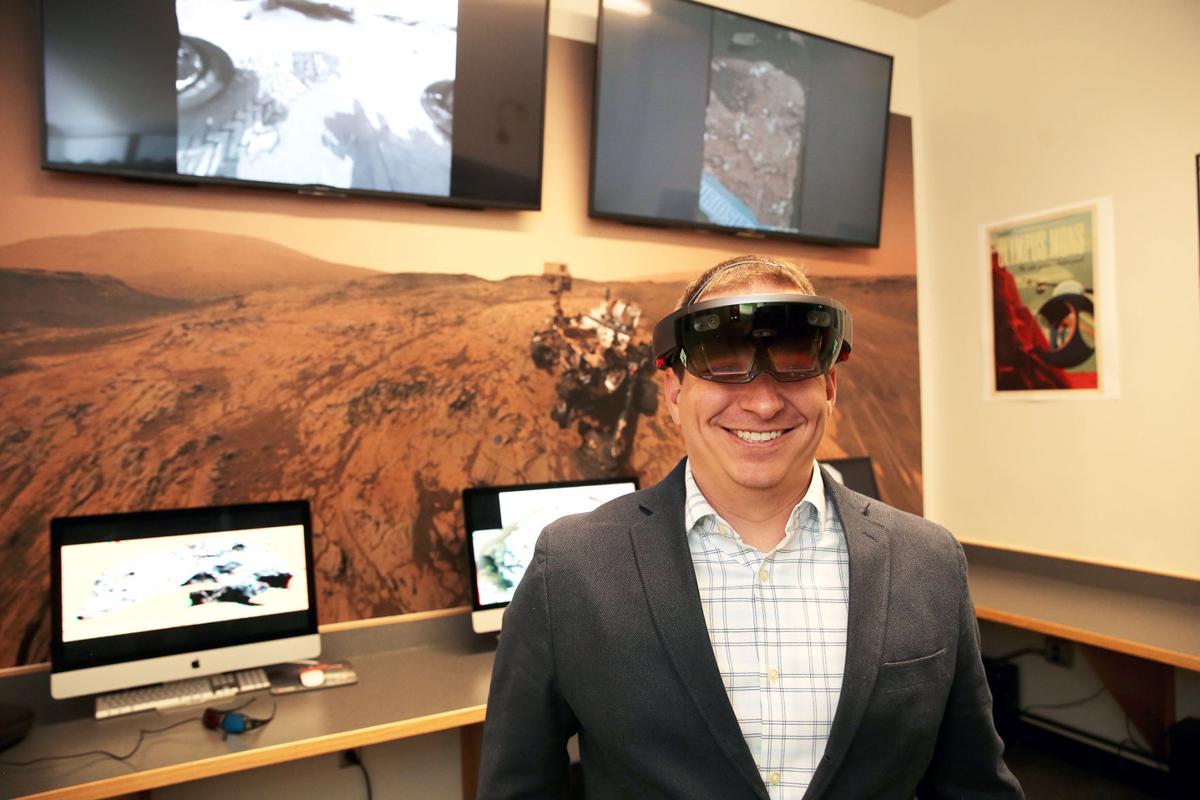 Seven months of cruise time may seem like the opportune moment for a break, but not for the team behind the Emirates Mars Mission's Hope Probe, the first Arab mission to Mars, which was launched July 19.
"Launching something into space is the exciting part, but it's like 10 minutes. After that is really when the hard work comes in," said Northern Arizona University planetary scientist Christopher Edwards, who helped design one of the probe's three instruments alongside scientists and engineers from the United Arab Emirates Mohammed bin Rashid Space Centre (MBRSC) and Arizona State University. "We test all kinds of things so that when we get to Mars, we're ready to go."
The SUV-sized probe, which was launched from Japan's Tanegashima Space Center, is designed to study the Martian atmosphere at different times throughout its day and seasons. Traveling at an average speed of more than 75,000 mph, it is scheduled to reach the Red Planet in time for the Emirates' 50th anniversary in February. The Emirates Mars Mission (EMM) is scheduled for two years of operations beginning in May but can be extended into 2025.
In a 2015 announcement of the mission, Sheikh Mohammed bin Rashid Al Maktoum, the ruler of the Emirate of Dubai, explained the name "Hope" was chosen to send a message of optimism to millions of young Arabs.
Though operations start now, Edwards joined a team of hundreds of other individuals from throughout the world who spent years in development in preparation for the launch.
MBRSC is leading the operation of the Hope Probe, which was constructed at the Laboratory for Atmospheric and Space Physics (LASP) at the University of Colorado, Boulder, with a team of MBRSC and LASP engineers and scientists.
Edwards, instrument scientist for the project, worked alongside ASU's Philip Christensen, with the School of Earth and Space Exploration (where Edwards attended graduate school), to create the Emirates Mars Infrared Spectrometer (EMIRS) for the probe. This spectrometer breaks up the spectrum of light to about 100 microns — "about the diameter of your hair," Edwards said — and then into hundreds of even smaller chunks in order to analyze the energy coming from the Mars surface. Edwards said the goal is to see how this escaping energy is affecting the atmosphere.
Because previous instruments used to study the planet have not analyzed beyond about 45 microns, Edwards said the team is expecting some interesting observations to come from EMIRS' unique view of longer wavelengths both alone and in combination with the probe's other two devices, the Emirates eXploration Imager and the Emirates Mars Ultraviolet Spectrometer.
Additionally, unlike previous Mars probes, Hope will travel around the planet in an elliptical orbit, allowing it to make observations throughout the day, not just every 12 hours. It will be the first probe to observe the complete Martian atmosphere, including global weather and climate patterns.
"We'll be able to see the dynamics of the Martian atmosphere like we've never seen before thanks to the EMM's unique orbit," Edwards said. "Preparing for humans [to travel to Mars], we want to understand how the daily weather of Mars actually works, not just trying to predict it from 3 a.m. to 3 p.m. because if you did that in Flagstaff right now, we'd be pretty wrong."
During the cruise period, the team will switch on the orbiter's instruments several times to verify they are working.
Edwards said it took five years for a core team of about 20 people to develop EMIRS — through various review processes and tests at extreme temperatures and vibrations among other simulations — to withstand this journey and to perform accurately when Hope reaches its destination.
About five individuals at NAU, including a research scientist, software specialists and graduate students will help with the science and operations of the mission.
Although Edwards has been involved in several other Mars missions (including the Mars Science Laboratory Curiosity Rover, 2001 Mars Odyssey Thermal Emission Imaging System, Mars Global Surveyor Thermal Emission Spectrometer and the Mars Exploration Rovers Mini-Thermal Emission Spectrometer) he said this is the first mission he has been involved with from its very beginning.
"Going from concept all the way to seeing the hardware, holding the hardware into your hands, watching it get integrated onto the spacecraft, and watching the launch is a pretty crazy set of feelings," Edwards said. "When you see the launch, it's sort of a mix of real excitement and feeling very proud, and alternating between sadness and almost aimlessness. You spent so much time working on this thing, looking at this thing, picking up this thing, and suddenly you're putting it on top of a huge rocket, saying farewell."
And unlike some of the previous missions he has contributed to, Edwards said EMM's team was unlike anything he had done.
"It's not just about the mission, it's not just about the science. It's about creating and inspiring people to do something really grand," Edwards said, noting he has learned a lot about the culture of the UAE and made some lifelong colleagues and friends as a result of the project. "It's a pretty amazing exchange program, basically, where we're trading knowledge and experience both ways, and the end result is this inspiring mission to Mars -- which is pretty cool."
He added: "You're sending these robots to another planet, but in reality it's all about the personal connection, like so many things in life."