Ever since the lab of world-renowned pathogen geneticist Paul Keim was temporarily closed in 2010, Northern Arizona University's biosafety and security practices have been as airtight as the suits worn by researchers entering this research space, the highest security lab on campus.
Nine years ago, Keim's lab, one of the largest anthrax labs in the country, was shut down by federal regulators for three months and issued a $165,000 fine due to paperwork-related concerns.
In the time since, the lab, within what is now called the Pathogen and Microbiome Institute (PMI), has passed all its federal inspections thanks to increased efforts to strengthen these areas by the university's Biosafety Unit and Environmental Health and Safety teams, which oversee lab practices. A "two-person rule" is applied to nearly all practices and paperwork for additional security.
"Inventory is pretty much the number one priority. We want to make sure we know, at all times, that everything is accounted for and where it's supposed to be," said Shelley Jones, NAU director of biological safety. "That is an area where we do not want to see another error."
Because the PMI inventory vault contains select agents (microorganisms and toxins, like anthrax, "that the government feels could be used for nefarious purposes," Jones said), the lab is required to report its activities to the Centers for Disease Control and Prevention (CDC) and Department of Homeland Security, among other federal groups, who perform routine and surprise visits to the lab to verify proper protocol.
To even access these samples, researchers must submit a request to the Biosafety Unit team, who will unlock the vault and record exactly what is being used and how.
Packing and transportation of samples is regulated by the Federal Aviation Administration and U.S. Department of Transportation and, for select agents, transported via private couriers, a costly but effective practice put in place in 2015, Jones said.
NAU's Institutional Biosafety Committee, made up of safety, biology and chemistry experts from campus and the Flagstaff community, also works to routinely monitor lab practices internally.
Built for safety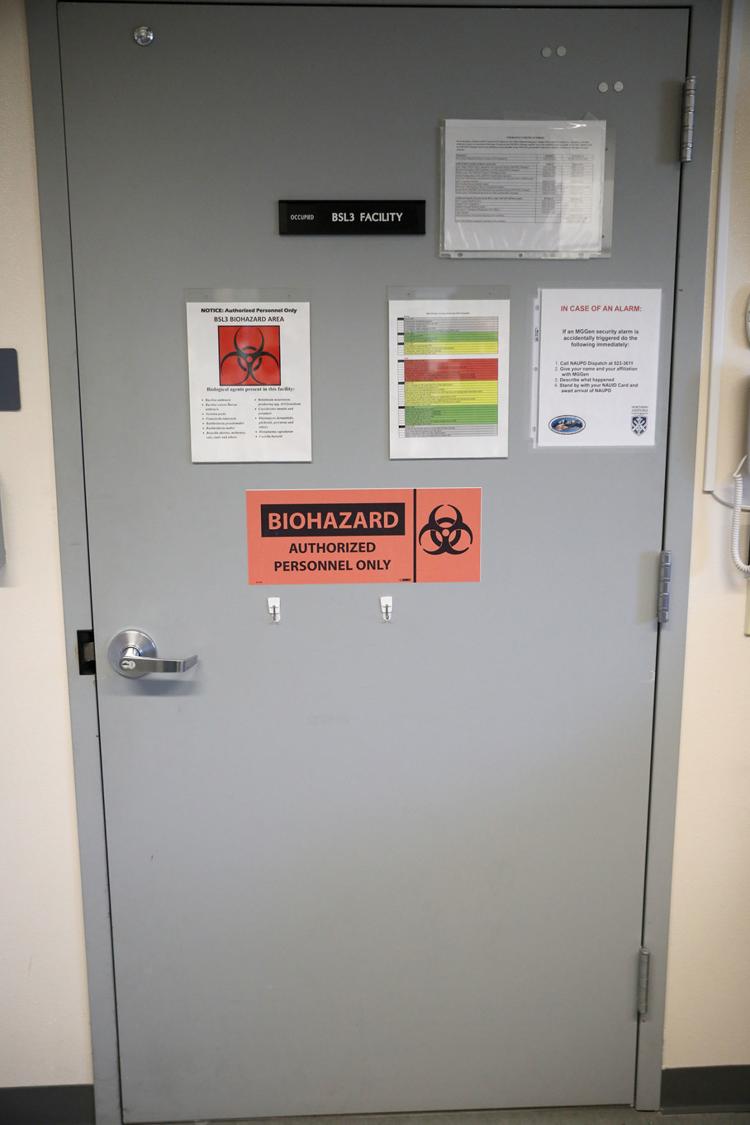 The NAU Applied Research and Development building, which contains the PMI, was built in 2007 with the goal of meeting current and future lab safety standards.
The PMI contains two different sections: a high-security biosafety level 3 lab, a rating meaning it contains microbes that can cause serious or potentially lethal diseases, which is accessed through a biosafety level 2 lab.
Like the setting of a spy movie, staff must scan ID cards and enter access codes in elevators and at several bulletproof doors to get to the PMI, which is alarmed and monitored by security cameras.
Although at the time of its construction, national standards called for three barriers between the agents and the outside world, the university had five built, knowing standards might change.
All airflow in the lab is regulated so it flows from the BSL-2 lab to the BSL-3 lab to prevent any air contaminated with select agents to escape the high-containment facility, as shown by various air pressure monitors. On the floor of the two labs, yellow and red tape outline different workstations to specify the risk level of samples studied there.
Above the labs, several layers of HEPA filters, tested annually, purify the air before it is released through the three smokestacks topping the building.
In the case of an emergency, a generator can power half the entire building for at least a day without power and, because of storage procedures, all materials would remain safely contained within the building. Special exits are also designated for lab workers in case of a fire.
You have free articles remaining.
Register for more free articles
Stay logged in to skip the surveys
A trained team
"A good day in biosafety is when nothing happens," said Amy Vogler, a PMI associate director, quoting a common phrase used by members of the Association for Biosafety and Biosecurity (ABSA) International.
To ensure this is the case at NAU, everyone who works in the PMI labs -- currently totaling more than 100 people from master's students up -- first undergo a rigorous screening process that looks at characteristics like criminal and research background, mental health and general behavior. The PMI team has had to turn away otherwise-qualified candidates because they would be claustrophobic in the suits or even because they moved their hands too quickly, which could shake harmful samples and release particles into the air.
For those who make it past the screening, a process that often takes at least a month, training begins with 80 hours of supervised work and is ongoing, whether federal requirements change or not.
"From the moment you walk through the door, everything that you do in there is written down somewhere," Jones said, noting there are more than three manuals researchers must know regarding biosafety, security and incident response procedures.
Upon entry, lab workers must check the pressure monitor for the room they are about to enter, slide the door sign to "occupied," then scan a keycard and enter their pin to proceed. They repeat the process twice as they proceed through the following rooms while also putting on all gear, which includes two layers of purple medical-grade gloves and a full-body suit and respirator.
When leaving, the process is reversed, with additional steps for waste disposal and decontamination of the workspace and researcher, who must wash their hands twice before leaving.
Weekly, Alan Dale, another PMI associate director, reviews the lab's security records to verify every single person who entered the lab. Although he said errors are rare, those that do occur often relate to people progressing through the entry or exit processes too quickly.
For the most part, researchers are so thoroughly trained that, when incidents do happen -- which are as minor as slicing open an exterior glove or the power going out -- they know exactly what to do. They can also call a supervisor from within the lab for additional support.
Dale said, because of these standards, there has never been a laboratory-acquired illness -- either of researchers or other members of the NAU campus or Flagstaff community -- even before the lab was moved to its current facility in 2007.
"We really are overkill as far as personal safety protection," Dale said.
Future research
NAU will continue to prioritize biosecurity and safety as it constructs its new $139 million STEM academic and research building approved by the Arizona Board of Regents last year.
Though the specific level of research to happen in the new facility is still undetermined, Jones said in an email the biosafety team will work with NAU Planning, Design and Construction "to make sure that we anticipate risks that would be inherent in any research that will be conducted in the building."
Such labs will offer expanded opportunities for even undergraduate students to gain hands-on experiences in their fields of study.
"We have so many undergrads working here, we feel we need to push this culture of biosafety and biosecurity because when these undergrads graduate and leave here and go to another lab, we want people in that lab to be blown away because they know so much more than other undergraduate students," Dale said.