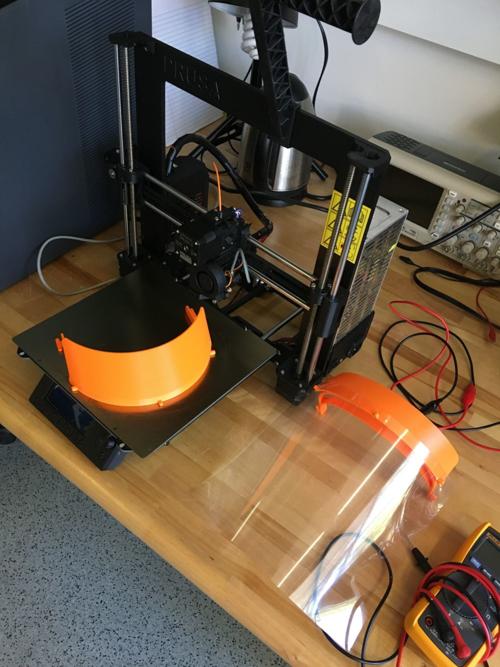 In the weeks since the last in-person classes were held at NAU's mountain campus, the once crowded pedways and historic buildings are quiet, as many students elected to return home rather than wait out the quarantine in their dorms. Yet, some students and faculty have remained and are staying busy in a combined effort to help local medical professionals.
The Wearable Informatics Lab is a team of both undergraduate and graduate students from a variety of academic disciplines, such as electrical engineering, exercise science and English. Their projects are focused on designing and fabricating wearable technology that improves health care. Because of the COVID-19 pandemic, the Wearable Informatics Team of students and faculty have refocused their capabilities to produce face shields for nearby medical facilities in need.
The idea for creating face shields came from electrical engineering student Felicity Escarzaga, who knew of other facilities repurposing their production equipment to address the severe shortage of medical supplies. Escarzaga's suggestion led to a prototype face shield being printed on the same day. The lab is currently using three 3-D printers, two borrowed from labs in the Engineering College.
The shields are composed of three parts: a curved visor that is designed to protect the user from falling particles; a detachable back piece that controls the size adjustment; and lastly a clear filament, which serves as the main barrier between the user and potential exposure.
Dr. Kyle Winfree, director of the Wearable Informatics lab, said on April 9 that they had printed about 40 shields over the past week. With recent approval granted by the NAU administration to begin full-scale production, the lab will move forward with shipments to other facilities that have requested deliveries of supplies.
"We are now finalizing our efforts to get these shields out to healthcare workers," Winfree said. "We anticipate that soon, we should be making about 30 shields a day."
The printers will run day and night to meet the demands of the crisis. The team members who remain in Flagstaff will oversee the production process in shifts. They are maintaining proper physical distancing protocols by being in the lab one at a time.
The Rehabilitation Hospital of Northern Arizona was the first to receive and provide feedback on the prototypes, and they were also the first facility to receive a full shipment. Additional facilities that have expressed a need for the shields include Flagstaff Medical Center and the Tuba City Medical Center.
Resources and materials for preliminary shipments were donated by the Colleges of Engineering, Informatics and Applied Sciences. The construction of each shield amounts to about $3 per unit. To address the problem of costs, a fund was created on the Wearable lab's webpage. All donations through the end of July will fund the construction of the shields to continue supporting professionals who are working to save lives.
"The process took some time to start, but we've moved past that now," Winfree said. "We have the opportunity to make a real impact."