A functioning ukulele, a custom-made telescope instrument tube and a blue robot figurine are among the objects displayed in a glass case outside Cline Library's MakerLab.
While they differ widely in form and function, all were created by the 3-D printers that line an entire wall of the MakerLab space — 20 in all. The lab, meant to be a hub of design and creation, houses technology for 3-D printing and scanning as well as electronic prototyping tools and materials for lower-tech activities like knitting or making "zines," little self-published booklets.
The MakerLab is a new addition to Northern Arizona University's library, first opening its doors last year and then expanding into an even bigger space this summer. Its services are open to NAU and Coconino Community College students, faculty and staff as well as the general public.
The lab already has a full schedule of free classes and other events this fall, including a workshop on Sunday afternoon as part of the Flagstaff Festival of Science. Participants will learn about the services available in the MakerLab and the basics of 3D printing and design. At the end, there will be an opportunity for people to start designing something.
There was still space in the workshop as of Friday night and registration is required.
Each 3-D printing machine functions like "a robot with a glue gun," said Kathleen Schmand, director of development and communications for the library.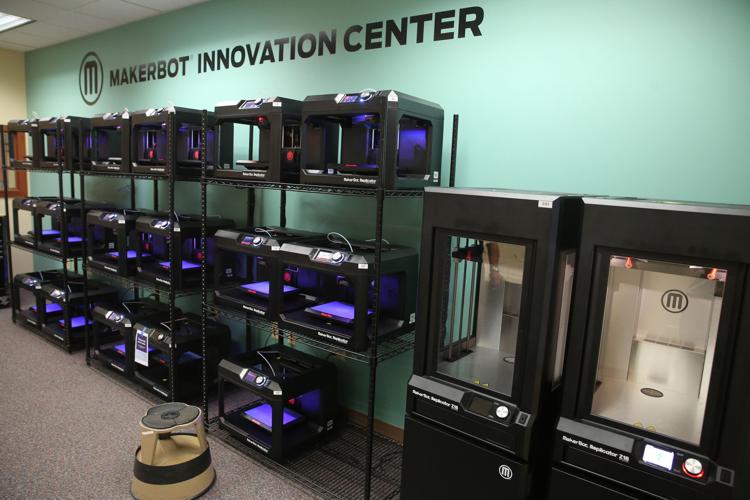 The machines' extruders heat up to 419 degrees to melt a plant-based plastic material, which is then applied in layers to create a three-dimensional physical object as dictated by a digital design, said Bryan Johnson, a support systems analyst who co-manages the lab. Anyone can submit a design, formatted in the correct file type, through an online request form and the 3-D printing costs 10 cents per gram.
The lab offers access to 3-D design programs or can direct people to free design programs and databases online, Schmand said. Another option is to scan a physical object, then edit the digital file that's created from it, similar to modifying a pdf.
The MakerLab's co-managers are available for consultation appointments and library technology staff are trained in using the printers and can answer questions as well, Schmand said.
"It's very learnable," she said. "It's easier than you think."
Register for more free articles.
Stay logged in to skip the surveys.
So far, the lab has been a hit on campus. Between August 2016 and June 2017 it processed almost 3,000 print jobs, Schmand said. More than half of those jobs were printing of original designs. Classes covering everything from engineering to art to book reviews have had assignments that included work with the 3-D printers and scanners, Johnson said.
Community members have also been taking advantage of the service, with about 160 putting in requests over last school year, he said. Public schools are starting to get interested as well, he said.
Print times vary depending largely on the size of an object. Schmand held a small octopus about the size of her fist that took about four hours to print, while a red vase sitting on a shelf in the lab took 17 hours to print, she said.
3-D HAS HISTORY ON CAMPUS
This isn't the first 3-D printer on NAU's campus. An engineering lab began 3-D printing in 2002, but by 2010 was having trouble keeping up with demand, said John Tester, who directs the lab and chairs NAU's mechanical engineering department.
Since the MakerLab opened last year, faculty who teach engineering design classes have started assigning prototyping projects to explore the library's capabilities, Tester said. Last year, the College of Engineering, Forestry and Natural Sciences was "far and away" the largest user in the MakerLab, Johnson said.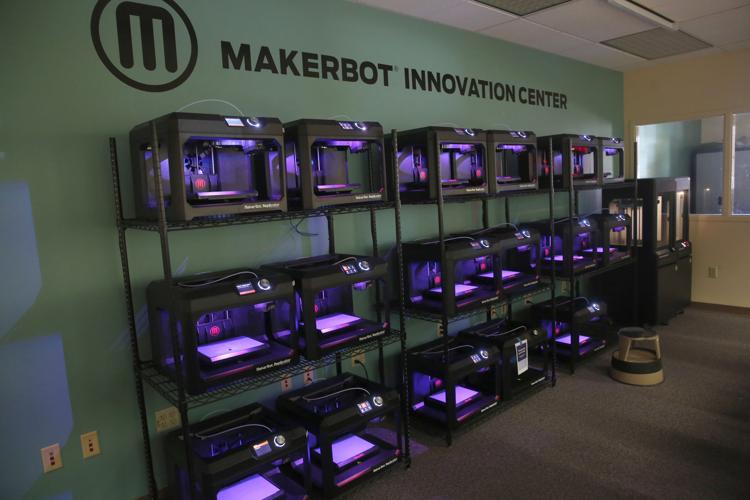 Another lab user, David Van Ness, is the coordinator of new media at NAU and has spent more than a decade using 3-D printing for his own work. When it comes to his students, Van Ness said they use the MakerLab as a tool just like any other and a means to develop an idea. He said he has already seen the lab bring together students from different fields and emphasized that creatives need to be part of what is becoming a new industrial revolution.
"Our ability to visualize and design melds perfectly with these technologies," Van Ness said.