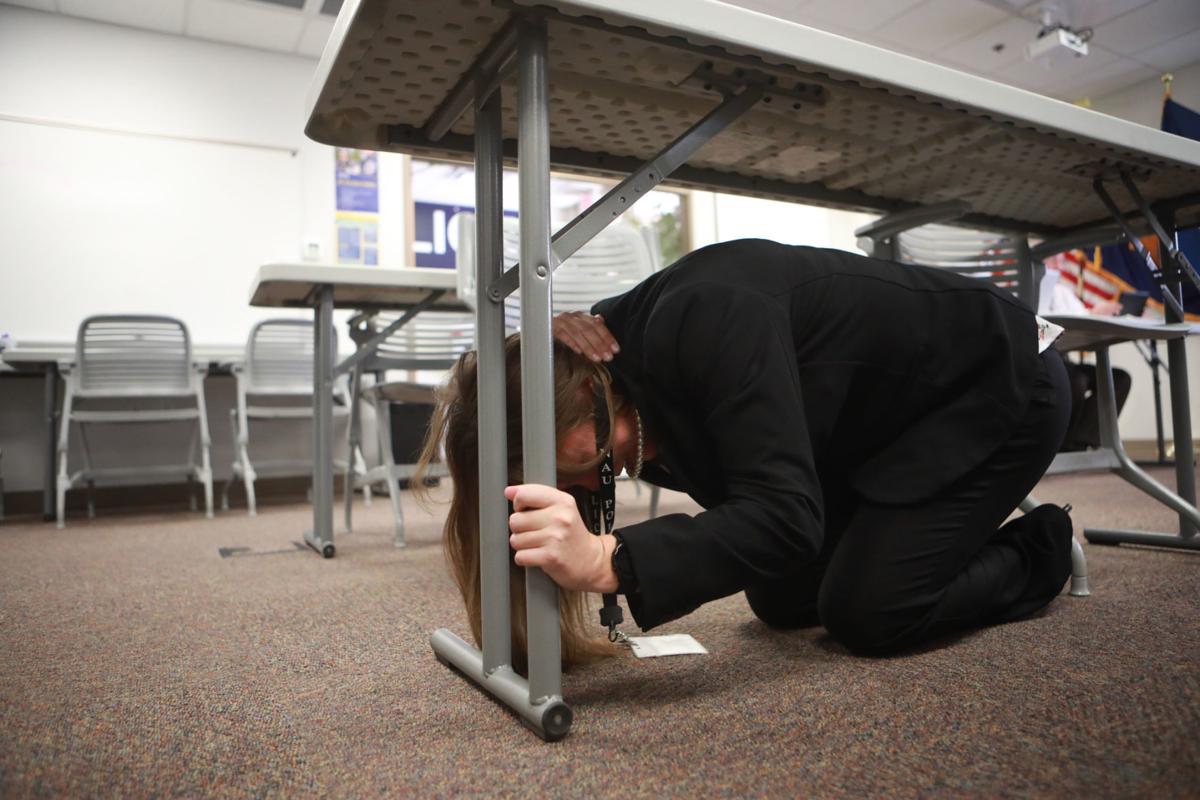 Drop, cover and hold on. These three steps to personal safety were the motto the Great Arizona Shakeout, the statewide component of international earthquake drills that happened Thursday.
Instead of having people drop to the ground and enter this stance promptly at 10:17 a.m. like some other participants, Northern Arizona University, the largest local registered participant in the Shakeout, used the event to test and review its emergency management procedures.
More than 86,000 people participated in the Shakeout statewide, including the nearly 19,500 people who receive NAU alerts directly, excluding those who use the NAUgo mobile app and followers of the NAU social media accounts, where alerts are also shared.
After informing recipients it was only a drill, the alert encouraged them to practice using the American Red Cross' Safe and Well website, a service that allows users to input their information following a true disaster so that families can contact the Red Cross to check for the status of their loved ones.
"What I like to do is try to drive an awareness and drive an action," said Robert Church, NAU director of emergency management. "This is a real world application tool."
Church also used the alert system Thursday to notify the members of the university's emergency management team of a meeting to discuss improvements to campus emergency procedures.
It typically takes less than five minutes for the NAU Police Department to release a notification via its alert system, which Church says is still the best way to reach much of the campus community. The NAU notification system includes texts, emails, notifications on the NAUgo app, posts on Twitter and Facebook, and a recorded message on the NAU Now Line (928-523-0007).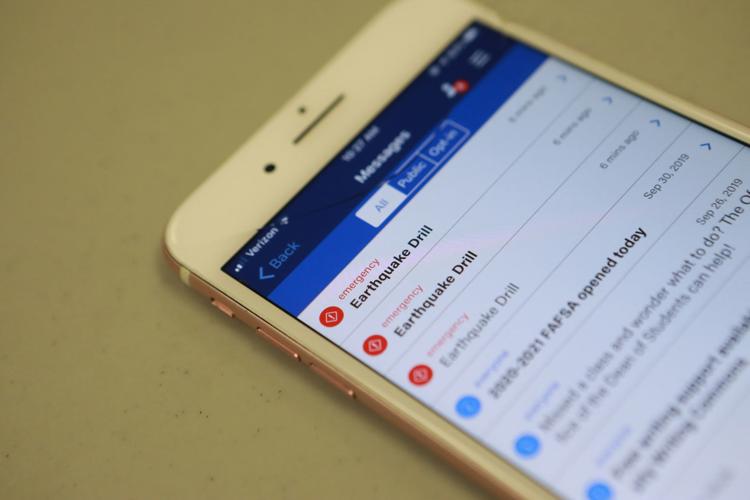 Church is considering converting the alert system from an opt-in to an opt-out service, though, in the hopes of reaching even more people. He is also working to more clearly define areas and processes for campus managers and victims in the case of an emergency. He hopes to begin full-scale trainings to replicate disaster situations this summer.
Rebecca Romas, NAU's emergency management intern and a senior marketing major, assisted with the alert testing Thursday.
Romas is from Northridge, California, the site of a 1994 magnitude 6.7 earthquake that killed more than 60 people and injured thousands. Her family home still shows the scars of the earthquake, which occurred before Romas was born, through cracks in its ceiling and chimney, which has been unusable ever since.
You have free articles remaining.
"It gives you also a sense of, this is real, and I take that with me everywhere. There's always dangers everywhere. The best thing is to be prepared," Romas said. "The [NAU] alerts are very useful and give me a sense of safety as a student here."
An earthquake region
Though not to the extent of surrounding states, Arizona has experienced its share of ground tremors, especially in northern areas.
NAU seismologist and geophysicist Ryan Porter uses earthquakes to determine what is happening beneath Earth's surface.
Porter and his team, for example, believe that the volcanoes of northern Arizona, like San Francisco Mountain, were formed not by a hotspot of magma beneath the surface, but by the rising of magma as the Colorado Plateau's tectonic plate is slowly stretched to the west and south. As a tectonic plate is stretched, it becomes more brittle and prone to earthquakes.
"We don't have a lot of earthquakes here, but we are an earthquake region," Porter said.
Flagstaff is located along the Northern Arizona Seismic Belt. The largest fault closest to Flagstaff is the Lake Mary Fault, a 25-mile fault that stretches from the Flagstaff city boundary to Mormon Lake. According to the Arizona Geological Survey (AZGS), the fault has the potential to deliver a magnitude 7.0 earthquake.
Downtown Flagstaff is at risk for greater earthquake damage because of its unreinforced brick structures that AZGS states "have little lateral strength or resilience and perform badly in the side-to-side shaking or rolling action that accompanies earthquakes."
Flagstaff's last major earthquake, a magnitude 6.0, occurred Sept. 24, 2010. Before that, it experienced two magnitude 6.2 earthquakes in 1912 and 1906. The older quake caused 30 seconds of shaking that was felt over 86,000 square miles of the region, AZGS reports.
There have been 11 recorded earthquakes with epicenters on the NAU campus, near what is now the Health and Learning Center, Church said. These events occurred between 1892 and 1970 and ranged from magnitudes 3 to 6.
The United States Geological Survey's ShakeMap shows there were two Arizona earthquakes last week, a magnitude 3.5 near Douglas at the south end of the state and a magnitude 1.0 near Beaver Dam at Arizona's northwest corner.
"I think we all should know that we do live in a place where earthquakes have happened in the past and are possible," Porter said.