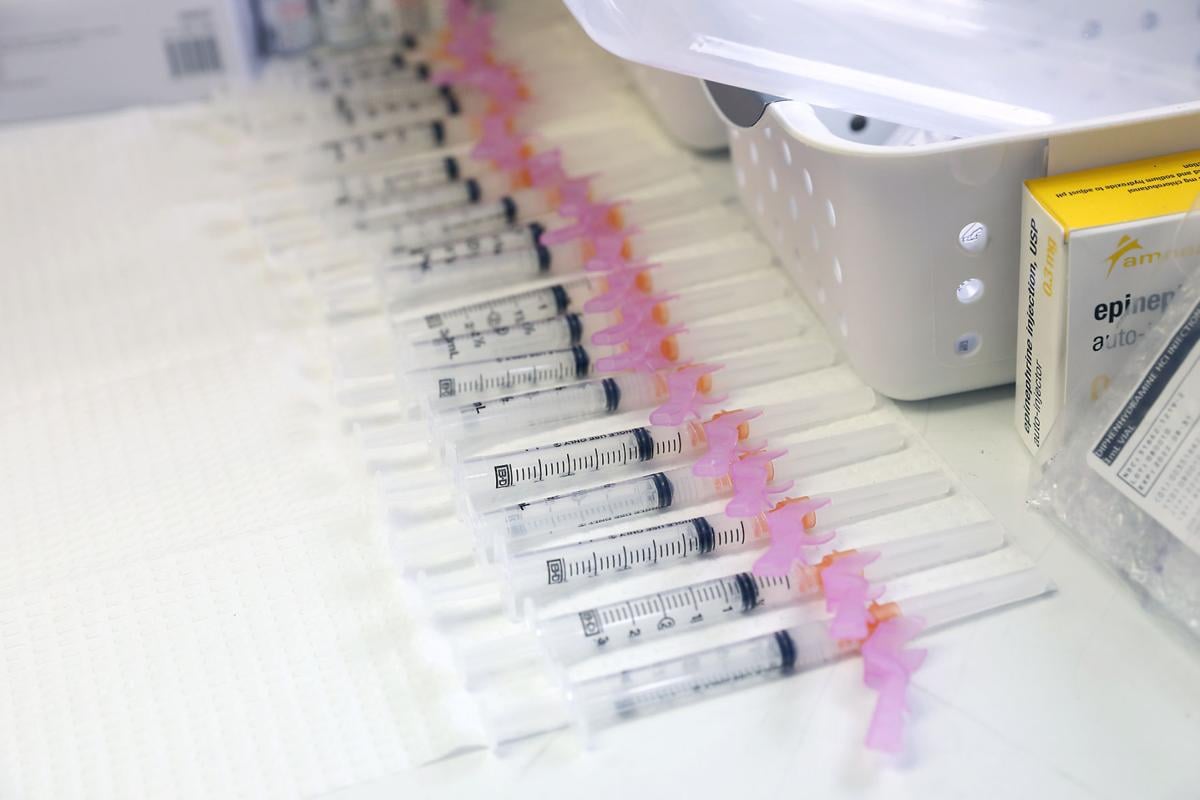 Northern Arizona University has distributed about 300 of the more than 12,000 total COVID-19 doses administered to date throughout Coconino County and has plans to continue to expand its vaccination efforts for staff and students as more allocations become available to the county.
NAU began administering the Moderna vaccine to members of its Phase 1a population on Jan. 15 at the Health and Learning Center. This group included faculty and students who are working in hospital or clinical settings, such as those in the Physician Assistant, Physical Therapy and Dental Hygiene programs.
Vaccinations are not required for any NAU employees and the campus vaccination site is currently only open to NAU employees who live and work in Coconino County.
In an email, Dr. Sandra Smith, medical director of Campus Health Services, said the department expected to administer all 300 doses of its initial allocation by the end of the day Monday. All of these doses were designated for the phase 1a population, she said. Although in-person classes were offered remotely Monday due to inclement weather, the university announced COVID-19 vaccinations and testing would continue as scheduled.
Pending vaccine availability in the coming months, Smith said NAU would be able to distribute up to approximately 520 doses a day.
"Coconino County has a plan in place to expand vaccination opportunities and NAU is proud to be a partner in this critical effort by offering vaccinations to our faculty, staff and students," Smith said.
Appointments will begin for NAU's 1b group on Wednesday. This priority group covers all active NAU faculty, staff and student employees. When registration opened on Friday, all appointment slots were filled in about half an hour, NAU President Cheng said in a presentation to the Faculty Senate Monday afternoon. Additional vaccination appointments will open on a weekly basis.
"Please keep in mind that access to the vaccine continues to be limited and that NAU receives vaccines through Coconino County, which gets its allotment from the State of Arizona," Cheng wrote in a letter to staff Friday. "We will continue to advocate for increased supply in order to provide vaccine access to our community as quickly as possible. In the meantime, I ask for your patience."
Staff who miss the available slots for vaccine appointments have the options to be added to a waitlist. Christy Farley, Vice President of External Affairs and Partnerships, said during the Senate meeting Monday individuals who are on this list may be called the following week in the event Campus Health has an extra dose of the vaccine, which would otherwise be wasted because it is part of an open vial. Individuals on the waitlist will not be rolled over for a specific vaccination appointment the following week, though, and will have to attempt to sign up again.
Each of the employees vaccinated at NAU will be eligible to receive their second dose 28 days after their first dose, the interval set for the Moderna vaccine, which is about 95% effective in preventing COVID-19 in adults.
The U.S. Food and Drug Administration has encouraged early vaccine recipients who are now becoming eligible for second doses to not skip these later shots, which were an essential part of the clinical trials supporting the effectiveness of both the Moderna and Pfizer vaccines. Within Coconino County, the county itself is distributing the Pfizer vaccine, due to a partnership with TGen providing needed ultra-low freezer storage, while partners such as NAU are distributing the Moderna vaccine.
Since reopening its COVID-19 testing site at the Fieldhouse Jan. 6, NAU has tested approximately 3,300 people, including community members. Positivity rate of testing last week was 4.4%. The university is currently managing 60 confirmed positive cases in on- and off-campus students.
On Monday, both the Fort Tuthill and Coconino Community College sites closed early due to inclement weather, but the NAU testing site remained open for its normal hours, 9 a.m. to 2 p.m. Cheng reported during the Senate meeting a total of 486 individuals came through the testing site Monday.
"Even in a snowstorm, or on holiday or in a vaccine world, we need to continue to test," Cheng said, noting that the site will remain open Tuesday as additional snowfall is expected.