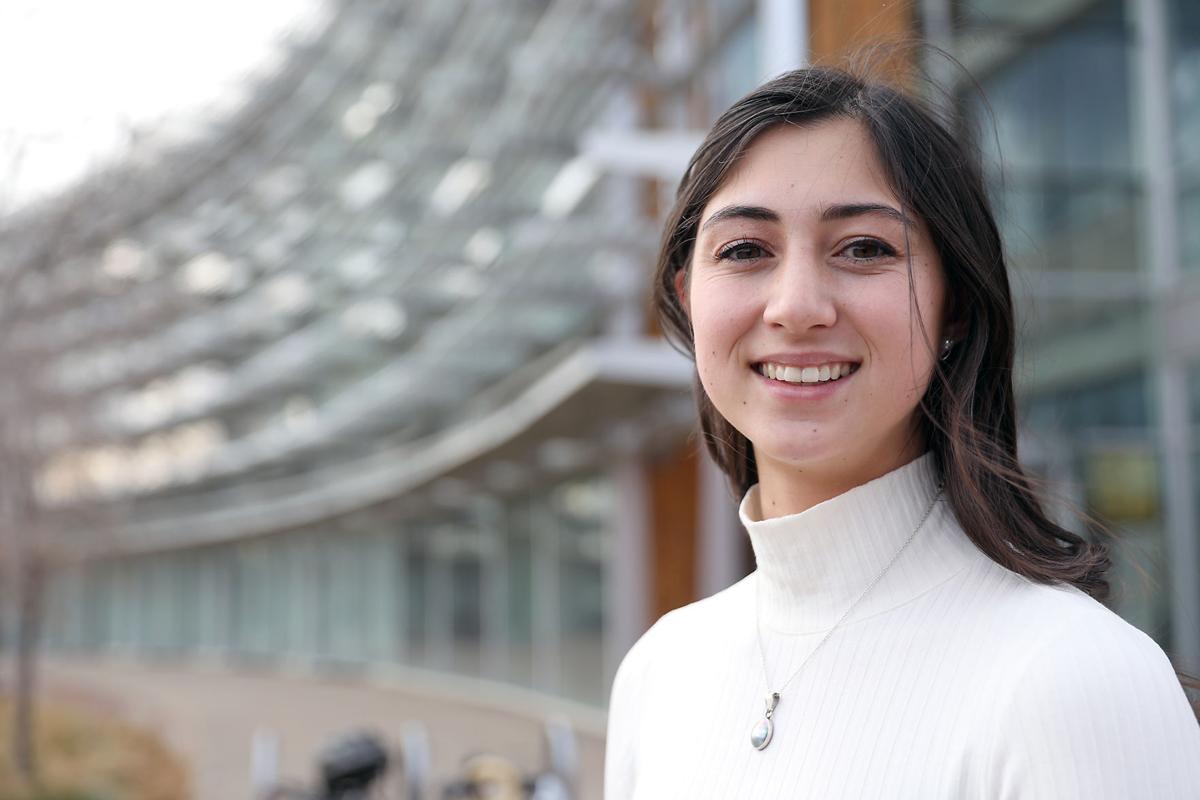 When 22-year-old Nicole Bratsch's study abroad program in Chile was cut short in March as COVID-19 cases spiked internationally, the Northern Arizona University senior returned home — and went straight to work on the front lines of the pandemic.
From April through August, Bratsch was the COVID-19 data manager at Whiteriver Indian Hospital, located on the Fort Apache Indian Reservation about half an hour's drive south of her family home in Pinetop.
In this role, she helped with COVID-19 contact tracing efforts, gathering and organizing patient data, giving twice daily reports on the situation to the contact tracing team, while also occasionally doing field work alongside hospital staff and trained community members. Together they located individuals who had potentially been exposed to a positive COVID-19 patient, gathered information about people they were in contact with themselves, took nasal swabs and brought the samples back to the lab for testing.
She said the field work was often a challenge, because many community members there do not have cell phones and sometimes were not in the location where they were expected to be.
"It's an incredible team," Bratsch said. "It's a lot of work, but it felt like important work, and it was giving me a purpose in all of this."
When her internship came to an end as the NAU semester began, Bratsch said she was able to share these experiences with other students, who she said often do not fully understand the severe impact the coronavirus can have on communities.
"It's incredible the rates of transmission that we saw. Once you've been able work in that sort of a setting, you realize that there's a lot of things that might be taken for granted and the privileges you have that a lot of people may not have, and that can even impact their health and their safety in the pandemic," Bratsch said, referring to what she witnessed during her time at Whiteriver: quarantines and isolation being difficult due to large households and frequent carpooling as a result of lack of public transportation. "It's definitely opened my eyes to the impact that this virus can have and the severity of its impacts on certain communities."
The experience was her second in a hospital setting after previously volunteering for a semester in the Flagstaff Medical Center emergency department, but it was the perfect glimpse into her ideal career as a physician with Indian Health Services.
Beyond following the lead of her parents -- who are both pediatricians with Indian Health Services -- Bratsch, who is particularly interested in primary care, said she believes this role would be a good fit for her because of its blend of patient care with the laboratory research skills she developed in her two and a half years as an undergraduate research assistant at NAU's Pathogen and Microbiome Institute (PMI).
"I don't see myself as someone that can just work in a lab and write papers for the rest of my career. I need more of the person-to-person human contact," Bratsch said. "I still enjoy research and I'd like to incorporate it into my future career, but it needs to be more balanced for me where I can have clinical contact with patients, but then take it to a broader scale and work on research."
While at PMI, Bratsch worked primarily on a team that aimed to improve safety against the pathogens studied in the lab. She also did research on three pathogens, one of which she hopes to study more after she graduates from NAU next week with degrees in biology and modern languages, with an emphasis in Spanish.
Bratsch is taking a year off before she applies to medical school and has applied for a Fulbright scholarship to travel to Ecuador to do additional research on leptospirosis and improve her understanding of medical terms in Spanish.
She is also considering returning to her role at Whiteriver, if it is available, or applying to become a scribe at FMC to gain more medical experience in the coming months as she further prepares herself for a career as a physician who helps those most in need.
"Being able to treat someone and just heal them is something that has always been pretty appealing to me, but also to be able to do public health initiatives and work with populations of health disparities and vulnerable populations, that's one of the things that appeals to me, that I could make really widespread change across the medical field that could help people get onto an even playing field," Bratsch said.