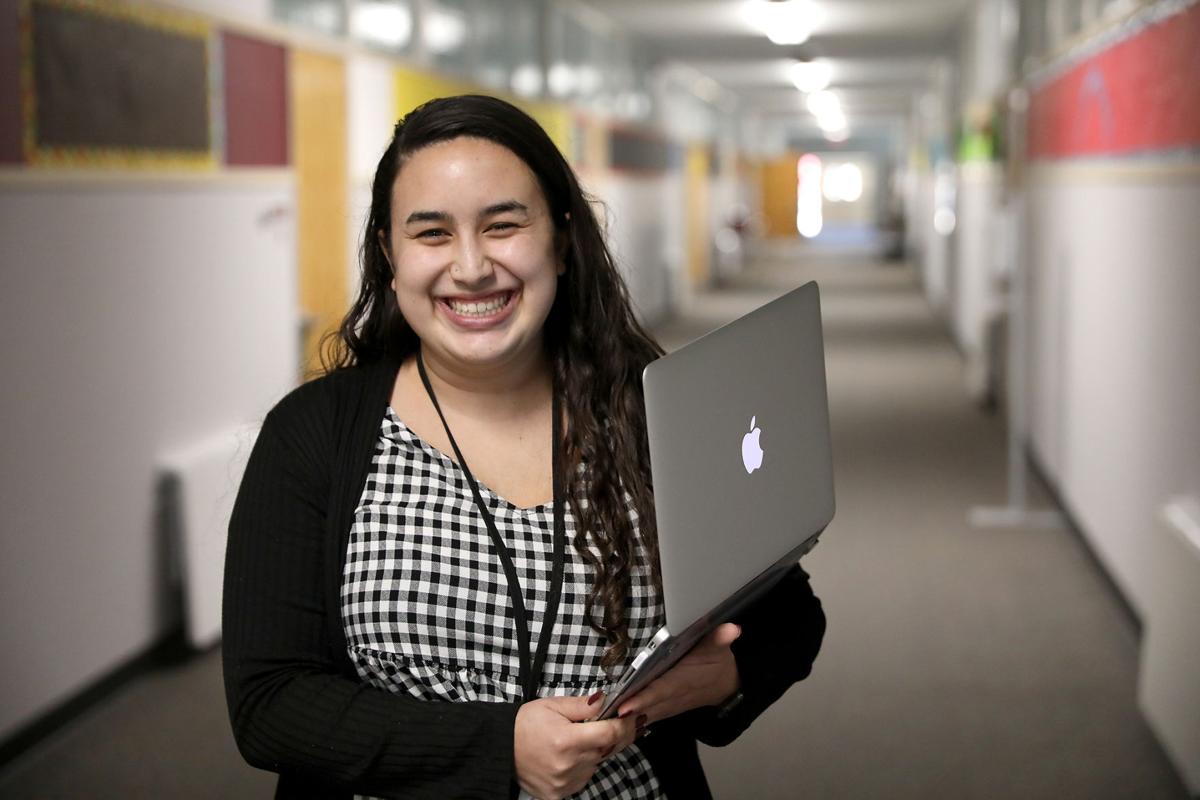 Two years ago, Northern Arizona University student Maya Motomura did what she could to get her foot in the door of a local elementary school. Now, just weeks away from completing her student teaching there, she doesn't want to leave.
Motomura's neighbor, a teacher at trilingual school Puente de Hozho Elementary, originally connected the elementary and special education major with the school when she mentioned it was looking for a team lead for its FACTS after-school program, a position Motomura quickly applied for and continues to hold while she completes her student teaching.
"I really just fell in love with the school. I love the sense of community, all the teachers here are great," said Motomura, 23, who will graduate from NAU on Sunday. "I really love the diversity of Puente, so it was a no-brainer to be student teaching here. I asked the teachers probably a year in advance if I could work with them and they were totally for it."
She said she feels especially fortunate to have been offered a student teaching position here, especially because she is not bilingual, as many of the other student teachers are. Instead, when the general education teacher she is paired with switches to Spanish, Motomura switches to a special education classroom.
Motomura started her time at NAU as a criminal justice major but realized she did not enjoy the subject as much as she expected and switched paths to embrace the career she had always leaned toward, starting with her supervision of four younger siblings and three cousins in Benicia, California. Even as a child, she would share PowerPoint presentations with them, making her "students" take notes and answer questions.
"They were all for it. They would always do it without complaining," Motomura recalled with a laugh.
It was her sister, though, who got her interested in special education.
"My youngest sister has a very rare form of Down syndrome and I've seen how the schools in California don't support her as best as they could. So I wanted to be informed about her IEP and stuff like that, so [studying] special education and elementary education at the same time was great because now I can have the decision between which of the two I would like to do or I can do both," Motomura said.
As a student teacher this semester, she has also been right alongside veteran teachers as they figure out how to educate through computer screens — an experience so unprecedented, Motomura said even an education technology class could not fully prepare her.
Motomura leads the morning and afternoon class meetings for a second and third grade Montessori classroom, as well as one of two reading groups, but does so from an empty classroom at the school, recording herself so her mentors can give her feedback as she leads students through video.
For this class, she has helped implement an app-based reading program that allows students to access their books for class online through their school-issued iPads.
"These kids love to read. I'm very surprised. And having the book on their iPad doesn't make them feel like they're reading a book. They're still on technology instead of having a hard copy. A lot of the kids do [prefer that]. It's just new and exciting," Motomura said.
And in her work with the special education class, she said the goal is to make lessons as fun and engaging as possible so the students will return.
"I keep telling everyone, if you can student teach or even teach during virtual learning, I think you can do anything. I think it's going to be so much easier to go back in person," Motomura said. "But during virtual learning, you learn things you wouldn't in a classroom setting. You have to be able to be more flexible and more creative in your lessons, for sure."
But even the challenges brought to education by COVID-19 have not dissuaded her from becoming an educator — and in Arizona, no less. After a visit to California for her wedding with her fiancé Cameron in late December, Motomura plans to return to Flagstaff, where she hopes to continue teaching within Flagstaff Unified School District and, ideally, at Puente de Hozho.
"I love all of it. There's nothing I don't like. It's really getting me excited to be in my own classroom for sure," Motomura said. "And we just love it here [in Flagstaff]. I don't think we could leave now. We're stuck."