When Jenna Chaffeur moved from Prescott to Flagstaff to begin her college career, she said she was "very much floating in the water," unsure of which field she wanted to join.
Four years later, though, she is firmly grounded in the study of the earth's physical properties and the family she has made while at Northern Arizona University.
Chaffeur, a first-generation college student, graduates with her bachelor's degree in geology today. She was named this year's Distinguished Senior for the College of the Environment, Forestry and Natural Sciences.
Despite her initial trepidation about entering a science-heavy field, Chaffeur had a long-standing interest in geology.
She recalled collecting rocks when she was a child, receiving a beloved rock tumbler for Christmas and visiting national parks with her family, where she admired the different layers visible in natural landmarks like the Grand Canyon.
She also realized geology is more than science.
"Geology is an art. You can mathematically model as much as you want, but if you can't see it in your head, if you can't envision it, then all you know is numbers and those don't mean anything," she said.
This summer, Chaffeur will travel as a teaching assistant with the university to Santorini, Greece on the same trip that first sparked her interest in geology as a people-centric career.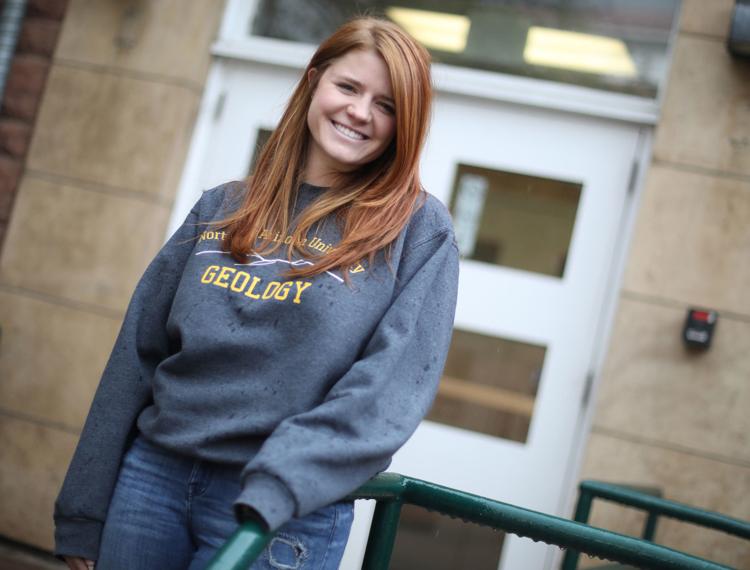 Though she had never taken a geology course before, Chaffeur excelled in her geological disasters class and was invited by her professor to study volcanic activity and its effects on Santorini residents the summer after her freshman year.
"Geology is not just cool research, there's implications for the safety and health and livelihood of people. It's like you get to be a true rock doctor. You get to help people," she said.
Since then, Chaffeur has embraced a variety of research experiences with modern relevance to Arizona residents. She was awarded $3,000 from the Hooper Undergraduate Research program to study erosion on the Mogollon Rim and completed her capstone project in Paulden, Arizona and the Rincon Mountains, analyzing both rock and water patterns. These patterns have an effect on the amount of resources, especially water, that is available in the region.
"For me, it was difficult to learn how to think in a different way. In geology, you're never really thinking about what's right in front of you. You see what's in front of you and you have to think how it got there a million years ago, how it formed three million years ago," she said. "It invokes this very deep thought that you don't often have in your everyday life."
Chaffeur has yet to see her favorite rock in nature: eclogite, a green and red rock formed in high pressure areas under the earth's surface. She has seen her runner-up, though: mica, a soft rock used to make glitter.
During her time at NAU, Chaffeur also worked to share her newfound passion for geology by restoring the university's Geology Club and rebranding it to appeal to all students interested in the earth, not just geology majors.
The club has since gathered about 20 active members, who have camped and hiked together, among other Earth-friendly activities. They even volunteered at the Tucson Gem and Mineral Show in February.
This community Chaffeur has developed at NAU is one she expects to last, especially given her close connections with each member of her 30-person class.
"I think of us like an extended family. There are some cousins you don't talk to as much, or don't like as much, but it doesn't matter because you are family and you still love them," she said. "I'm really excited to see what the people I have studied with do. I know there are going to be some people that don't do anything with geology, and I know there's going to be people that become the next up-and-coming people for what they're interested in, and that excites me."
Chaffeur plans to pursue her master's degree in the Pacific Northwest to increase her connections and geological familiarity, and then return to Flagstaff and use her research for the benefit of others.
"Flagstaff has been a really important part of my growth and I'm excited to come back and contribute again. I want to inform those who don't have the time or desire to study geology as in depth as I will. People who are affected by the geology around them need to be communicated to in a way that they are going to understand," Chaffeur said. "I hope that, whatever career path I take, I really seek that translation from one community to another."