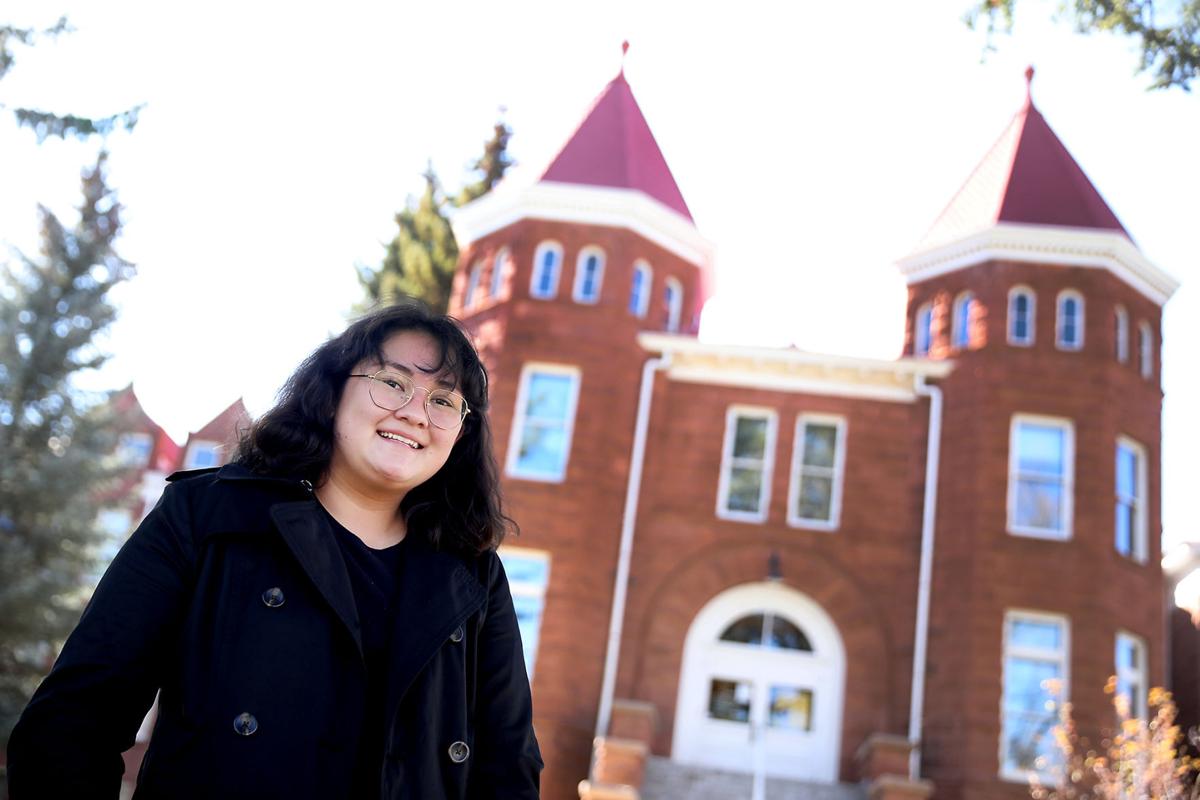 When first-generation college student Denise Ocampo, 21, was preparing to attend Northern Arizona University, she first thought she would study business, taking after her parents who are small business owners in Ocampo's hometown of Maui, Hawaii.
Following her unexpected success in a high school biology class, though, she altered course and instead headed toward the medical field, a decision further validated by her experiences while at NAU that earned her a President's Prize, the highest award for NAU undergrads.
"My life philosophy is everybody has something to teach and everybody has something to learn. So when there's always something you constantly have to be learning and just a constant flow of information, I really like that because I feel like things are always changing and innovating in medicine, so you're never going to know everything," Ocampo said.
After graduating from NAU this semester, Ocampo plans to spend a year and a half gaining more medical experience, especially working with patients, before she applies to medical school. She has been an emergency medical technician with Flagstaff Ranch for about a year and was recently hired as a medical scribe at Flagstaff Medical Center.
Her ultimate goal, though, is to become a physician who not only works with patients but also researches pancreatic cancer screening methods.
She said she has been interested in this particular topic ever since she lost a close family friend to the disease five years ago because it was diagnosed too late.
Now she hopes someday to find a solution to this and other health concerns.
"I want to just find a new way so that it's not caught so late," Ocampo said. "One of my biggest issues in working in teams is people look for temporary fixes and I don't like that. So being a physician, I feel like I would have that autonomy to make those long-term decisions and long-term fixes to improve someone's life."
Seeking solutions has already been a theme throughout her postsecondary education, during which she not only contributed to health research but also helped implement policies on campus to improve student health.
Ocampo got her first taste of medical research working with JJ Duke, NAU assistant professor of biological sciences, as she was able to assist primarily with his research on the lung functions of adults who were born premature.
Although Ocampo admitted she initially got involved in undergraduate research simply to prepare for medical school, she said she enjoyed the work more than she expected, and is now seriously considering specializing in neonatology.
Since her second semester at NAU, Ocampo was also active in NAU's Student Health Advocacy Committee (SHAC), which aims to create a healthier campus. During her time on the committee, SHAC was able to advocate for and implement a medical amnesty protocol, which helps reduce the disciplinary action for students calling emergency medical services for an overdose of drugs or alcohol, in order to encourage students to call 911 whenever they are in need of help.
It was through SHAC that Ocampo was able to create the Mental Health Support Squad, a student-lead organization to support students' mental health. More than 70 students have completed the program's two-day training, which equips them to respond to possible mental health crises and direct those in need to available resources.
"They're by no means therapists or anything like that and we tell them they're not expected to be," Ocampo said. "It's like being that first responder to a situation who can really help out a person because they know how to figure out a situation, what that person needs. Not everybody needs to make an appointment with [NAU] Counseling Services. A lot of times, they just need someone to talk to."
With the NAU semester coming to an end and as Ocampo begins the next steps in her medical career, she said she also hopes to be able to give back to the community that has supported her throughout her undergraduate career.
"NAU and Flagstaff are just so welcoming, and I just really enjoyed being here and meeting everybody," Ocampo said. "I was never told that I couldn't do it here. Nobody ever told me, 'You're not good enough.' People were always just like, 'Just do it, you can do it,' and that was great. I feel like that made me want to be that person for other people, too. NAU mentored me and Flagstaff mentored me and I want to mentor other people."
Get local news delivered to your inbox!
Subscribe to our Daily Headlines newsletter.