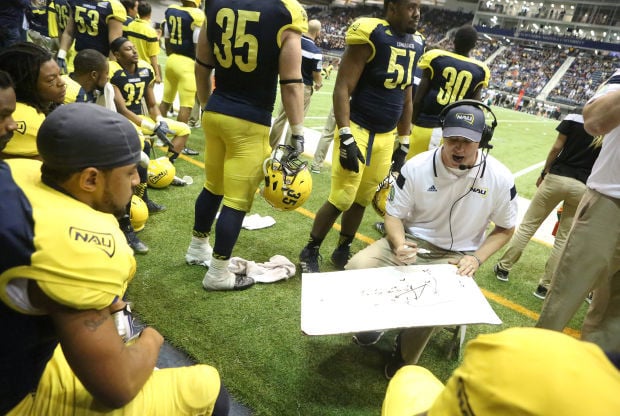 With former Northern Arizona defensive coordinator Andy Thompson making his first trip to Flagstaff since the coaching staff was overhauled over the past year, Case Cookus is excited to go against a familiar face.
"It's always a little weird when you face off against old coaches," the Lumberjacks quarterback said. "We've had a little bit of it like with (Tim) Plough. It's a little different with it being the defensive coordinator and us being so familiar with each other. Overall we're excited about the challenge; they got a really good defense over there and Thompson's a great guy."
No. 8 Sacramento State (6-3, 4-1 Big Sky) enters the weekend as the top-ranked defense in the Big Sky, allowing 21.3 points per game. On the other side, the Lumberjacks (4-5, 2-3 Big Sky) come in with the top passing offense in the FCS.
For Lumberjacks offensive coordinator Aaron Pflugrad, the chance to go against someone he coached with gives him a welcomed challenge.
"When you're in college football you see it, and everybody spreads out," Pflugrad said. "I got friends coaching all over the country, guys that were great to see, and it's great seeing them be successful and then also having the opportunity to compete against them in this conference."
Thompson's Hornets defense is similar to what he ran while in Flagstaff -- an aggressive scheme that relies on takeaways and big plays. Cookus likened the athletes the Hornets have to the defense that Thompson had during his time with the Lumberjacks.
The Hornets, led by George Obinna's 11.5 sacks, are leading the FCS in total sacks at 36. Sacramento State has been able to snag nine interceptions on the season while allowing 241 passing yards per game.
"I think it's always tough when someone goes somewhere in the same conference because you want them to do so well, but also they're in your conference and you have to focus up once you get to that point and have to play them," Cookus said. "You wish them luck the rest of the season but when it's game week, it's game week. This week we are dialed in trying to dice up their D."
QB QUESTION MARK
The Hornets' offense is no joke either, as the team has averaged 37.8 points per game -- just ahead of Northern Arizona's 36.6 per game output.
But the Hornets face a question mark under center. Starting quarterback Kevin Thomson's status for Saturday is unclear, with some speculating that he is expected to miss the game -- he left Sacramento State's loss to Weber State last week after he took a massive blind-side hit.
Thomson has had a career year, going for 2,423 passing yards (269 per game), 24 touchdowns and only six interceptions. If Thomson is ready to play Saturday, there could easily be a shootout on offense between the two prolific quarterbacks.
But if Thomson is unable to play, the Hornets are likely working with first-year QB Jake Dunniway, who replaced Thomson last week. Dunniway threw for 154 yards, one touchdown and two interceptions in the loss to Weber in his first real snaps in a collegiate game.
AWARD WATCH
Cookus can add another FCS award watchlist to his potential list of accolades.
He was named to the 2019 College Football Performance Awards FCS National Performer of the Year Trophy midseason watchlist this week. Four other Big Sky players are on the list, including Thomson for Sacramento State.
Northern Arizona freshman wide receiver Hendrix Johnson was named to the Jerry Rice award watchlist. The award is given out to the top freshman in the FCS. So far this season Johnson leads all FCS freshmen in receiving yards at 700 on 44 catches and five touchdowns.
Cookus won the Jerry Rice award following his standout first season in Flagstaff, and is the only Northern Arizona player to win the award.
KICKOFF
Kickoff is set for Saturday at 2 p.m. in the Walkup Skydome.
Get local news delivered to your inbox!
Subscribe to our Daily Headlines newsletter.