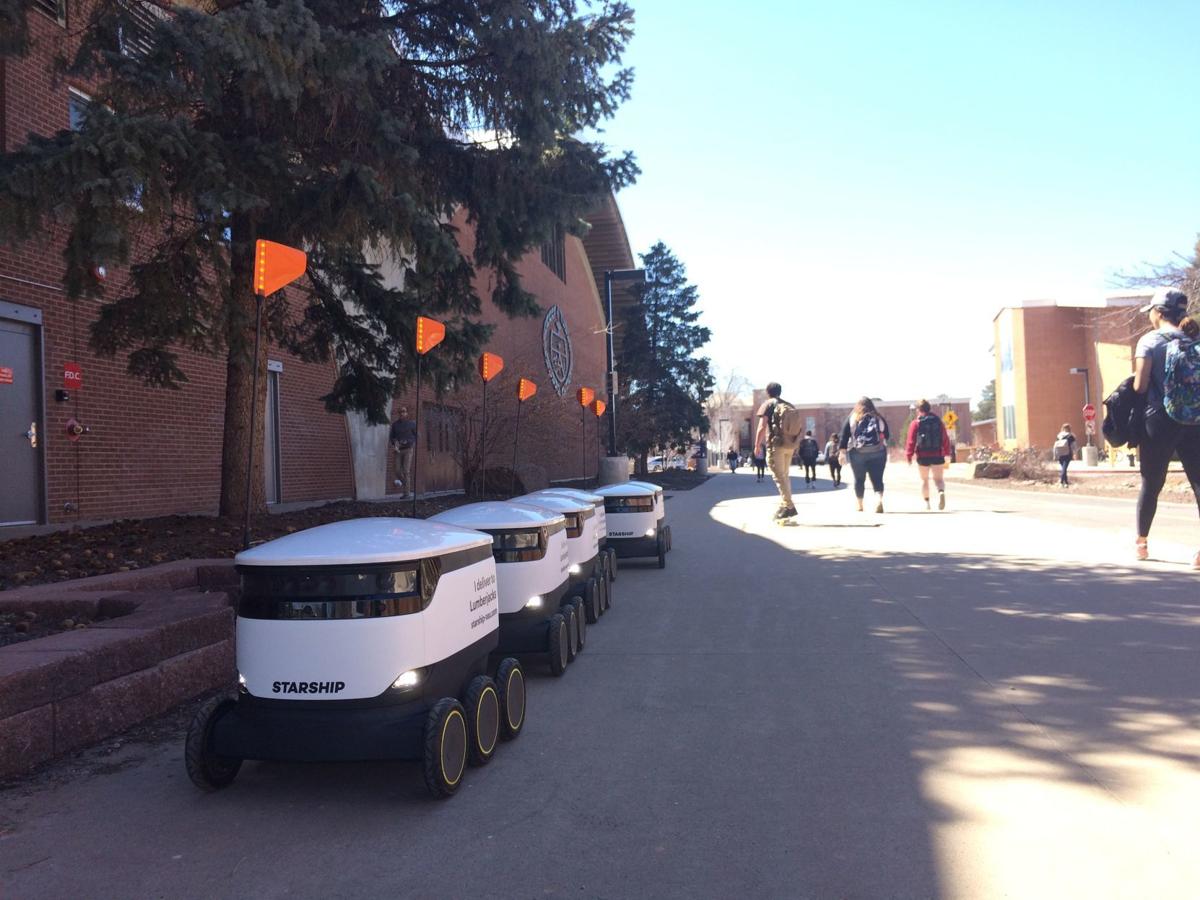 The stout, six-wheeled robots that have roamed the Northern Arizona University campus for the last year are expanding their reach into Flagstaff, starting in the Southside neighborhood.
After weeks of mapping efforts, the food delivery robots created by California-based Starship Technologies will soon be ready to make deliveries from Southside restaurants including Morning Glory Cafe, Asia Station, Potion Tea & Bakery, Corn & Flour Taco Shop and Dara Thai.
These eateries are already listed on the Starship app, through which orders are placed, for pickup, with delivery options coming soon.
"Since universities and things like that had to shut down due to COVID 19, we pivoted as a company to help provide contactless delivery for neighborhoods and areas around where we already had service set up," said Joshua Taylor, Starship's operations manager for Flagstaff.
Though unable to provide a specific start date, Taylor said the local team is "very close" to launching delivery in the Southside, the first step in expanding the robot delivery service to the Flagstaff community.
"There's a lot of local-owned businesses there [in the Southside] and in general. It was just a good fit for starting out centrally and branching out from there, as far as delivery goes," Taylor said.
The robots are being programmed to be able to navigate what Taylor described as an "L-shape" around the NAU campus: down East Pine Knoll Drive and over to South Milton Road. Delivery range will vary by restaurant as the company works to keep delivery times under an hour. The robots can travel about 5 mph on the sidewalk.
When Taylor approached Julia "Juls" Bianconi, owner of Morning Glory Cafe, about offering the service, she was hesitant.
"At first I was like, 'What? Robots? We're not going to participate.' But I'm so desperate for business, I'll take whatever I can get," Bianconi said. "It's for free, so sure, we'll try."
The Starship team installed a tablet -- alongside tablets for other delivery services -- that will alert cafe staff when they have an order for robot delivery.
Bianconi said she and other food service professionals now joke about having to figure out which tablet is chiming when there are so many options, but she noted in a serious tone that she hopes orders will come in to offset the costs of electricity and internet needed to run these devices.
For now, though, her team is awaiting to hear first the chime for this new delivery service.
"We can't wait to put a little box of food in a cute little robot out in front of our spot," she said.
Ladda Khonphian, owner of Asia Station, admitted she was not very familiar with the robots when she agreed to participate. Despite a concern that her customers are equally unaware, she remains excited to begin loading food into the robots' insulated bodies.
"We thought it's a great idea and also we want to help them out, too," Khonphian said.
Taylor said he has been discussing robot delivery with other venues in areas such as Aspen Place. The delivery option is open to almost any restaurant, he noted, and is particularly useful while social distancing recommendations are in place to prevent the spread of COVID-19.
Deliveries to the Flagstaff community will be separate from those on the NAU campus, which has its own robot fleet and hub where the robots are stored. Taylor estimated city deliveries will begin with 10 to 15 robots, with the ability to bring in more robots depending on demand.
Since the service was established at NAU a year ago, the university fleet has had up to 45 robots at one time delivering food to individuals throughout its 683-acre campus.