Northern Arizona University's annual Earth Jam sustainability celebration had a new feature this year: the first bicycle-powered concert in Arizona.
Surrounded by nearly 30 booths hosted by student clubs and community organizations, 10 blue stationary bike stands were placed directly in front of the stage, where they were connected to both a capacitor to store the generated energy and a "pedalometer": a vertical light strip showing cyclists the total energy they were generating, ranging from red (not enough) to white (more than enough).
While some students lounged on the grass of the Central Quad in the afternoon sunshine, others fixed their bikes to the stands, spinning with dedication to keep the meter in the desired green zone and the music playing.
"If you have enough bikes, you can do some really exciting things with them," said NAU doctoral student Joanna Wheaton, who coordinated the concert.
Wheaton said she got the idea because she had held a similar concert before, while completing her undergraduate studies at University of California's Los Angeles campus.
"It was such a big hit in LA at the time. It was the first bike powered-concert in the county and afterwards it became an annual event," she said. "As soon as I came to Flagstaff, I realized this is the perfect place to do this. It matches the bike-oriented culture here."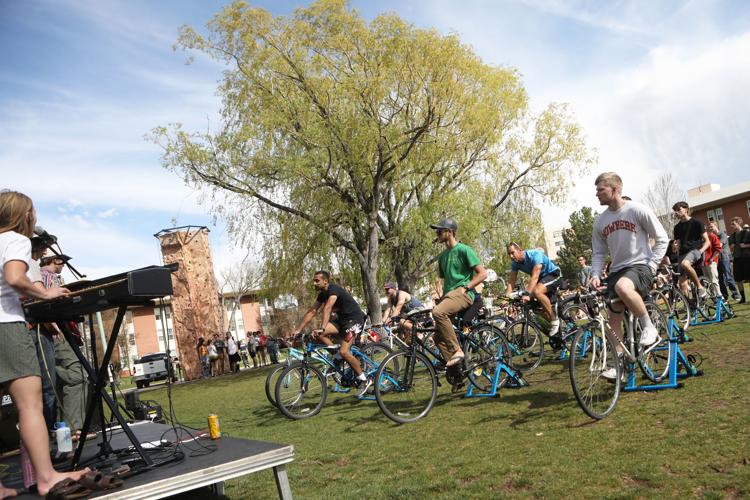 In the fall, she applied for an NAU Green Fund grant to purchase the bike stands, as well as other bike-powered equipment, including the blender used to make smoothies at the city's Earth Day celebrations last week.
You have free articles remaining.
Long before the concert, Wheaton visited practice sessions of each of the four student groups who performed at Earth Jam to measure their energy use. Using factors like bicycle type and anticipated age and fitness level of concert-attending cyclists, she then calculated that 10 bikes would be needed to power each of the groups' microphones, speakers and other equipment.
In all, the event featured four hours of continuous pedaling. Individual students and community members, as well as groups like the university Triathlon Club, took turns on the bikes for 30-minute shifts, switching out one at a time.
Wheaton said she was surprised by the support from local businesses: many donated prizes for participants, while others organized teams to help pedal.
"We're generating our own power, so we're not relying on nonrenewable resources. It's really fun to see, as a group, you can power something together," Prestin Cooke, a waste minimization coordinator with the NAU Office of Sustainability, said during the concert.
Mackenzie Gargano, who planned Earth Jam, said generating the energy was easier than it looked.
"It was really just a leisurely bike ride," she said.
Wheaton hopes the concert inspires other universities and community groups to participate in bike-powered events.
"Clearly, we're not going to stop climate change by having concerts, but it's a really cool, fun way to teach people about sustainability. People are excited to learn about it that way," she said.