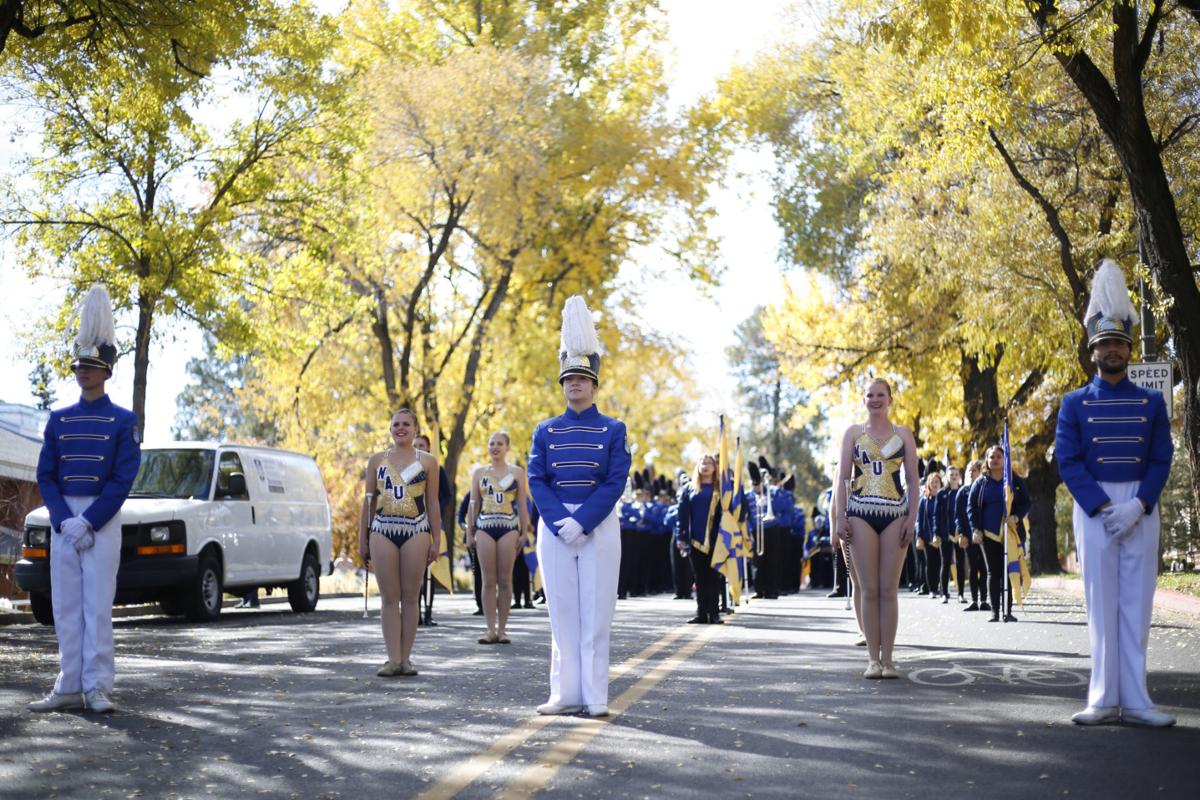 As aspen leaves shift to gold and auburn once again, fall has settled throughout Flagstaff, bringing with it annual communitywide festivities such as Northern Arizona University's Homecoming.
NAU's week of festivities begins Monday, with its 120th anniversary as the theme.
In honor of this milestone, the Arizona Daily Sun is taking a brief look back at the history of the university and its Homecoming celebrations.
School celebrations
Assistant Dean of Students Kevin Gemoets, co-chair for this year's homecoming committee, said his favorite part about Homecoming week is the widespread participation from faculty, staff, students, alumni and other Flagstaff residents.
"That's, to me, what's it's all about: coming together as community," said Gemoets, who received both undergraduate and graduate degrees from NAU and has worked at the university for 19 years. He was also named the Homecoming dedicatee in 2016.
Although the school has been in Flagstaff for 120 years, Homecoming itself is not quite so longstanding.
NAU, named Arizona Normal School at the time, celebrated its first Homecoming in 1924 to commemorate its 25th anniversary. The Lumberjacks lost the game, held Nov. 15, against the Phoenix College Bears 32-14, according to a September 1974 edition of the Arizona Daily Sun.
In the early years, annual Homecoming traditions included many that still remain today: the football game, a pregame dinner (that has been transformed into the annual tailgate), pep rally, alumni meal, parade, bonfire and more.
In 1936, the university began to dedicate each Homecoming to an outstanding faculty or staff member who has been at the university for at least 10 years. This year's dedicatee is 25-year chemistry faculty member Brandon Cruickshank.
Of all traditions, records show the bonfire was taken very seriously by past Lumberjacks.
Classes for freshmen were cancelled in 1948, for example, so they could build the bonfire using boxes, crates and other flammable materials from local merchants. These students would then take turns guarding the kindling until its scheduled lighting the following day. Two years later, though, the bonfire was "set afire by unknown persons" two weeks early due to the absence of a guard, the Coconino Sun reported.
You have free articles remaining.
The event is not without its new traditions, either.
Gemoets said the chili cook-off and a student carnival have each been happening for about the last 15 years. Flannels and Flapjacks, a Saturday morning breakfast, has been around for nearly a decade, while the newer Make it Monday to create "spirit swag" and Ultimate Lumberjack Challenge pageant/talent show have arrived within the past few years.
This year, NAU will host its "Traditions Day" chili cook-off, pep rally and bonfire on the central quad Thursday starting at 6 p.m. On Saturday, the homecoming parade begins at 11:30 a.m., followed by the tailgate in the Skydome parking lot at 1 p.m. and the homecoming game against Portland State at 4 p.m.
A growing campus
On Sept. 11, 1899, eight years after Coconino County was established and while Arizona was still a United States territory, NAU got its start as Arizona Normal School with 23 students and two teachers, who the Coconino Sun reported each made a salary of $110.
At the time, Principal Almon Nicholas Taylor had a $200 salary. Inflation calculators suggest this equates to just over $6,000 in today's dollars, compared to current NAU President Rita Cheng's $475,000 salary.
Arizona Normal School classes were held in a sandstone building originally slated to be an insane asylum, but that instead became Old Main.
Advertisements for the school in the Coconino Sun prior to the start of classes stated, "The new School is centrally and delightfully situated. The climate of Flagstaff is almost perfect, conducing in the highest degree toward the health of students."
The campus was 130 acres in total, about a fifth of its current size, and offered courses in "High School, Academic and Normal work," with which graduates could teach within Arizona for life. The university now offers nearly 100 undergraduate degrees alone, as listed on its website.
Platt Cline, Flagstaff historian and former Arizona Daily Sun publisher and editor, believed the institution's success and growth was largely due to the community in which it is based, according to his 1983 book "Mountain Campus: The Story of Northern Arizona University."
"It could only have happened in Flagstaff! While there could have been a Flagstaff without the school, there could never have been the school without Flagstaff," Cline wrote.
As for NAU's next 120 years?
"I hope we'll be right where we are now, continuing to educate our students and still bringing the community together," Gemoets said. "I hope we'll be a point of pride for Flagstaff and Arizona, like we are now."