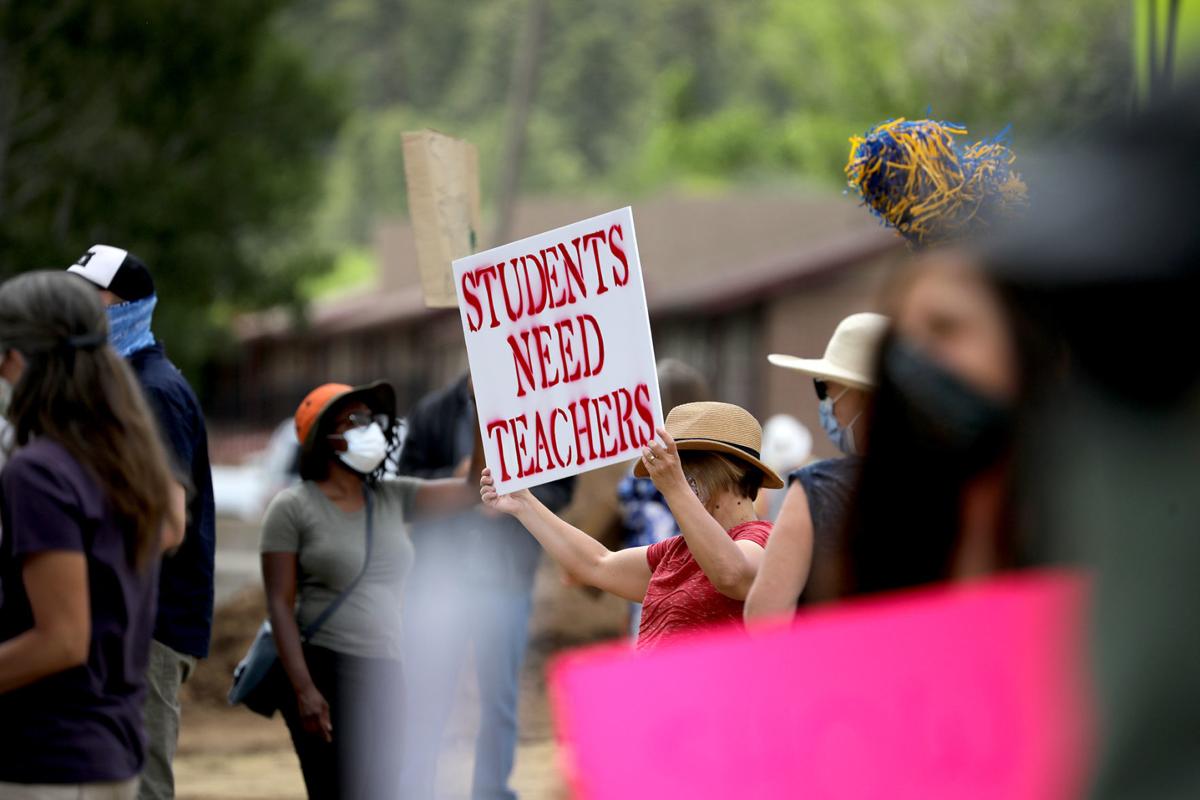 Northern Arizona University's College of Arts and Letters will face new challenges in the fall as certain expert faculty have been let go in an attempt to reduce costs.
Following cuts made at the end of May, the NAU Lyric Theater, which puts on the university's operas and musicals, is without a director.
Although Eric Gibson was among numerous NAU employees who lost their jobs in the last few weeks, the nonrenewal of his contract has sparked a large response from former students and colleagues, with more than 1,000 of them calling for his reinstatement.
"Losing [Gibson] would mean losing an invaluable educational resource," wrote Ye Lynn Han, a vocal performance major who graduated this spring, in a message to the Arizona Daily Sun. He started the Change.org petition asking NAU President Rita Cheng to reinstate Gibson. "Personally, the hours of individual coachings I received with Mr. Gibson were some of the most transformative for my growth as a performer in my time here at NAU."
Sedona Libero, a 2016 graduate in vocal performance, had Gibson as a professor during her senior year and was a member of the student group that assisted with his audition for the position.
"He is somebody that I knew right off the bat wanted to put on a good show. But he also [created] a place where he allowed the students to explore and grow and he was so supportive of all of us," Libero said. "Even with a show that wasn't the biggest or flashiest, he would always find some way to make it different and exciting and relevant and have a message. And they would always look beautiful. I don't know anyone else who's able to make a show look as good as he can with some lighting and cloth and costumes."
His production of "The Magic Flute" won first prize in the National Opera Association Opera Competition and the 2019 Viola Award for Excellence in the Performing Arts from the Flagstaff Arts Council. On the College of Arts and Letters website, Gibson is listed as one of only two opera faculty, the other being orchestra director Daniel O'Bryant.
Gibson was just as surprised as others when he was told his contract would not be renewed after five years with the university, especially considering Cheng's support of the program. Not only did she support the creation of the new Kitt Recital Hall, Gibson said, but her husband, Tom Cheng, was even slated to be in the April opera, playing a dead body.
Though the two weeks since his dismissal have been emotional — with Gibson admitting the many positive comments on the petition have helped to lift his spirits — he is not angry.
"I do not have any animosity to the administration nor President Cheng herself. Difficult times call for difficult choices, but I am not 100% convinced that this was the way," Gibson said. "I wish we could have been involved in the decisions, because I think they would have been very impressed with what the faculty would have come up with.
"I think if they would have asked me to work for the year for $10, I would have done it. I really do. I would have made a sacrifice however I could have to keep working for my students. They mean everything to us. Nobody teaches for the money. University benefits are nice, but we don't do it to get rich."
If he were to be offered his position back to direct the fall musical, Gibson said he would accept "without any reserve."
University planning
For Daniel Burton-Rose, the loss of his position creates a hole in the History Department.
Burton-Rose was the only NAU faculty member specializing in Chinese history, according to the department's website. This semester, in his "Medicine in East Asia" class, he taught students about the COVID-19 pandemic as the virus was first starting to spread in Wuhan, China.
Burton-Rose noted this effort was featured by the university the day after he was let go -- which came as a shock because he had confirmed in April with both his supervisor and Human Resources that his contract would be renewed. He had been at the university for two years.
"I had assumed that a state university could plan a month ahead, a year ahead, a week ahead, but that's never been what I have seen at NAU," he said.
Burton-Rose added he had hoped for a higher standard of ethics from the university during a crisis like the coronavirus pandemic, but instead the cuts to the College of Arts and Letters were severe and he, like others, had just one weekday's notice before losing his health care benefits.
"It's devastating and it will have lasting consequences," he said of the losses in his former college. "Already there's a mental health crisis among students and the morale among faculty was the lowest I've seen it in any institution I've ever been a part of. So to have faculty feel like their work is undervalued and their positions are constantly under assault is the opposite of the sort of a stability that an institution should offer in times of crisis."
During a protest at Flagstaff City Hall May 27, faculty member Anne Scott described the decision to cut staff across the university as "shortsighted."
Scott retires this month after 28 years with the English department.
"I want to encourage [administrators] to find a plan for NAU's hopeful future, it's positive future, because all they're doing is looking at the worst-case scenarios and implementing policies that are reinforcing the worst-case scenarios," Scott said. "I fully understand that we're dependent on tuition revenue to survive. I understand that. But you're not going to attract students here if you keep chopping programs. It's a vicious cycle."
A list being compiled by NAU employees has identified just more than 100 full-time faculty who have lost their jobs to date.
Concerned about COVID-19?
Sign up now to get the most recent coronavirus headlines and other important local and national news sent to your email inbox daily.