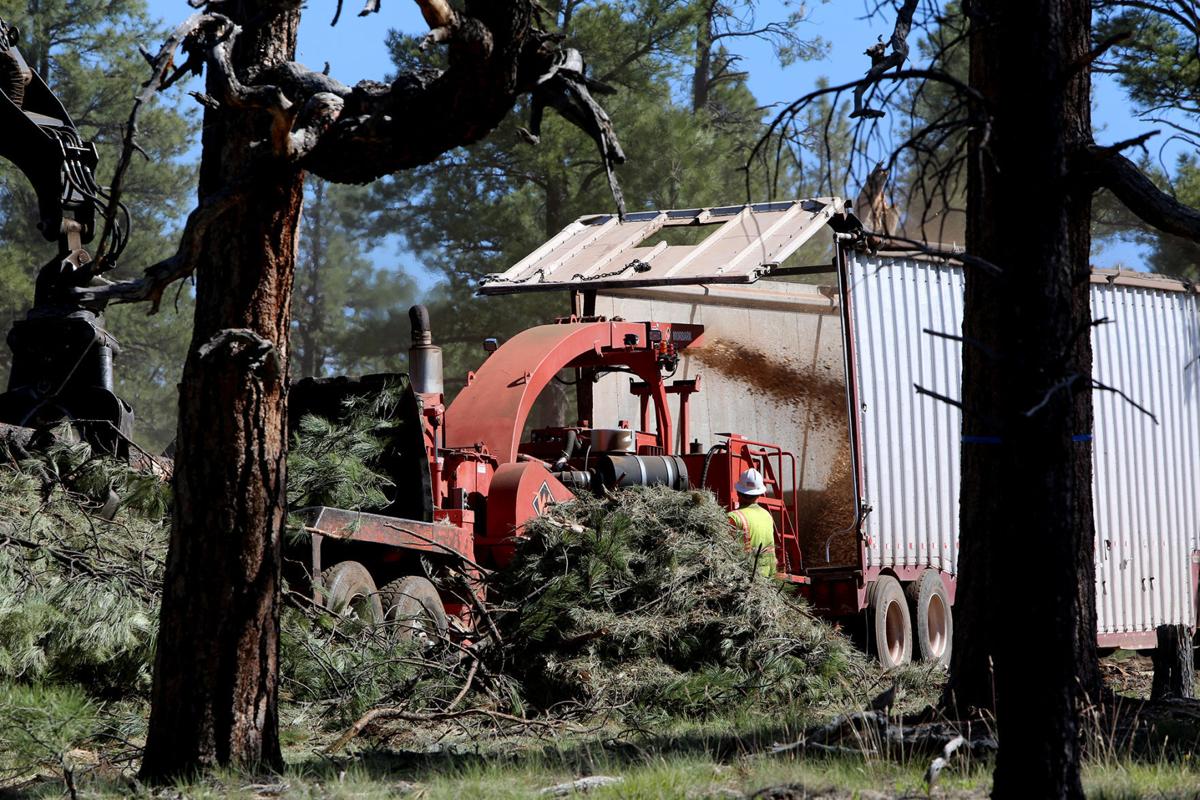 The number of acres included in the next phase of the Four Forest Restoration Initiative has been reduced by the U.S. Forest Service.
The project, one of the largest forest restoration efforts in the country, seeks to treat millions of acres of forested land across the Coconino, Kaibab, Apache-Sitgreaves and Tonto national forests in order to improve forest health and reduce the risk of catastrophic wildfires.
Forest officials hope to award the contract for Phase 2 of the project in June to a private logging partner that can do the work over the next 20 years.
But last month the Forest Service announced it would be reducing the maximum number of acres included in the Phase 2 contract of 4FRI from 605,000 to 520,000.
The change comes after forest managers had originally set the maximum number of acres at 818,000 before releasing the request for proposals for Phase 2.
4FRI spokesperson Adam Livermore told the Arizona Daily Sun the changes provide industry partners with a more accurate estimate of the acreage within their request with the goal of ensuring the long-term success for the project.
"This acreage update puts us in a better position to proactively and successfully manage contract requirements, and provides a more secure commitment for long-term success of industry, partners and the Forest Service," Livermore wrote in an email. "Since the RFP advertisement, the Forest Service conducted additional analysis using new and more accurate data from subject matter experts. This new analysis also accounted for updated predictions of future wildfire risk."
But the announcement had some worried that the change would further push back the awarding of the Phase 2 contract, which has been delayed before.
However, during a meeting of 4FRI stakeholders last month, 4FRI Chief Executive Jeremy Kruger said that won't be the case, and the Forest Service still expects to award the contract in June.
Of the 85,000 acres now excluded from the Phase 2 contract, most are below the Mogollon Rim, in the Upper Tonto and Sierra Anchas sub-areas, Livermore said. In that area, Livermore said, the ecosystem transitions from being primarily based around ponderosa pines, replaced instead by mostly pinon pine and juniper.
And that ecosystem type is outside of the scope of what they want the Phase 2 contract to focus on, Livermore said. Nonetheless, he said it is likely that those acres will eventually see treatment, just not as part of the Phase 2 contract.
Livermore said the decision to reduce the total acres came as a result of using LIDAR technology, which essentially uses lasers to photograph an area in detail.
That work was then checked by a third-party technical team to validate the results, Livermore said in an email.
Adrian Skabelund can be reached by phone at (928) 556-2261, by email at askabelund@azdailysun.com or on Twitter at @AdrianSkabelund.