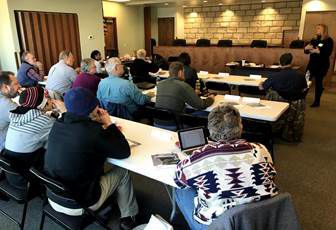 JPMorgan Chase today announced a two-year investment totaling $200,000 in support of underserved entrepreneurs with the Northern Arizona Center for Entrepreneurship and Technology (NACET), also known as Moonshot at NACET, a nonprofit based in Flagstaff.
The investment provides support for instructors who travel to communities in northern Arizona, including the Hopi Tribe and Navajo Nation, to train underserved entrepreneurs to help them strengthen and grow their businesses by offering a business boot camp and an incubation program.
To date, the program has provided services in Flagstaff, Sedona-Verde Valley, Page, Show Low and St. Johns, plus surrounding Native American communities.
"We are very grateful for JPMorgan Chase's support, which will allow us to expand our entrepreneur development programs that are currently available," said Scott Hathcock, president and CEO of Moonshot at NACET. "It is particularly helpful for rural areas where communities might not be able to focus their economic development dollars on entrepreneurs or startup businesses."
The educational programs are specially created for start-up entrepreneurs and deliver high quality content to give attendees a solid base knowledge of business fundamentals. Topics include: key steps to start a business, market research, financial and business planning, developing a team, business structures and how to tell your story.
You have free articles remaining.
Moonshot also offers in-depth cohort training focused on building an investment-worth business, value proposition, business models, minimum viable product, achieving a stable business foundation and preparing for investment.
"As members of northern Arizona's community, we're deeply invested in the success of our local small businesses as they are key drivers for thriving communities," said Megan Ackaert, Arizona Region Manager for the Commercial Bank for JPMorgan Chase. "It's why we're supporting Moonshot at NACET in its efforts to assist underserved entrepreneurs and create a base of successful entrepreneurs, expand the program into new communities and attract investments."
The investment is part of the firm's Small Business Forward program, a $150 million, five-year global commitment to support women-, minority- and veteran-owned small businesses in building their long term success.
Moonshot at NACET also will help build local mentor networks and partnerships with area services plus identify local capital and funding sources for the entrepreneurs. Another goal is to establish three to five entrepreneur ecosystems in northern Arizona that will include an instructor, a meet-up for entrepreneurs, mentors, space for programming, a local program supporter and local capital.
Moonshot at NACET is a 501c3 nonprofit organization headquartered in the mountains of Flagstaff. Its purpose is to help subject matter experts bring products to market, help nonprofit leaders and help other cities develop entrepreneurial ecosystems. Moonshot believes that the best products aren't dreamed up by the business class but rather the scientists, engineers, technologists, designers and dreamers who bear the type of innovation that truly changes the world.