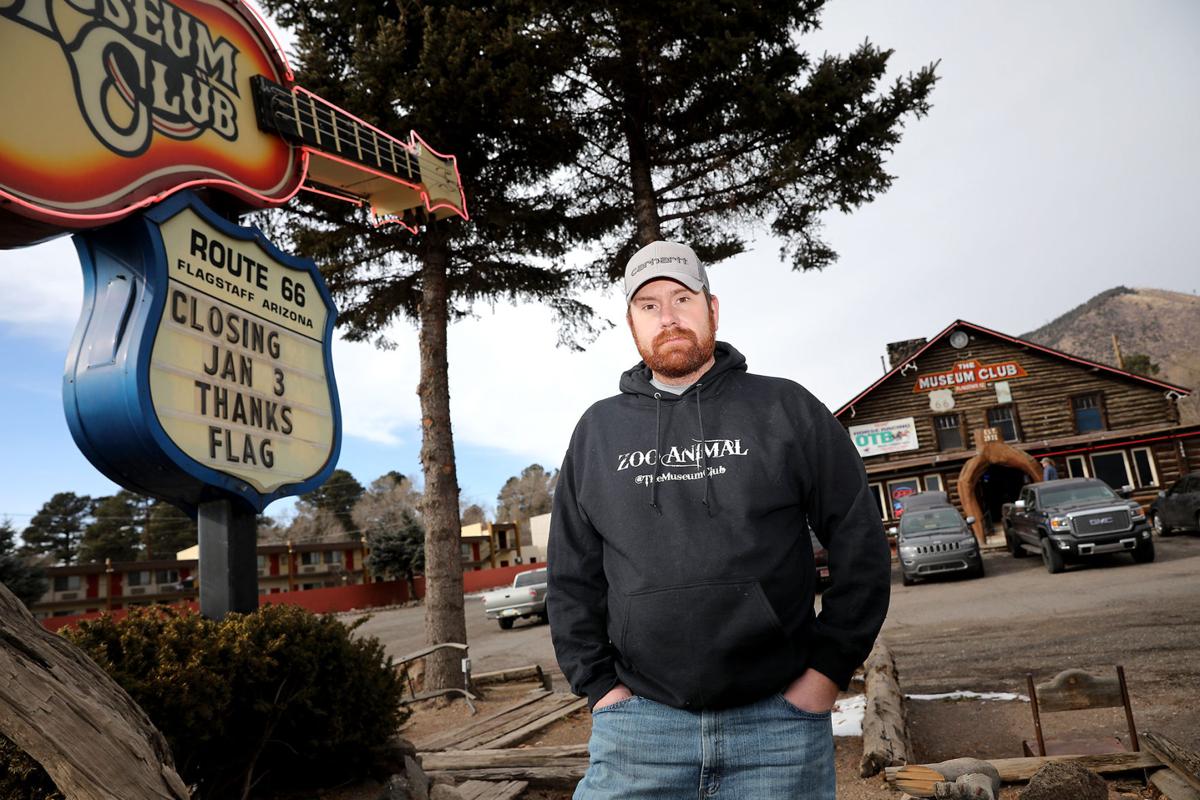 For the second time in its 84-year history as a club, the Museum Club is closing its doors. This time, though, there is a pandemic to blame.
Today will be the club's last day of operations, the business announced on its Facebook page early this week, prompting hundreds of mournful comments from locals and past visitors from around the country and the world who stopped by during past sightseeing trips along Route 66.
Owner Dru Douthit said operating the business during the pandemic has become too stressful.
"We transitioned to a bar operating as a restaurant. The numbers are OK, it's just super stressful," Douthit said. "I took four days off to think about it and destress for [the decision] and as soon as someone texted me a question from here, I felt the stress come back and I'm like, you know, this is not good for me."
The Museum Club, nicknamed "The Zoo," first opened in 1931 as a taxidermy shop before becoming a night club in 1936. As it changed owners over the years, it held various roles including recording studio and roadhouse before becoming a country music dance hall. It is known for its karaoke, dime beer nights and live local music.
Douthit took over the Museum Club in late 2017, a few months after its only other recorded closure, to preserve the establishment he had been visiting since 2007, when he first became a student at Northern Arizona University. He rents the building from the Zanzucchi family, which has owned the property since 1978 and will maintain ownership during the closure.
Due to statewide closures of entertainment venues earlier this year to reduce the spread of COVID-19, Douthit had to shut the doors to the business for six months during the pandemic and let go of his staff. Since reopening in October, he was able to bring back about half of the team, and the business has been operating at 30% capacity to provide enough room to space out tables for social distancing.
Despite this limited capacity, though, the business has only seen about a 15-20% drop in sales, Douthit said.
The team also attempted to host some small concerts after reopening, but found that attendees were still too rowdy.
"We got a written warning from the city because three couples were observed dancing, so I was like, you know what, I don't want to deal with this anxiety and stress," Douthit said, noting that his timing for the closure is because he did not want to open a new fiscal year.
He will be putting the Museum Club on the market by next week in the hopes that someone will purchase the Route 66 icon, allowing him to return to real estate, the career he left when he took on the business almost exactly three years ago.
He admitted that should it not sell, he may consider reopening in the summer.
More than a club
Annette Fallaha has taught line dancing at the Museum Club for the last 13 years of the 27 she has lived in Flagstaff. Among her memories of the venue are her birthdays celebrated there and the night she met Johnny Cash's grandson.
With the closure, she said, she is concerned about being able to continue teaching.
"I'm going to miss that place if it doesn't open and things don't change because there really isn't anyplace you can teach here in town unless you go to a studio," Fallaha said. "Teaching somewhere else is not like being at the Zoo with the atmosphere, the country vibe. It's just a cool place to dance."
Drummer Pete Avalar, who has performed numerous times at the Museum Club with three different bands, said he was bummed about the upcoming closure, even from his current home in Nashville. For more than two decades, he lived in Phoenix and traveled to Flagstaff for such performances.
"The Museum Club always had a warmth to it. They just made you feel at home — the DJ, sound guys, bartender. You felt at home, you could kick your feet back and kind of do your thing," Avalar said. "It's definitely a landmark for musicians, especially country musicians, that have played there. As a matter of fact, every band that I know of that has played up there, every single one of them on their Facebook page has always put a picture of their name on the marquee at the Museum Club, so we always knew who was playing there."
Douthit said he hopes the next owner is willing to maintain the Museum Club's distinctive characteristics that have attracted performers and community members like Fallaha and Avalar over the years.
"I'd still love to see it stay the same. That's what I tried to do, bring back everything that is the Museum Club: live music and karaoke and line dance lessons. Hopefully it doesn't change too much. I'd like for it to stay the same. I like to see it as a place that I'd still want to come and hang out like I did before," Douthit said.