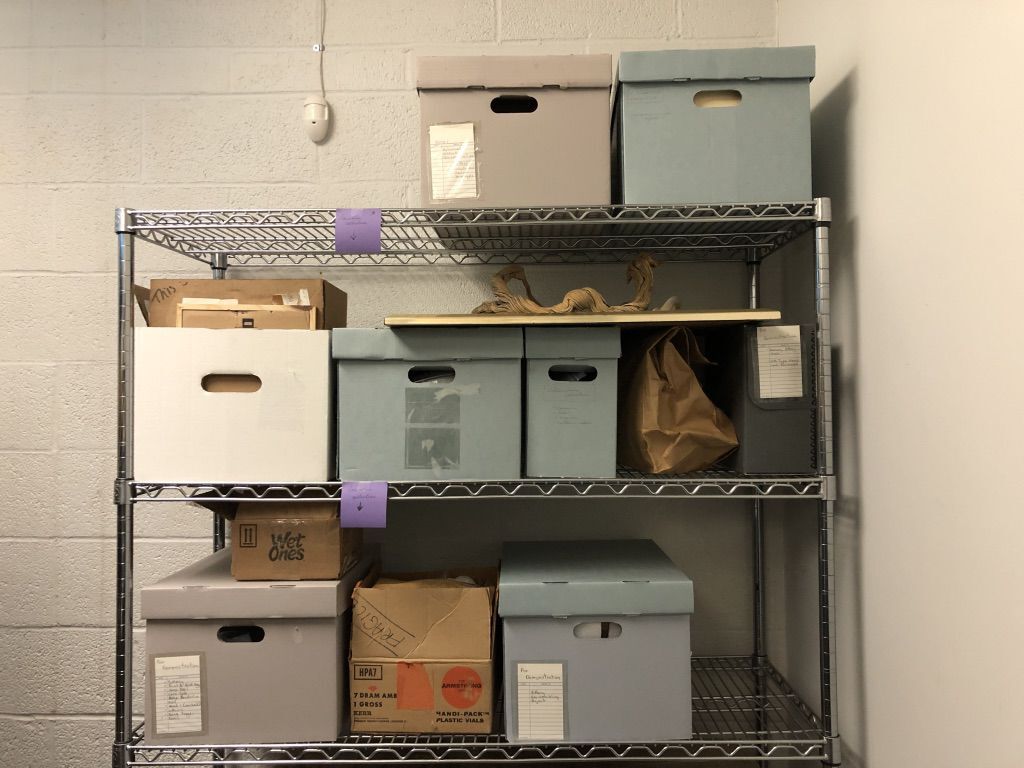 Have you, or anyone you know, ever removed pottery sherds or other artifacts from archaeological sites on federal land because you thought it wouldn't matter? You may have thought you are one person, and it's only a few small pieces.
If so, you aren't alone. Some people feel this way and have felt this way in the past, evidenced by repeat photography projects of archaeology sites showing landscapes denuded of artifacts over the decades. Consider a scenario where 1% of the over 180,000 annual visitors to Wupatki National Monument removes one pottery sherd each year. This amounts to the removal of 1,800 pieces per year!
It has been illegal to remove artifacts from federal land without a permit since the 1906 Antiquities Act. In addition to breaking the law and altering the archaeological record, the taking of legally protected items from federal land and claiming them as one's personal property presents a moral crisis. Stealing non-renewable artifacts from the past amounts to stealing from the future and the collective right of the generations to come to learn from artifacts in their natural context. Taking artifacts made by the ancestors of indigenous communities is stealing their history.
Some folks recognize the moral dilemma they face once they take these objects and try to rectify the situation by mailing them back, sometimes with remorseful letters.
A new multi-park study entitled "Remorseful Returns: What to Do with Returned Surface-Collected Items from National Park Service Units" is featured in the 2021 (Volume 17:1) issue of Collections: A Journal for Museum and Archives Professionals. The study explains the "return phenomenon" across southwestern parks through time focusing on artifact return trends, the common rationales the letters reveal about why people take objects, and the reasons that prompt people to return stolen objects.
I surveyed many parks in the southwest, then honed in on the parks that receive the most stolen-item returns. These include Bandelier National Monument, Chaco Culture National Historical Park, the Flagstaff Area National Monuments (Sunset Crater Volcano, Walnut Canyon, and Wupatki), Grand Canyon National Park, Mesa Verde National Park, and Petrified Forest National Park. I tallied the number of returns and viewed the letters at each of these parks. Chaco and Petrified Forest receive the most returns.
The highest reported artifact return year for Chaco was 1994 with 28 return incidences, or approximately one mailed package of returned artifacts every two weeks. They have received more than 6,000 returned pottery sherds since 1983. Petrified Forest has been receiving stolen petrified wood, a federally protected natural resource, in the mail since 1935. In 2019 alone, they had more than 100 return incidences, or approximately two mailed packages of petrified wood every week.
Many return packages do not include letters. For those that do, there are common themes: wanting an authentic piece of history or the park; knowing it was wrong to remove items but doing it anyway; sometimes not knowing it was wrong but finding out later; feeling an epiphany that taking ancestral items was being disrespectful to American Indians; recognizing how out of context the objects were once they placed them in their homes; taking items as children and feeling bad about it later; cleaning out attics of deceased relatives and sending discovered items back to parks; feeling guilt or remorse for being selfish; and sometimes perceiving that they received bad luck.
The unfortunate reality is that while it might make a person feel better to mail stolen items back, the objects can never be returned to their original context because it is unknown. Returned items can, however, occasionally be used for educational purposes. Please keep in mind, that it is illegal to remove surface artifacts not only from national parks, but also from national forests, federal recreation areas, and tribal lands.
To most of you who admire the artifacts and natural features you see on federal land, but take only pictures, thank you for doing the right thing!
Gwenn M. Gallenstein is the Museum Curator for the Flagstaff Area National Monuments (Sunset Crater Volcano, Walnut Canyon, and Wupatki National Monuments). Her office is at the Museum of Northern Arizona (MNA) where she is also a member of the MNA Collections Team.