New CCC course, developed working with NAU, available to veterans to get them through a year of first-year English in a single semester.
When you think of the next frontier of Arizona's $11.3 billion defense industry, the area around Flagstaff probably doesn't jump to mind.
I stood at the edge of a bomb crater on Pointe du Hoc and heard the voice of our guide: "Bob, this is where your father was wounded. Friendly …
When Col. Donald Morris, senior army instructor for the Coconino High School Army JROTC, read the first of his students' submissions for an an…
Peter Wainwright, 93, was walking through the dining room at Flagstaff Medical Center two years ago on the way to visit his wife, who was a pa…
With the help of the mayor, National Guard member David Menotti presented the owner of Conn Pest Control and his employer with an award from t…
Flagstaff is inching closer to getting a long-term care veterans home.
When Adam Hess was a student at Northern Arizona University, the Cold War was a distant threat, and very few of the instructors in his Army RO…
In honor of all the veterans who served in all of the wars.
The Veteran Success Center at Northern Arizona University was filled with young men, some playing ping pong and others reading or studying. Wh…
Maurice "Moose" Walsh is making sure that U.S. veterans are getting the honor and help they need when they come home from serving abroad.
Gus Florez, 92, fought his way across Europe to return to a full and honored life in Flagstaff
Arlene Potter of Flagstaff recalls an incredible story of her father's service in World War I
Navy Seaman Douglas Dausend, son of Jack C. and Feleshia R. Dausend of Flagstaff, recently completed U.S. Navy basic training at Recruit Train…
The Tuba City Marine Corps JROTC squadron fires during Memorial Day ceremonies at Citizens Cemetery in Flagstaff Monday. (Taylor Mahoney/Arizo…
The American Legion is asking for the public's help Saturday in placing flags on the graves of veterans in preparation for Memorial Day.
During a February County Board of Supervisors meeting the board proclaimed Coconino as a Purple Heart County. The designation is the first for…
Northern Arizona University's W.A. Franke College of Business has been named one of the nation's top business schools for veterans by Military…
Two complete basic training
STEPHENS COMPLETES BASIC TRAINING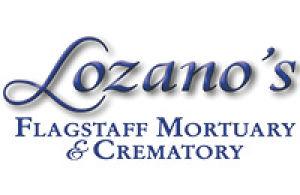 Lozano's Flagstaff Mortuary & Crematory
The body of a U.S. Marine killed in Afghanistan will be passing through Flagstaff early this morning on the way home to Kayenta.
Molina back in United States
Kelly graduates from basic training
A former North Vietnam Prisoner of War (POW) visited the Northern Arizona University campus Sept. 20 as part of NAU Air Force ROTC POW and Mis…
U.S. Air Force airman Cody T. Elzey recently graduated from basic military training at Lackland Air Force Base, San Antonio, Texas.
More than 350 people turned out for two Memorial Day ceremonies in Flagstaff on a morning of perfect weather and deep emotions.
Official military organizations participating in the holiday events included Marine Corps League, American Legion, Scottish American Military …