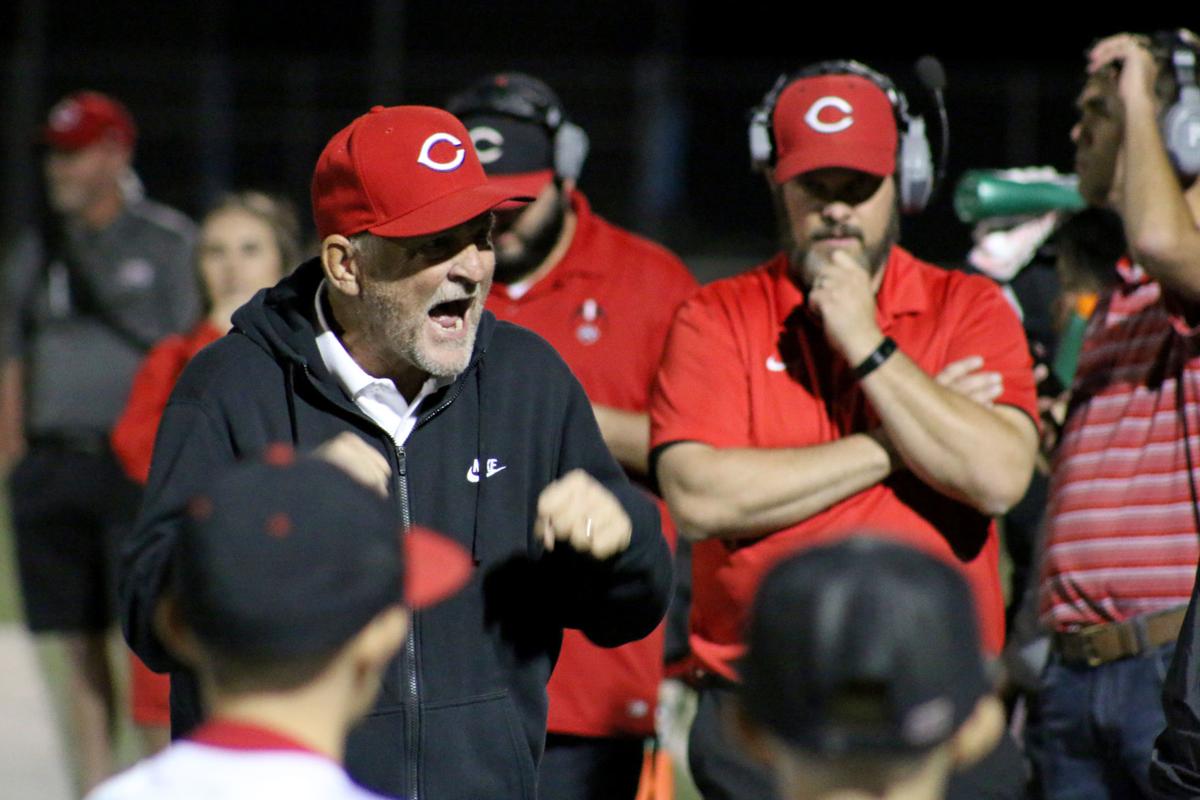 After helping lead the Coconino Panthers football team to its best season in six years, Mike Moran is stepping down as head coach.
Assistant coach Mike Lapsley will take over head coaching duties moving forward and Moran plans on helping with the football program in whatever way is needed.
In his first year back at the helm of the Coconino football program, Moran's Panthers went 7-3 overall and 4-2 in the Grand Canyon Region, including a home win over eventual region champion Mingus Union.
Moran said he decided to step down from the head coaching position because he was able to accomplish what he was tasked with doing: rebuild the Panthers program by bolstering the roster and coaching staff. The decision was originally announced at a team banquette following the end of the season.
"It was my job to rebuild it, to bring life back into the program so to speak," Moran said. "And I didn't know how long it was going to take. There was no time frame; I was in it for the long haul. I was going to do whatever it took to bring the program back to prominence. What happened was that I hired a guy named Mike Lapsley."
Having ties to youth football in Flagstaff, Lapsley was a no-brainer at the time for Moran and the Panthers. He was a major contributor to the Panthers' turn around in football and his presence on the coaching staff allowed Moran to still take time for the Panthers boys basketball program that he also coaches. Lapsley said he is grateful for the lessons he learned from the veteran coach and is excited about the future of the Coconino football program.
"It was really a blessing to be with Coach Moran this year and see how he handles things," Lapsley said. "He has a great equation of turning programs around. It's kinda his thing and I was very attentive to him. We are very similar and he really gave me the confidence. Being around him and seeing how he handled everything, the way he really held kids accountable and changed the program was such a valuable experience for me."
Moran has seemingly made a habit of being asked to turn around programs in need of help. He was manager of the baseball team at Coconino for one year and even helped fill in for the Flagstaff girls basketball program in years past. Moran recalled that recently his good friend and former Coconino head football coach and Flagstaff Sports Hall of Famer Bill Epperson told Moran, "Mike, you're getting too old for this."
Lapsley was given a strong vote of confidence from Moran, who said that when he originally hired Lapsley, he had an idea that his assistant could eventually rise to the top of the program.
"I watched Mike's ability to coach the game of football, and his knowledge and his teaching ability was really first-class," Moran said adding that he knew Lapsley was going to be a great long-term hire and that he didn't want to lose Lapsley to another position.
Moran will help Lapsley with the behind-the-scenes work that comes with being a high school coach to make the transition as smooth as possible.
"The success we had is going to continue under Mike's leadership and I'm going to help him a lot of guidance," Moran said. "Just work with and talk with him about the school side of it and help him understand how things work in the schools."
Lapsley becomes the third head coach of the Panthers since 2014.
"He's ready to go," Moran added.
Moran's Panthers fell just shy of the playoffs but had a resurgence this season and will look to continue the momentum going forward.
Get local news delivered to your inbox!
Subscribe to our Daily Headlines newsletter.