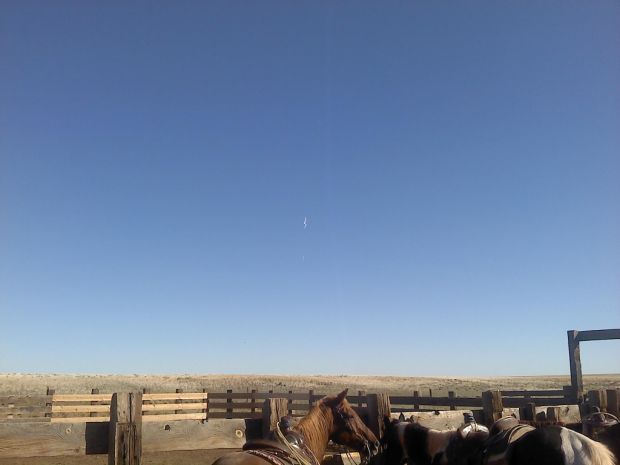 The clock ticked past noon on Monday as Robert Ward stood in the middle of a dirt road east of Flagstaff, pointing his smartphone toward the sky. He was standing at the exact spot that David and Susan Blanchard saw a meteor streaking across the sky on Saturday morning. The fireball's split-second flash through the atmosphere above Flagstaff captured the attention of everyone from astronomy buffs to morning joggers.
A topaz-colored jewel was how Susan Blanchard described the rock as it blazed through the atmosphere at 8:53 a.m.
Hours after he heard about the fireball, Ward started crisscrossing northern Arizona to try to determine where the space rock fell. A Prescott resident and full-time fireball chaser, Ward has spent the past 22 years traveling the world to find rocks that sail through the atmosphere from space.
On Monday afternoon, he was using the American Meteor Society's newly developed smartphone app to record where the Blanchards saw the meteorite fall, the speed and trajectory of its path and visual characteristics like brightness and color.
The meteor was at least as bright as the moon, or about as bright as a magnesium flare, said David Blanchard, who is a retired meteorologist with the National Weather Service. Ward got in touch with him after Blanchard filled out an online report on the meteor society's website. So far, 31 people have done the same, giving Ward a batch of clues to work with as he tries to track where the meteorite finally landed.
Interviewing witnesses
At this point, he's interviewing witnesses and gathering footage of the meteor to try to approximate the space rock's path. Astronomer and petrologist Steve Schoner provided one of those videos, captured using an automated camera mounted on the roof of his downtown Flagstaff home.
Based on the direction and elevation of the meteorite's terminus, which is indicated by the smoke lingering after it fell, Schoner estimated that the rock fell between 60 and 100 miles northeast of Flagstaff, putting it in the middle of the Hopi or Navajo reservations. Ward also has the location narrowed down to somewhere north of Interstate 40 and east of U.S. Highway 89.
To really nail down a location, Ward said he's still looking for eyewitnesses who would have had a different perspective on the event from anywhere near the San Francisco Peaks, between Flagstaff and Holbrook or between Flagstaff and Page. More video footage should also be coming from a rooftop camera near Payson. 
Light or dark gray
To the trained eye, it's not too hard to spot a meteorite on the ground, Ward said. The rocks are usually light or dark gray in color, have a burned-looking fusion crust and rounded edges. They're also heavier than regular rocks.
Schoner and Ward said it isn't uncommon for meteorites to collide with Earth's atmosphere. What is rare though, is finding the rock that caused the flashy scene.
If this most recent meteorite is recovered, it will be the fourth witnessed meteorite ever found in Arizona, Ward said. 
Ward said he has already been contacted by Northern Arizona University with a request to sample and classify the rock if it is found. Ted Bunch, an NAU professor who does that work, said the university has classified more than 1,000 meteorites over the last 10 years, mostly from north Africa. It's easy to spot meteorites in places like Africa and Antarctica because the dark rocks stand out against desert sand or ice, but it's incredibly rare to find and classify one from northern Arizona, Bunch said.
Ward clearly has his work cut out for him, but he's not intimidated. It always takes a few days to collect and organize the data, he said.
Lucrative work
Finding a rare meteorite can be a lucrative accomplishment. More than 85 percent of meteorites are chondrites, which originate in the asteroid belt. An ordinary chondrite from North Africa would fetch something like 10 cents per gram, Bunch said. But if it's a rare class, it could sell for a couple hundred dollars a gram and if it's a lunar meteorite it could go for several thousand dollars a gram, he said.
It isn't just meteorites that capture Ward's attention, though. On Monday, another white object fluttering in the sky had him pulling out his binoculars. 
"There's always something to see in the sky," David Blanchard said, as the two tried to determine what the object could be. 
"Most people just never look up," Ward replied.
Schoner estimated that the rock fell between 60 and 100 miles northeast of Flagstaff, putting it in the middle of the Hopi or Navajo reservations.