Yale Professor Hiram Bingham was on an expedition up the Urubamba River, west of Cusco, Peru, in search of Vitcos, the "lost capital" of the Incas. It was here that the remnants of the once-vast Inca Empire held out for some thirty-five years following the Spanish conquest in 1532. Along the way a local farmer told Bingham of some ruins on a high ridge above the river. And so it was that on July 24, 1911, Bingham came upon the ruins of Machu Picchu.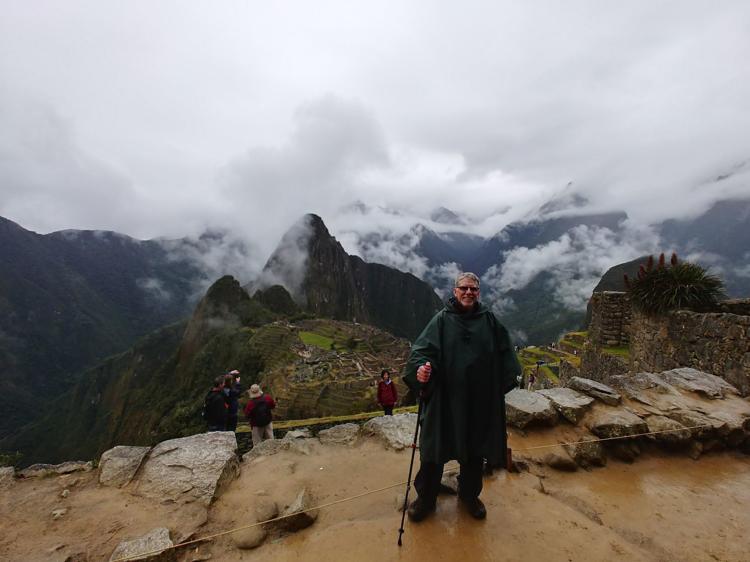 There are innumerable tours and treks that can take you to Machu Picchu. I signed up with this trip through REI. We were a small group of 16 at the start and 14 at the end. Five of us had to contend with various illnesses along the way, but all made the final journey to Machu Picchu.
When traveling to high elevations, acclimatization is critical. Cusco is over 11,000 feet in elevation, and some of our daily hikes took us to over 14,000 feet. Yet Machu Picchu is only slightly higher than Flagstaff, at 7,970 feet. Consequently, none in our group had any problem with altitude by the time we arrived at Machu Picchu. Indeed, it has been suggested that the Inca nobility, who would otherwise reside in Cusco, would spend the winter months in warmer Machu Picchu, traveling over what we call today the "Inca Trail."
We started our trip in Cusco, meeting with our head guide, Miguel, and our assistant guide, Admil, both born and raised in this town. On our first afternoon we visited a nearby Inca site, with the familiar terraces used for farming. These terraces had been cleared up such that the ancient water system was still functioning. The main crops grown would have been potatoes and corn, both developed by ancient Peruvians.
The language and people are called Quechua. Technically, the term "Inca" only applied to the rulers. Today, we use the term to refer to the people, the rulers and the empire that lasted an astonishingly short period of time – only 100 years. They were pretty much at their peak, except for having just gone through a civil war, when the Spanish arrived.
We next visited a "pre-Inca" site that consisted of a vast array of ruined buildings, walls and paths. This term applies to the peoples and cultures that lived here in the 500 to 700 years prior to the Inca period. Their walls use mortar and are straight, in contrast to the Incan walls, which were made of perfectly fitting rocks and inclined at an angle.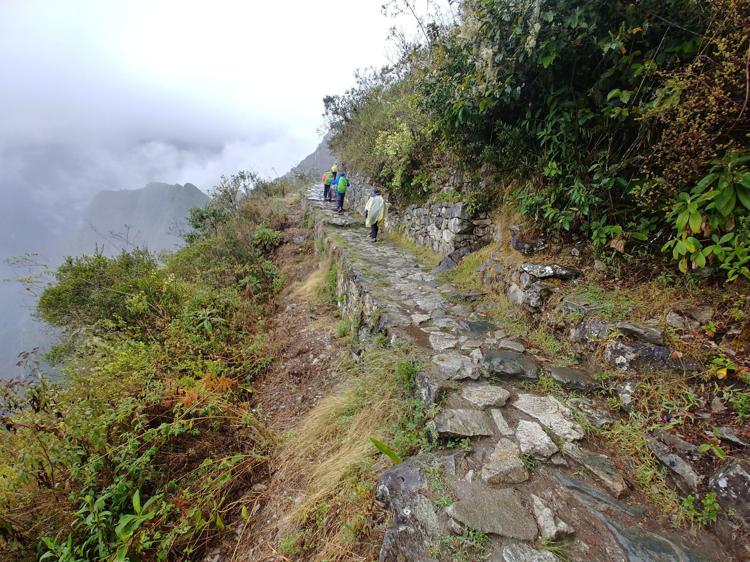 On day two, five of us joined Admil for a hike along the Inca Trail from the colonial town of Chinchero into the Sacred Valley, which leads eventually to Machu Picchu. It was an easy five miles alongside a babbling stream and through a eucalyptus forest for much of the way and then hanging on the edge of steep mountains before its final descent near the village of Lamay, where we would spend the next two nights.
On day three most of us did the easy climb over Challwaccasa Pass, which peaks at 14,200 feet. It was a beautiful day, cool but not cold. We had with us a local, Vincente, and his burros, carrying extra water and oxygen should the need arise. I learned why it was recommended for us to get covers for the bite values on our water bladders - the open ground was just covered with alpaca and llama droppings. That would be true for most of our hikes.
We descended from the pass to the small hamlet of Viacha where our lunch was being prepared by some locals. Included on the menu was guinea pig, which enjoys some popularity in Peru, although I did not find it to be very meaty. After lunch most of us continued to hike down the mountain until we reached the Inca ruins at Pisaq, with their dramatic structures atop a mountain pinnacle and surrounded by dozens of terraces below.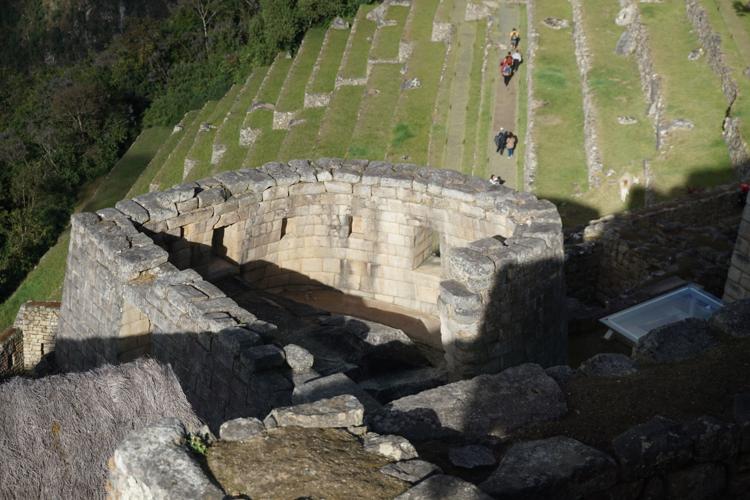 By the end of the third day I was feeling quite nauseous, feverish and ill. And it only got worse overnight. Consequently, the fourth day I opted out of all activities.
At breakfast on the fifth day I had my first meal in a day and a half, albeit a small one. But I felt good enough to go on the short hike that was planned – a walk through the local village of Huacahuasi with a visit to one of the locals and then to some small waterfalls. In the village we met Ignacia and her daughter Virginia. The home was mostly stone, with a tin roof on wooden logs, very drafty and heated by a crude fireplace. There was an electrical line powering a small radio and a solitary lightbulb that hung down in this single room. Miguel described our surroundings and acted as interpreter, speaking with Ignacia mostly in Quechua – in rural areas that is more common than Spanish.
On the sixth day I was back to full strength and opted for the long eight-mile hike over Ipsaycocha Pass, which stands at 14,646 feet. Only three of us joined Miguel for this hike and we wore rain gear for most of the day. We hiked up into the clouds and the rain and even had to contend with some snow during this, the dry season in Peru!
On the way down we soon stopped for lunch at a hut. A family had been hired to hike up here with food to prepare for us and the hot meal, especially the soup, really hit the spot on this cold and rainy day. I gave the cook's daughter my candy bar as a gesture of friendship and she ate it right up. At the end of our hike we passed by many students hiking from their school in town back to their homes somewhere on the mountain. A long van drive would take us to Urubamba, our last stay before Machu Picchu.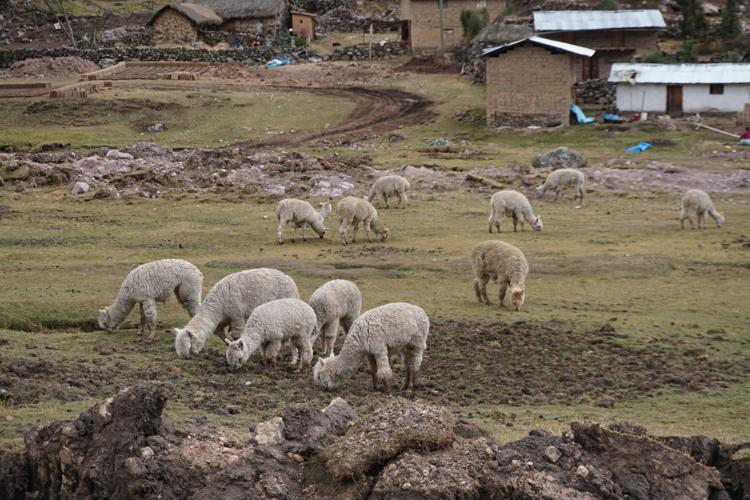 On day seven we drove to Ollantaytambo, where you must board a train to Aguas Calientes, which is at the bottom of the mountain below Machu Picchu and about two hours away. The only other way to get to Machu Picchu is to hike, if you have the requisite permits. We visited another ruin site before saying goodbye to Admil and boarding our train. In Aguas Calientes we sent our bags to our lodge and immediately went to stand in line for a bus to the top of Machu Picchu.
The bus line was long, but buses come frequently. The road to the top is only for these buses and it takes 20-30 harrowing minutes on a narrow dirt road with a seemingly infinite number of switchbacks. The buses start up at 6 a.m. when the park opens and finish with the last load of tourists after the park closes at 5:30 p.m.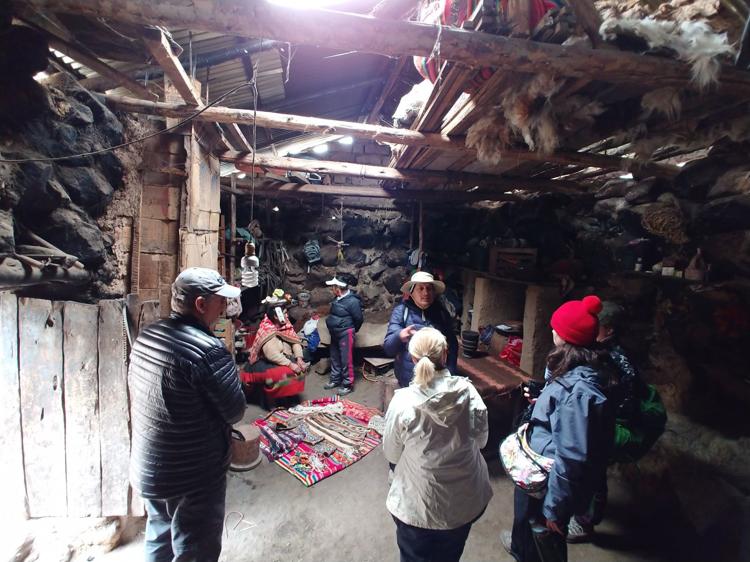 We were treated to a mostly sunny afternoon. One's first glimpse of Machu Picchu occurs as you come around a corner onto a terrace and it is quite awesome. We arrived at mid-afternoon and there were a lot of people here. But we were able to stay for three hours, until closing, and the crowds thinned out quite a bit as we toured around the site with Miguel telling us the story of what it was we were seeing. Of course, what captivates most people's attention is the perfect construction of huge blocks of stone. It is quite difficult to imagine how a society without anything harder than brass tools accomplished such fine work. Unfortunately they also didn't have a written language to leave a record of what they did.
There is a strong astronomical orientation to Machu Picchu. In one room – Bingham called it the Temple of the Sun – there are two windows situated so that they cast perfect shadows on the winter and summer solstices. Nearby is the "sundial," a carved stone structure that serves as a calendar. Also here is a carved rock in the shape of the Southern Cross, whose points correspond perfectly to the four compass directions.
Our eighth day was all at Machu Picchu. We had the option to climb Huayna Picchu, the very steep mountain behind the ruins. Most of us wanted to do it. We had tickets that required us to pass through the gate to this trail between 7 and 8 a.m. Miguel said we needed to walk to the bus line by 5:30 a.m. Despite the fact that it was raining at that time, we stood in an even longer bus line than we had the day before. But all went well and we reached the gate for our trail at 7:30. Only 200 are allowed on this route during each of two entry times per day.
We were surrounded by clouds and it was lightly raining but it wasn't awfully cold. Despite our fears, the rocks were not slippery and our footing was good. Perhaps not being able to see how exposed we were to the depths around us made the hike less terrifying. We took pictures at the top, but all we could see around us was gray. On the way down, there were some times when the clouds partially lifted for a moment and we got a view of Machu Picchu, but it never lasted long.
We were all miserably soaked, but lunch took the edge off of that and in the afternoon we were ready for another hike. This time we would backtrack on the Inca Trail to a saddle called the Sun Gate. For those hiking here from as far away as Cusco, coming over this saddle gives you your first look at Machu Picchu.
In the years following Hiram Bingham's initial discovery of these ruins, he would excavate and clear much of the jungle hiding Machu Picchu's secrets, including the Inca Trail. Indeed, following the conquest of the Inca, the Spanish searched for these kinds of sites and were unable to find them, in no small part because they never found the Inca Trail itself.
On our ninth day we took the train and then a bus back to Cusco. We had a final dinner together and bid farewell to Miguel. The next day we would leave for the airport in twos and threes, depending on our schedules and head back to home. It was July 24th. One hundred and seven years ago on this day, Hiram Bingham had learned that there were ruins on the top of the mountain. "No one supposed that they would be particularly interesting. And no one cared to go with me," Bingham wrote. And now, more than two million people from all around the world come annually to visit this "lost city" of the Incas.