Not a ton went right offensively for Northern Arizona football last season.
In Aaron Pflugrad's first season as offensive coordinator, he and the rest of the coaching staff had to handle injury after injury -- a trend that began when Lumberjacks starting quarterback Case Cookus broke his collarbone in just the second game of 2018 against Eastern Washington.
This season, with Cookus healthy, Pflugrad is hoping the team can move forward. He said there were some things they used near the of the season that could be used again this year.
"I think everything that happens in your life is an opportunity to learn and grow," Pflugrad said. "We developed some packages towards the end of the year that are still real viable and more just the grit aspect to work through things."
At this time last year it didn't seem like Cookus' injury was going to hurt Northern Arizona too much after second-string quarterback Daniel Bridge-Gadd nearly led the Lumberjacks to a comeback win against Eastern Washington.
The offense showed a spark with Bridge-Gadd at QB over the next few games, averaging 27.5 points per game and 279 yards per game through the air. The team's record cut even, going 2-2 in the four games after the Eastern Washington loss.
The Lumberjacks again lost a starting quarterback when Bridge-Gadd tore his ACL -- playing his final game in his short stint with Northern Arizona.
The final three games showed a massive change in the offense with wide receiver Brandon Porter taking the bulk of the snaps at quarterback. The Lumberjacks went from 38 passing attempts per game pre-injuries to just 19 attempts per game in the last three outings.
The Lumberjacks offense took a slight dip in points per game down the final stretch, scoring about 25 points per game. The big change came in how yardage was gained.
Instead of making consistent gains through the air, Northern Arizona used a run-centered attack that netted an average of 266 yards per game -- well over the 127 per game the team averaged before Bridge-Gadd was injured.
Cookus said he has moved past the injury, which was the second season-ending injury of his career and was a similar injury to when he broke the same collarbone in 2016.
One of the bright spots that came from last season was the big-play capability of Porter, who was responsible for a 68-yard receiving TD and a 49-yard rushing TD.
You have free articles remaining.
Register for more free articles
Stay logged in to skip the surveys
FINDING PLAYMAKERS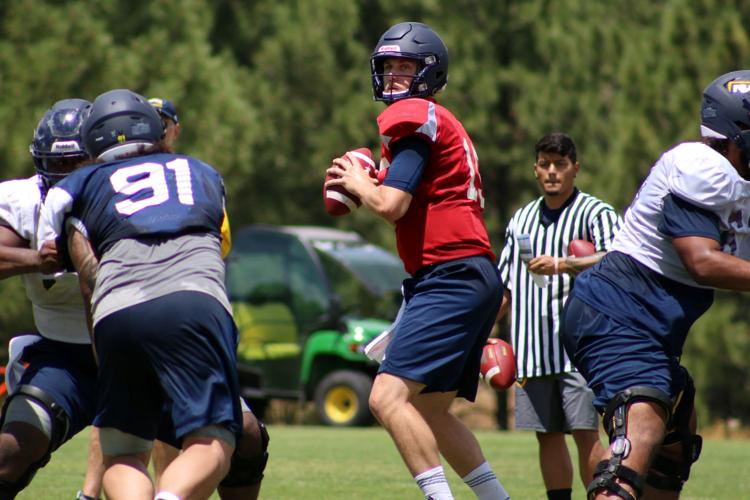 Even though Porter had to spend a large chunk of the 2018 season playing quarterback, Pflugrad said he has seen good progress out of his redshirt sophomore heading into the new season.
Pflugrad noted that replicating what former Lumberjack Emmanuel Butler was able to do isn't easy, and that it will need to be a group effort.
While most of the receivers expected to get playing time are upperclassmen or entering redshirt sophomore seasons, many haven't seen a ton of snaps having to play behind Butler and some behind Elijah Marks.
With junior Chancellor Brewington being held out so far in fall camp due to injury, some younger wideouts have gotten chances to see second string reps early on, such as Hendrix Johnson and Leon Morgan.
That depth, Pflugrad said, will give Northern Arizona the chance to make plays as a whole -- which is an obvious emphasis for a group that has no true star or No. 1.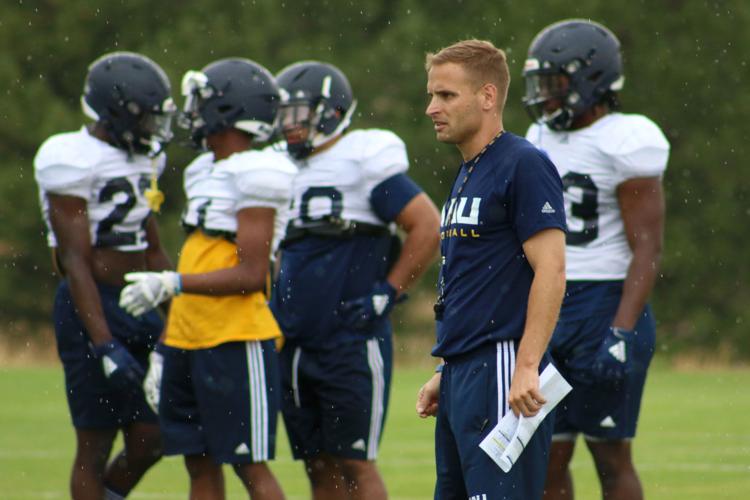 The Lumberjacks have even gone to moving Nate Perkins, one of the team's top athletes, over to wide receiver to see how the 6-foot 3-inch former defensive back does on that end of the field.
"We got guys that need to step up and that's what we told them," Pflugrad said. "There's no better time for opportunity in that group. I don't care if you're a walk-on or a freshman you got an opportunity to go in there and earn reps. … A lot times when guys are really hungry like that it helps the team out."
Cookus noted the team hopes to work the ball around, utilizing tight ends and running backs in the passing game more this season than the past few years. Last season, Matthew Kempton was the only tight end to have more than 10 receptions -- as opposed to 2017 when Jonathan Baldwin had 24 and Kempton recorded 12.
"I think that's always how our offense was built to be run," Cookus said. "Getting guys 11 different touches on the ball. That means from the running backs to the tight ends to the wide receivers."