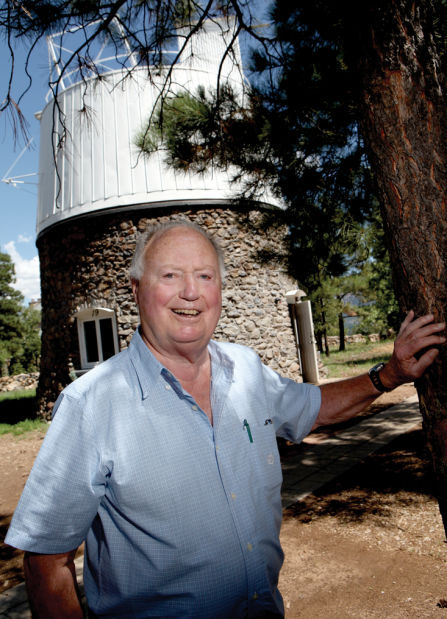 Albert Einstein. George Takei. Jerry Garcia.
All of those men and many others have had an asteroid named after them. And if William Lowell Putnam III, trustee of Lowell Observatory, has his way, another name will be added to that list: Trayvon Martin. 
The retired broadcast executive, alpinist, author and Flagstaff resident believes that Martin has not received justice.
It was an unusually warm night at Anderson Mesa south of Flagstaff on Oct. 2, 2000, when Lowell Observatory astronomers found the asteroid 2000 TM61. It was just one of hundreds that observatory's researchers discovered as part of their search for Near Earth Asteroids. 
The minor planet was placed into a catalog and forgotten until shortly after Martin, 17, was fatally shot in Sanford, Fla. The unarmed teen's death sparked nationwide protests and renewed the race debate in America. 
It also sparked disgust with Putnam. 
"As I see it, the social fairness showed to Trayvon Martin was very sadly lacking," he said. "Inasmuch as I am the sole trustee of an institution which has some naming privileges, I want to do my share to see that this lad is remembered in an appropriate manner."
Following George Zimmerman's murder indictment, Putnam had astronomer Edward Bowell, a near-Earth asteroid and comet expert, submit the suggested name. 
The citation for asteroid 2000 TM61 reads:
"Named in memory of Trayvon Martin (1995-2012), a student at Dr. Michael M. Krop High School in Miami, Florida. Unarmed, he was fatally shot in Sanford, Florida, during an altercation with the neighborhood watch coordinator."
It was rejected by the Minor Planet Center, which together with the International Astronomical Union, decides what to name astronomical bodies. The agency said the name was "premature," but didn't elaborate on a cause. 
The IAU is the same group that stripped Pluto of its planetary status. 
Famously, in an international contest, Lowell Observatory named the planet Pluto based on the suggestion of an 11-year-old English schoolgirl, who thought the name of an underworld god was appropriate for such a cold, dark place. As the finders, the observatory had the right to name the planet. 
"We do not discuss proposals for minor planet namings prior to the approval of those names. Neither do we confirm if particular names have been proposed," said Gareth Williams, associate director of the Minor Planet Center and IAU secretary in the group responsible for naming small bodies. "Once names are approved, they become official when the names and accompanying citations are published in the Minor Planet Circulars."
He did confirm that there is not currently an asteroid named Trayvon.
But now Putnam is renewing his effort in light of the jury's acquittal earlier this summer. His hope is that the agency will no longer see his request as premature. 
The trustee says that to the best of his knowledge, Lowell Observatory has never sought to name an astronomical body after someone so outside the norm. 
COMBATING SOCIAL INJUSTICE
But the Lowell family has a legacy of combating social injustices against African Americans. The family came from great wealth in New England, which Putnam's Uncle, Percival Lowell, used to found the observatory in Flagstaff. The founder's trust still helps carry the institution to this day. 
And after Percival died, his younger brother, A. Lawrence Lowell, sought to help continue that astronomy legacy in Flagstaff by paying for the Pluto dome, which would be used to find the former planet that carried Percival's initials. 
As president of Harvard University, Lawrence argued that black and white students deserved the same access to an education. But he drew controversy with his decision not to force integration in freshman dorms. Lawrence is known as the creator of the modern system of majors in college and reformed Harvard to accept people of all classes, despite his own high-societal standing. 
Putnam remembers spending summers at his great uncle's home on Cape Cod, where education was a frequent topic of discussion. 
He says that after his parents received an unexpected trust from Lawrence, they set out to find a way to use the funds to honor the man. His mother Caroline established a scholarship for black Roman Catholic students. 
She hired a secretary and traveled across the United States and abroad to lobby Roman Catholics to help send black Americans to college. Her efforts were a huge success. By the 1950s, the scholarship was dishing out $100,000 every year. 
"My parents, mostly my mother, spent the last half of her long life (100 years) raising money to put black folk through college or grad school, on the assumption that education was the key to assimilation and thus economic and social fairness," Putnam said. "It appears that she was right, and her list of graduates included judges, bishops and many leading citizens."
CONGRESSMAN GOT SCHOLARSHIP
Among those who received a scholarship was Charlie Rangel, who used it to pay for law school. The New York congressman is now the third-longest serving member of the House of Representatives. Rangel has been among those who have called for the Department of Justice to investigate if civil rights laws have been violated in the Martin case.