Northern Arizona assistant coach and former player Gaellan Bewernick has gone through some of the worst and best of times the program has had in recent memory.
Bewernick played for three coaches during his time as a player in Flagstaff, starting with Mike Adras, followed by Dave Brown for a partial season and then on to Jack Murphy for the bulk of his college career.
The start was the low point, in fact one of the worst in the program's history, as the Lumberjacks went 5-24. Northern Arizona lost its final 16 games in Bewernick's first season on the court as a redshirt freshman.
From there on, the Lumberjacks climbed in win total each of the next three seasons under Murphy, and while the wins were coming, Bewernick's history with losing was always a strong trait for the Lumberjacks' Swiss Army knife.
Murphy once told Bewernick that he "knew how to lose." It almost sounds like a negative, or something a player wouldn't like being known for in a sport where wins mean so much. But Bewernick carried it with him through his career, knowing that he has been through some of the lowest of lows in college hoops.
"There was one thing Coach Murphy used to say when he just got here, he was like, 'G, one thing I love about you is that you know how to lose,'" Bewernick recalled after a practice Thursday. "I used be to like, 'What the hell does that mean? You know how to lose?' It's funny and I still laugh about it, but at the end of the day is true. You know what a losing mentality and effort gets you. You know you got push yourself to an extra level."
It all culminated in Bewernick's final season as a player. The Lumberjacks made the CIT semifinals off a 23-15 record in 2014-15. Bewernick was the only remaining Lumberjack from the disastrous five-win 2011-12 season, ending his playing career with a fitting finish.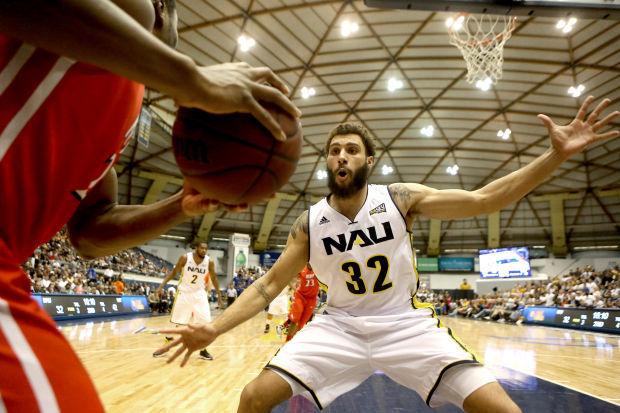 He then spent the next couple years playing professionally overseas before returning to Flagstaff as a graduate assistant on Murphy's staff in 2017 -- which at the time he learned was a "no-brainer" after talking with old teammates at the time when deciding his next step.
It was the same for Murphy then, too, who always had considered Bewernick a glue guy for his dedication and work ethic, and he always seemed to have a high respect for the player through their years with the program.
Now, Bewernick finds himself suddenly promoted to full-time assistant with the departure of Murphy.
Bewernick again had the chance to leave, but once again elected to stay.
"My biggest thing was coming back for the guys with everything going on and the changes. I was like, 'You know what, I'm gonna step out of my comfort zone and try to be as good as a coach as I can be,'" Bewernick said.
BRIDGING THE GAP
You have free articles remaining.
Register for more free articles
Stay logged in to skip the surveys
With all Bewernick had to go through as a player, he's able to connect and relate with the rest of the roster.
When Murphy originally brought Bewernick in, Murphy said the addition helped connect the past and present of the Northern Arizona basketball program.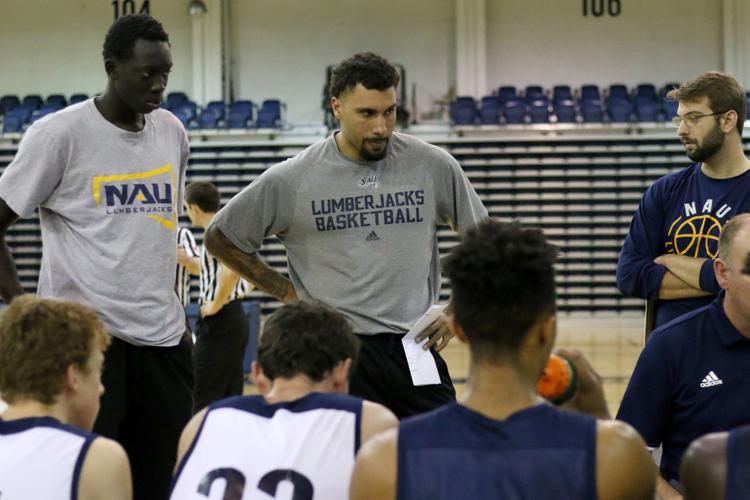 Northern Arizona interim head coach Shane Burcar echoed a similar sentiment on how Bewernick's familiarity with Northern Arizona makes him so invaluable to the team.
"With Coach G, as we call him, he knows the guys, he knows the school," Burcar said. "He's helped me tremendously in my two years here as far as our student development and our academics."
Like many of the players, Bewernick had a chance to leave after a coaching change following a losing season, but he chose to stay. Just like the current crop of Lumberjacks.
Only a handful of players left from last season's roster since Murphy departed for the University of Arizona, as Northern Arizona brings back nearly all of its top contributors from a year ago.
"My biggest thing to them is that you love the people that are with you, regardless of the situation that happened -- it happened," Bewernick said. "You still love that person, they were the one that gave you that opportunity to come here. But at the end of the day, basketball will always help that. Being in-between these lines will always help. Going out there and playing with the brothers you have with you is a big thing and that's one of the biggest things I tell them. That's the reason I stayed. My teammates. I think they've really grasped onto that."
Bewernick played a strikingly similar role to current Northern Arizona forward Bernie Andre. Both are undersized fours at about 6-foot-7, and each play with a knack for cleaning the glass despite their size disadvantages, using their athleticism in mismatches against bigger players.
Beyond the hardwood, Bewernick knows how to traverse life just as well as anyone. He lost his mother and his sister in a span of three years -- which has given the 29-year-old a perspective on how life can be.
"When I talk to people, whenever I am at some camp or something, I just tell them even though you are young, don't take it for granted," Bewernick said to the Daily Sun in 2017. "Enjoy everything you have in your life because you never know when something can be gone, you never know when your time has come."
Bewernick, as well as Burcar, believe the team has really started to understand the message from all the coaches -- with Bewernick's perspective playing an important role as the team continues to develop with the 2019-20 season approaching.
"It means a lot to them and they really lock into what I'm saying," Bewernick said. "I'm not saying what the other coaches are saying doesn't matter, but they know when it comes from me it's different because they know I was just in their shoes. I was just in the ups and down at NAU; I had my downfalls here, I had my success here."