A yellow smiley face is painted beneath the helicopter that flew over Mount Elden on Monday carrying felled trees plastered with weekend snow to an area for timber stacking.
Nearby, trees that were determined to be good candidates for thinning to help reduce the severity of forest fires are being cut, and logging staff on Mount Elden work to attach cables to fallen trees, and wait for the helicopter to return.
This helicopter logging operation, the first of its kind in the northern Arizona region, is being run by Markit! Forestry Management and can be seen from around the city. The operation is considered the second phase for the Flagstaff Watershed Protection Project, which aims to prevent high-severity wildfires and post-fire flooding through removing potential fire fuel throughout the forests surrounding Flagstaff and its resources.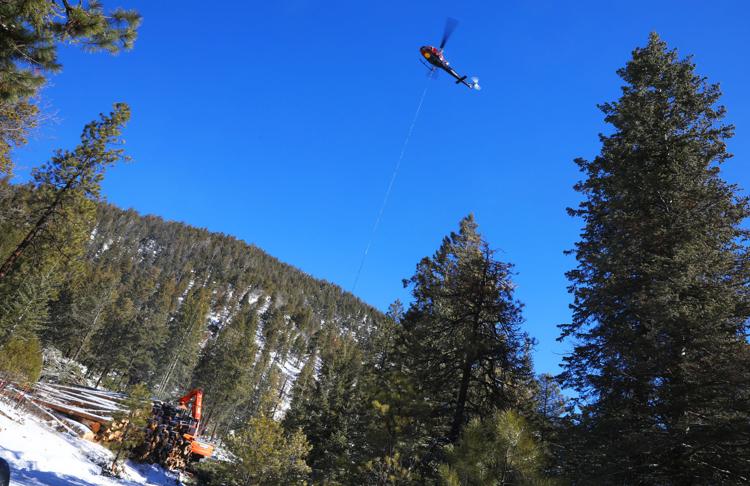 Multiple officials including members of the Flagstaff City Council, Forest Service, Flagstaff Fire Department, US Forest Service and logging operators were invited to view the helicopter operations on Monday.
Patrick Gayner, vice president of business development at Markit! Forestry Management, is one of the managers overseeing the logging operations in the Dry Lake Hills area. The helicopter logging was required for the portions of the Dry Lake Hills area because the land's steep slope complicated transport of felled trees.
"Every tree that is felled has to have a choker put around it and be picked up and yanked off the mountain," Gayner said. "It's a lot of work."
Forestry Management's parcels were part of two contracts that were purchased by the city for a total of $5.4 million, $3.6 million coming from the city bond and $1.8 million provided by the Forest Service.
Gayner explained that there are 12 loggers who are working on completing the operation in the next three to five months.
The collected timber will be available for various buyers for mass purchases. Timber is consider merchantable when it is over 4 inches in diameter at breast height and over 10 feet tall. The timber is stacked into decks after it is dropped off by the helicopter and will be offered for sale to potential buyers for their own private use, according to Debra Mollet, deputy district ranger of the Flagstaff Ranger District.
"It could be used for fuel wood, a chip plan if they wanted to do that, saw timber," Mollet said. "It depends on who buys the deck or who gets the deck."
You have free articles remaining.
Matt McGrath, the new district ranger for the US Forest Service's Flagstaff Ranger District, said that their messaging on the forest closure during the shutdown needed to be slower and less specific due to a lack of resources and review.
"This work started during the government shutdown, so none of us were actually working," McGrath said. "We had a few people come together to issue the closure order and write a press release that didn't have the same level of review internally that we would normally have. Only a couple of people were actually working. Most of those people that were weren't getting paid."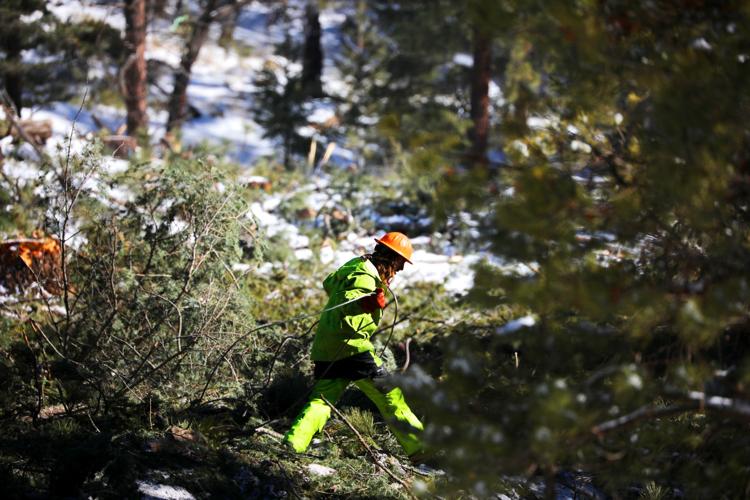 McGrath expects that the operations will be done in April, but admitted that their completion date could change because of the weather.
"I'm new here, and it only took me a couple days to realize how important this mountain is to [Flagstaff]," McGrath said. "Honestly, I haven't had a chance to hike up here yet and I can't wait to do it. But I can't do it until we get all of this work done."
Gayner explained that the helicopter operator has to consider a number of concerns like temperature, weather conditions, tree weight and geography when making their rounds. If the need were to arise, the operators can drop the trees for any reason.
Gayner warned that if that happens, the trees will drop like lawn darts into the ground. Gayner and others explained that helicopters sometimes need to land unexpectedly and that trees are being cut in a slick area due to the winter snow and ice, all justifications for closing the forest.
"This is per capita one of the most dangerous work sites that you can be on," McGrath said. "(We're) looking forward to doing great work here and being able to provide more and more recreational access as soon as it's safe."
Austin Aslan, Flagstaff City Councilmember, felt that after seeing the work the loggers had done first-hand, he agreed with the purpose of the expenditures.
"Seeing how incredibly skilled these foresters are, it's really impressive," Aslan said. "It puts my mind at ease."