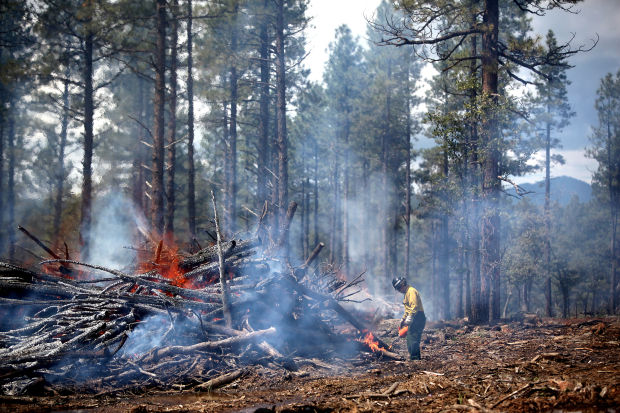 Slash. Burn. Cut. This coming year, northern Arizona will leap into an era of logging not seen in a generation. The historic Four Forest Restoration Initiative will begin in earnest on the region's forests in 2014.
That means logging trucks, and lots of them.
The 4FRI contractors will work to complete more than 20,000 acres of thinning on the Coconino National Forest this year.
Some of those acres are left over from the previous contractors, who failed to complete any of the logging task orders assigned to them.
Once the initial round is completed in 2015, the project is expected to accelerate to 30,000 acres each year. And each acre treated requires two log truck trips — one in, one out, eventually putting 60,000 log truck trips on northern Arizona roads annually.
Projects this year in the Flagstaff area include thousands of acres around Mountainaire and along the Interstate 17 corridor south of town, near Sedona, Parks and surrounding Williams. Other thinning task orders for 2014 include the Eastside Project near Walnut Canyon, and two projects on the eastern slopes of the San Francisco Peaks near Timberline. The contractors have just completed the first 4FRI task order, Ranch, on the Apache-Sitgreaves National Forest.
"Everything we're hearing is that they'll complete the projects this year," said Dick Fleishman, assistant team leader for the Four-Forest Restoration Initiative. "We're expecting some activity about town."
That won't go unnoticed by area residents, who have become unaccustomed to logging. And this is just the beginning, if things go as the U.S. Forest Service hopes.
The goal is to thin — by hand and with equipment — and burn and improve millions of acres of ponderosa pines along the Mogollon Rim, stretching from Tusayan to the New Mexico border.
The project brought cooperation from industry, government and environmentalists. It's seen as a potential model for the rest of the country's troubled forests.
What's still unclear is where the wood from the Flagstaff area will end up. The contractors, Good Earth Power and the Campbell Group, still haven't announced the destination mills.
Fleishman said that the Forest Service expects to find out soon, as there has to be a formal agreement in place.
DOUBLE DOSE FOR FLAGSTAFF
And Flagstaff residents will be getting a double dose of treatment. At the same time 4FRI is taking off, the Flagstaff Watershed Protection Project is starting to take shape. The project is unrelated to 4FRI, but shares many similarities.
More than 70 percent of Flagstaff voters approved a bond in 2012 to allocate $10 million worth of taxpayer money to the project.
It's like a 4FRI just for the Flagstaff region. In all, FWPP will treat 13,500 acres of forest, with the majority of the work happening in the Mount Elden Dry Lake Hills and around Mormon Mountain. It's feared that if a major fire happened just north of town, the mud of the mountains would flood back into town. And a fire on Mormon Mountain would jeopardize the city's water supply, Lake Mary.
Most of the work in 2014 will be crews cutting by hand, with logging to follow.
"It's pretty amazing how far along it's gone and how fast," said Mark Brehl, wildland fire leadworker with the Flagstaff Fire Department.
Because of the nature of the partnership, expertise is being leveraged for free wherever possible. The Forest Service is doing the environmental impact statement itself, to save the city from using their bond dollars on costly contracting.
A draft environmental impact statement will be issued this spring, opening a comment period that will shape the scope of logging and burning in and around Flagstaff. A final environmental impact statement is expected in October.
The Orion Timber Sale, covering 900 acres of dense forest on the San Francisco Peaks, was expected to be purchased on Tuesday, but failed to get any bids. The cut will now be issued as a task order to the 4FRI contractors.
Also covered in the project is Flagstaff's recently acquired chunk of Observatory Mesa, which it intends to leave as open space.
The State Land Trust has previously managed Observatory Mesa with a mandate of eventually earning money for Arizona schools. Now that the city of Flagstaff is taking over possession, the goal will be protection — not just of the mesa, but protection of the city from fire and floods. Brehl says that hand treatments will begin on that property this year, with an emphasis on land near homes in Westridge Estates above the Kinlani Dormitory.
Hand-thinning will also happen this summer in Equestrian Estates just south of Interstate 40 along Woody Mountain Road. Larger-scale thinning projects in both areas will go out to bid this summer.
Brehl says that officials were unsure how residents would react to logging's return.
But during a recent neighborhood meeting, FWPP representatives told residents that they should expect to see the trucks coming down their road. Their response was overwhelmingly positive.
"People said, 'We can't wait to see log trucks because we know that means progress,'" he said.
Brienne Magee, a Forest Service spokesperson for both 4FRI and FWPP, says it's her goal to create that association in the minds of all Flagstaff residents. When they see a logging truck, she wants them to think progress.
"It's pretty exciting to see landscape-scale work and it's happening right here," Brehl said. "The repercussions of inaction are immense. Each fire season puts us on edge."
Logging by the numbers - 2014
Get local news delivered to your inbox!
Subscribe to our Daily Headlines newsletter.