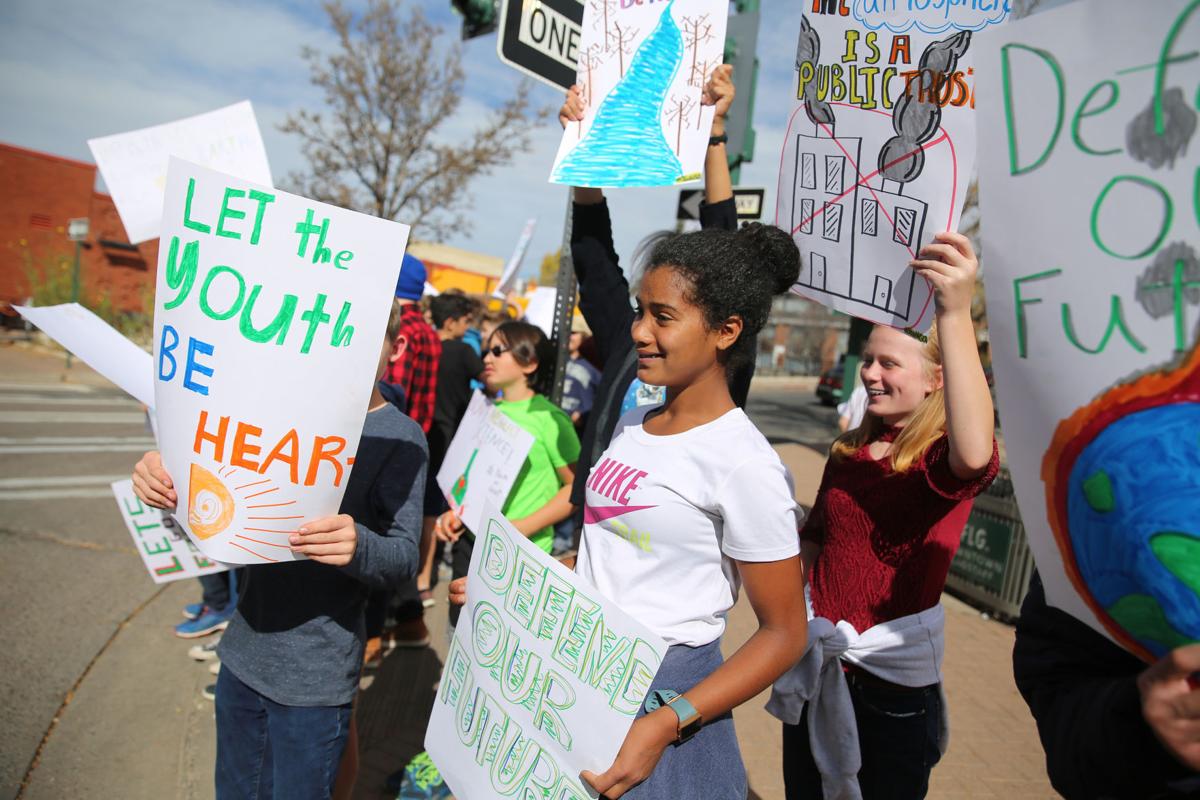 On Friday, Sept. 20, people from 150 countries around the world will host a youth-centered global strike to bring awareness to climate change. Flagstaff is one of eight locations in Arizona officially scheduled to participate.
The nonviolent event was started by 16-year-old Swedish climate activist Greta Thunberg, who sparked a worldwide school climate strike after she called for a "school strike for the climate" outside the Swedish parliament building last year.
Local supporters are expected to gather on the Flagstaff City Hall lawn 10 a.m. Friday to demand that action be taken to stop global climate change. The event will also feature speakers, music and dancing.
Some schools will hold demonstrations of their own, with certain students planning to walk out of class to show their support. Those attending nearby schools such as Flagstaff High School, Flagstaff Junior Academy and the Flagstaff Co-Op Preschool plan to make their way to City Hall on foot Friday morning.
The Flagstaff Unified School District Governing Board passed a resolution during its Aug. 27 meeting to recognize students' rights to participate, as well as to increase its efforts to reduce the district's environmental impact.
The Board preferred that, if enough students were interested and engaged, strike events be held on campus for safety reasons.
"We're just providing kind of a framework. We did that successfully in March 2018 [during the walkout for gun violence]. … We respect the right for student expression, for constitutional use of these rights, but also understand that students don't have a right to disrupt school," FUSD Superintendent Mike Penca said.
Flagstaff Arts and Leadership Academy's student environmental coalition has planned nearly two hours of activities to allow the public charter school's student body to participate without leaving school grounds, including youth speakers and climate awareness activities from sharing personal effects of climate change to passing around a globe.
"We want to make sure each person has the earth in their hands so they know it's on us to do something about this issue," said Lauren Pacheco, 17, one of the coordinators for the FALA event. "If we want the world to keep going, then we need to take the path that involves sustainability."
FALA students will also take turns protesting along North Fort Valley Road. Those who do not wish to participate will have the option to take a study hall period instead.
Clarice Linskey, 17, however, will forego school events to make the journey to City Hall.
"I think actually missing school would be more impactful for me just to show legislators that students are willing to sacrifice their education to participate in this strike," Linskey said. "If we don't start changing our gears and switching to a more sustainable economy, it could cause a whole host of problems environmentally and economically."
Northern Arizona University students are also preparing to strike.
Sara Kubisty, coordinator for the Flagstaff hub of the youth-led Sunrise Movement, a national group that advocates for political action on climate change, has been promoting the event around campus, in classes and online. She said the Green Jacks environmental club is sure to attend, as well.
"I want to get that population of students that might not know about these issues and get them engaged and involved," Kubisty said.
Kubisty said she hopes the event moves the Flagstaff City Council to declare a climate emergency -- which would make it more accountable to its Climate Change Action and Adaptation Plan.
Everyone invited
Although this global strike is targeted for concerned youth like its founder, the Flagstaff event did not originate there, nor is it limited to this group of future voters.
"While we have that strong youth voice, we as adults are showing up and saying that we are not abdicating our responsibility. As the current voters, we are going to vote for these things and we're going to put pressure on people who are in office to step up and take action," said 20-year Flagstaff resident Dara Marks-Marino, who heard about the global event and approached several organizations this summer for their help in planning a local strike.
With the help of Elders Climate Action, the Sierra Club, Citizens Climate Lobby and more, Marks-Marino said she hopes the event prompts change in local government, on the NAU campus and within voters of all ages as the 2020 election approaches.
Since August, the same organizations have held two outreach events to discuss climate change and the upcoming strike, including a youth climate leadership summit and climate town hall.
Marks-Marino said these events helped uncover the local children and teens who could lead the strike and future climate efforts.
"I'm hopeful that the leaders that have emerged will continue to push their message forward and will continue to find the angle that's important for their own school culture, for their own personality and within what they think they can do," Marks-Marino said.
Natalie Jacobs, a FUSD parent and attorney who has been assisting with planning the local strike, said her two children, ages 5 and 7, will be at City Hall Friday.
"[Climate change] is their life now and certainly their future. School is wonderful, but it's also great to show them what is going on in the world and how they can be a part of it. If you can leave work for even an hour, let's get the kids there," Jacobs said.
Get local news delivered to your inbox!
Subscribe to our Daily Headlines newsletter.