As many Flagstaff residents are on flood watch due to the Museum Fire, some need all the help they can get.
On Wednesday morning, Northern Arizona's football, women's soccer and basketball programs pitched in to support by filling pallets of sandbags at the Coconino County Public Works Yard on the east side of town. Meanwhile at other locations, the Coconino Panthers and Flagstaff Eagles did their own work, filling sandbags in order to help any residents better prepare for potential flooding that might occur in neighborhoods affected by the Museum Fire scarring.
Northern Arizona Lumberjacks football head coach Chris Ball said it was the team's idea to volunteer, and he pitched in with the rest of the football coaching staff filling sandbags.
"It's great getting the opportunity to give back to the community. That's stuff that we preach -- to understand what service is," Ball said. "Really, it was a lot of these guys' idea. They were the ones that wanted to get out here and get this done. Anything to do to help, we are here."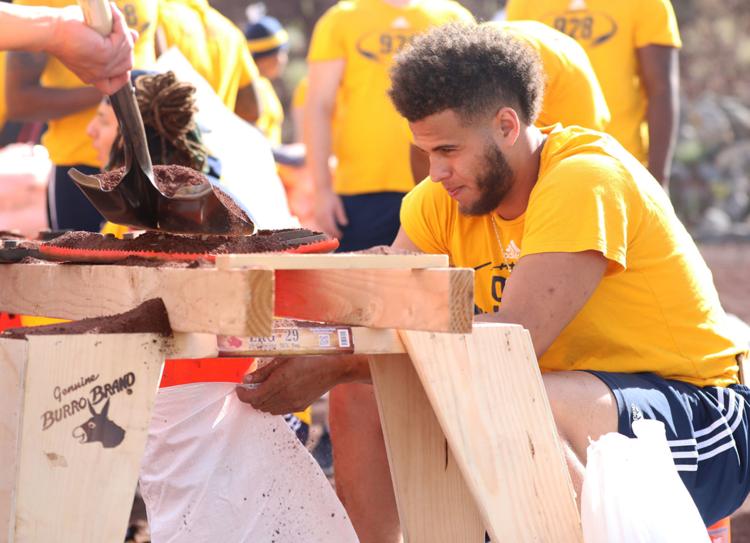 Usually on Wednesday mornings the Lumberjacks football squad holds player-only practices, but it was an obvious choice when the opportunity to help came around. It wasn't as if the players didn't have fun with it either, as all were joking and laughing while filling pallet after pallet.
Earlier in the week, Northern Arizona defensive lineman Brandon Lawless pitched in by donating water and snacks to firefighters working to contain the Museum Fire. Lawless said he grew up around families of firefighters and immediately knew he wanted to help somehow.
"I went to high school with a lot of friends whose parents were firefighters -- and they were away from their parents a lot," Lawless said. "So I just got to see the toll it takes on kids, especially talking to parents who were firefighters and how hard it is, especially with a big fire -- you're gone most of the time. I just want to help people out no matter what, especially firefighters; they have a special place in my heart."
For Lumberjacks soccer player and former Flagstaff Eagles standout Taylor Hazlett, being able to help the town she grew up in means an immense amount to her, she said, adding that she has friends who have been evacuated or affected by the fire.
"It means a lot to me, especially because I hate to see my community suffer, and I love that as a group we can come together," Hazlett said.
Register for more free articles
Stay logged in to skip the surveys
Coconino County Supervisor Liz Archuleta, who lives in Sunnyside, an area that the county and city has told to be on flood watch, came out to show her gratitude to the service from the Northern Arizona athletes.
She gave the athletes some perspective as to just how much the help they gave matters to community members around Flagstaff as preparations for potential flooding continue.
"It's heartwarming and inspirational to see that there are young people in our community that really want to help and that they see the value of being neighborly to one another," Archuleta said.
The Coconino Panthers football program filled and loaded more 1,000 bags over at Coconino High School, Panthers head coach Mike Lapsley said.
"(The kids) absolutely loved it. They were proud and happy to help," Lapsley added.
Flagstaff Eagles football head coach Todd Hanley posted on Twitter that the Eagles were able to fill more than 1,200 sandbags -- even giving his team a challenge to fill as many as possible in 10 minutes as the team worked in groups for most of the afternoon around Thorpe Park.
While one group worked to fill bags, the other was back in the weight room doing more traditional workouts.
Hanley said he told his team Wednesday morning what they would be doing, and the team was excited to volunteer. Hanley said he got the idea to help after looking for service projects for his team to do.
"The kids had so much fun, and so many community members were grateful and thanking the kids for their help," Hanley said. "It was humbling and the kids got to see that they were having an impact on the community they live in."