Despite being down a top player and reasserting another back into the lineup, the Flagstaff Eagles beach volleyball team routed the Mohave Thunderbirds on Friday, winning the home match 5-0 at Flagstaff Athletic Club East.
Missing Brooklyn Quick -- who typically plays in the No. 1 slot alongside Hutton Hagerman -- Flagstaff moved some pieces around and got another big performance from utility player Tara Brain. Brain teamed up with Hagerman for a two-set victory at the No. 2 spot, helping Flagstaff win a third straight match.
Gracelyn Nez and Paetyn Nakai moved up a spot to play the No. 1 court, competing there for the first time this season. The duo broke away midway through each set for a 21-12, 21-13 victory.
"They can beat most ones," Eagles head coach Beth Haglin said. "They are really good, and they combat with Hutton and Brooklyn all the time -- they win, they lose, they win, they lose. They go back and forth."
Nez rolled a shot off the top of the net during a quick 3-0 run in the opening set and the pair went ahead five points at 14-9. Mohave answered with a side-out, only to see Nakai knuckle a short ball for another five-point advantage.
"Even with Paetyn being small, she gets up there," said Haglin, whose Division II team improved to 8-1.
Nakai connected for an emphatic kill in the second set, doubling the Flagstaff duo's lead to 14-7. Nez used a back-bump to jam the ball on Mohave's side of the court later in the set, a move that kept the Thunderbird ones on their toes throughout the match, and she and Nakai held a comfortable 17-11 lead after the move en rout to the straight-set win.
Fifth-ranked Flagstaff set up a showdown with Coconino for the Section Four title. The Eagles will take a 4-0 section record into Tuesday's crosstown rivalry match with the Panthers, who also own a 4-0 section mark after beating Dysart on Friday.
Both teams have non-section matches Monday before their meeting.
Flagstaff made its way to the 4-0 mark without a single pairing dropping a match along the way.
It was much the same Friday for the Eagles, who only had one flight go to a third set. Despite being pushed to a tiebreaker, Flagstaff's No. 4 pairing of Katlyn Nakai and Oniyah Shirley came away as the victors.
Sofia Quintanilla, despite having a root canal performed not long before the match, returned to the sand for the Eagles, and she and Devynn Hatathlie took court three in straight sets. Quintanilla had missed a few matches due to illness, with Brain filling in for her.
On Friday, Brain was meshing just fine with Hagerman.
"They did a great job and Tara is just a solid volleyball player all around," Haglin said.
Bridget Bond and Elise Galland also claimed their court in two sets at the No. 5 spot, and the Eagles doubled last year's win total.
"I thought the girls came out and did well under the circumstances -- it was pretty chilly outside" Haglin said. "I thought they stepped up. The other team had opportunities to get ahead, but we would put the breaks on them and pull ahead, playing smarter. I always tell them, 'You want to make them work harder by playing smarter,' and once they start doing that, they do well."
Flagstaff hosts D-II Mountain Ridge on Monday.
---
PANTHERS 5, DEMONS 0
Seventh-ranked Coconino cruised to a sixth straight win on Friday, defeating No. 28 Dysart at the Victory Lane Complex in Glendale.
The Panthers improved to 6-2 overall and pushed their mark in the Section Four standings to 4-0, setting up a crosstown rivalry match with Flagstaff on Tuesday that will determine the section champion.
Like Flagstaff, Coconino has shut out all of their section opponents so far this season. On Friday, the Panthers didn't even need to play at the No. 5 flight, as Dysart forfeited the spot.
Brooke Parker and Kenzie Palmer defeated their opponents 21-8, 21-10 at the No. 1 slot, and Coconino's twos pairing of Megan Hicks and Mireya Cabrera came out ahead, 21-16, 21-7.
Coconino has yet to drop a match to Flagstaff since the beach teams started competing against each other for the first time in 2015.
Sophie Sinek and RiKenna Curtis teamed up for a victory at No. 3, 21-12, 21-11. Sam Hampton and Maggy Popham cruised to a 21-4, 21-6 win as the No. 4s.
Coconino host a tough eighth-ranked Millennium team on Monday as a tuneup for Flagstaff. Monday's match is set to start at 3 p.m., as well as the Tuesday crosstown clash at Coconino.
SOFTBALL
PANTHERS 11, MOHAVE 4
By the exact same outcome of the first game between the ballclubs, 4A Conference Coconino finished the series sweep of the 4A Thunderbirds on Friday while playing in the middle of a three-game homestand that the Panthers have started at 2-0.
Taylor Brown hit her first home run of the season during a 3-for-4 day that produced three RBIs and two runs scored, and seventh-ranked Coconino crushed No. 29 Mohave to improve to 11-3 overall and 7-2 in the Grand Canyon Region standings.
Kaitlyn Snopek also circled the bases on a homer, her second in regular-season action, and went 4 for 4 with four RBIs and a run scored. Brown, however, gave up two blasts to Mohave, which had a two-game win streak snapped.
Brown recorded five strikeouts in getting the win and issued just one walk to go with seven hits against her.
Brooklynn Wong was 1 for 2 with an RBI, a walk and two runs scored, and Madelyn Clouse scored twice for the Panthers, winners of four of their last five ballgames.
Coconino closes out the homestand with Bradshaw Mountain on Monday at 4 p.m., looking to avoid the series sweep to the region-leading Bears.
WINTER SPORTS
The Flagstaff Alpine Ski and Snowboard team was represented well the past few weeks. The Grand Canyon Freeride Team, part of FAST, attended the USASA national snowboard and free ski competitions at Copper Mountain, Colorado.
The competition ran from March 31-April 4 for the snowboarders, while the ski events were April 7-10 in Copper Mountain.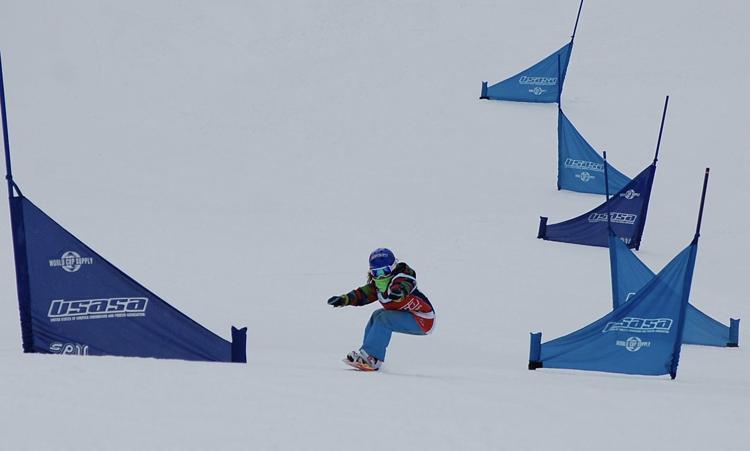 Carlie Hunter, 8, took third place in the slalom with a total time of 1:05.63, competing in the Grommet age group for 8- and 9-year-olds. Riley Wolkowinsky, 10, won the slalom in 58.16 and took third place in the giant slalom event in 1:14.42, competing in the Menehune age group for athletes who are 10 and 11 years old.
Wesley Wolkowinsky, 12, was the runner-up in the giant slalom, clocking a 1:12.45 while competing in the Breaker age group made up of  12- and 13 year-olds. Riley and Wesley are sisters.
The 8- and 10-year-olds were the only podium finishers for the team last year as well.
The three who got top-three finishes for the team were out of eight total snowboarders Grand Canyon Freeride sent. They also sent two skiers.
The team trains at Arizona Snowbowl.