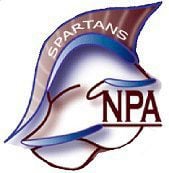 The 2A Conference Northland Prep girls soccer team finished off the Show Low tournament with a pair of lopsided wins over Round Valley and Page on Saturday, cruising to earn the championship.
The Spartans beat the 2A Round Valley Elks, 8-1, and then took down the 2A Page Sand Devils, 9-2. Northland Prep's Mia Blair and Ellie Karren continued their offensive dominance with a combined 10 goals in the two wins on Saturday.
Karren recorded four goals against Page on five shots on goal, and teammate Hannah Finney added two goals against the Sand Devils. Northland Prep sophomore Sydney Sventek had a goal in each game Saturday to go with three total assists.
Northland Prep goalkeeper Payten Schmidt was named the player of the tournament for her lights-out play in the net. Schmidt allowed just one goal while registering 11 saves in the four tournament games combined.
Anna Kellar also showed strong defense for the Spartans, tallying a team-high 10 steals against Round Valley.
You have free articles remaining.
The Spartans resume the power-points schedule this week and will face Show Low on Tuesday at 6 p.m. for a road match.
The Flagstaff Eagles, led by tournament MVP Gracelyn Nez, won the Coconino Classic Saturday at Coconino High School, finishing the two-day event without a loss.
Nez totaled 58 kills for the tourney to go with 50 digs and 23 blocks across the two days, and teammate Paetyn Nakai notched 107 total digs as the team's libero.
Devynn Hatathlie recorded 65 assists, with fellow Eagles setter Bridget Bond contributing 45 assists, nine kills and 18 blocks.
Eagles head coach Beth Haglin said winning the tourney took a great team effort and that "everyone learned a lot and had a lot of fun."
Flagstaff will get back to the regular-season schedule on Tuesday versus Macro de Niza at 6 p.m.