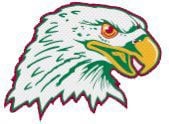 Gracelyn Nez had a double-double, Bridget Bond recorded 15 assists and seven blocks, and the Flagstaff Eagles topped the Cactus Cobras, 3-1, in the Valley Thursday, surviving a night during which their flow was off to remain undefeated. 
Nez added six blocks and Shea Wilson tallied 11 kills, two digs and a block for 4A Conference Flagstaff (7-0, 4-0 Grand Canyon Region). Bond had four kills in the win between the 4A teams residing in different regions.
Eagles head coach Beth Haglin said it was one of the sloppiest matches her team has played so far this season. Flagstaff still managed ways to stay out ahead in the match that ended 25-17, 19-25, 25-15, 25-23.
Haglin added that Cactus (3-5), now on a two-game skid, did a good job at keeping her team off-balance.
Alyssa Prager finished with nine digs, five blocks and three kills, with Ainsley Thomas contributing two kill and a dig for the Eagles, who will host region foe Prescott on Tuesday at 6 p.m.
GIRLS SOCCER
Sydney Sventek scored twice, including the insurance goal in the second half of extra time, Mia Blair added two goals of her own, and the No. 2-ranked Northland Prep Spartans outlasted 2A rival and top-ranked Chino Valley on the road Thursday, improving to 6-0 with a 5-3 win.
Sventek finished with a key assist as well, finding Ellie Karren for a ball played off the chest and into the back of the net to break the 3-3 tie 15 seconds into the first half of extra time. The sophomore beat Chino (6-1, 1-1 Central Region) down the right side and played the ball to Karren for the go-ahead goal.
Sventek was the Spartan to put her team on the scoreboard first for a 1-0 lead at around nine minutes into the region matchup. Karren gave Sventek the assist.
"Sydney was the difference today," Spartans head coach Michael Blair said in an email. "Chino Valley always plays us well and they gave us a great match today. It was a battle of contrasting styles, and we got the better of them this time around."
Karren finished with three assists total in her team's region opener, with her second finding teammate Mia Blair 14 minutes in for the 2-0 lead.
Chino capitalized on a free kick off a freshman's foot, but Karren quickly found Mia Blair again for a goal. Only a minute after, Chino answered to make it 3-2 and then with three minutes remaining in regulation made it 3-3.
Rylee Reed connected with Sventek for Northland Prep's fifth goal of the night, as the Spartans pulled off the win while being held to a regular-season low in scoring.
Spartans defender Ginger Blodgett, who ended with five steals, controlled the middle of the field, keeping the Chino offense -- which was led by London Wigen -- from making too many outbursts. Delaney Donahoe added six steals.
"It was a tough away match on a muddy and slick field, and our girls overcame some adversity to pull out the win in overtime," Spartans co-head coach Keith Hovis added.
After a stretch of three consecutive away matches, Northland Prep returns home Tuesday to take on the Camp Verde Cowboys at Sinagua Middle School and start a three-match homestand. Tuesday's match is set for a 4 p.m. start.
Get local news delivered to your inbox!
Subscribe to our Daily Headlines newsletter.